R E D   H O T   S P E C I A L  –  B U T   O N L Y   W H I L E   S T O C K S   L A S T  !
THIS IS AUSTRALIA'S BEST YAMAHA PORTABLE KEYBOARD DEAL!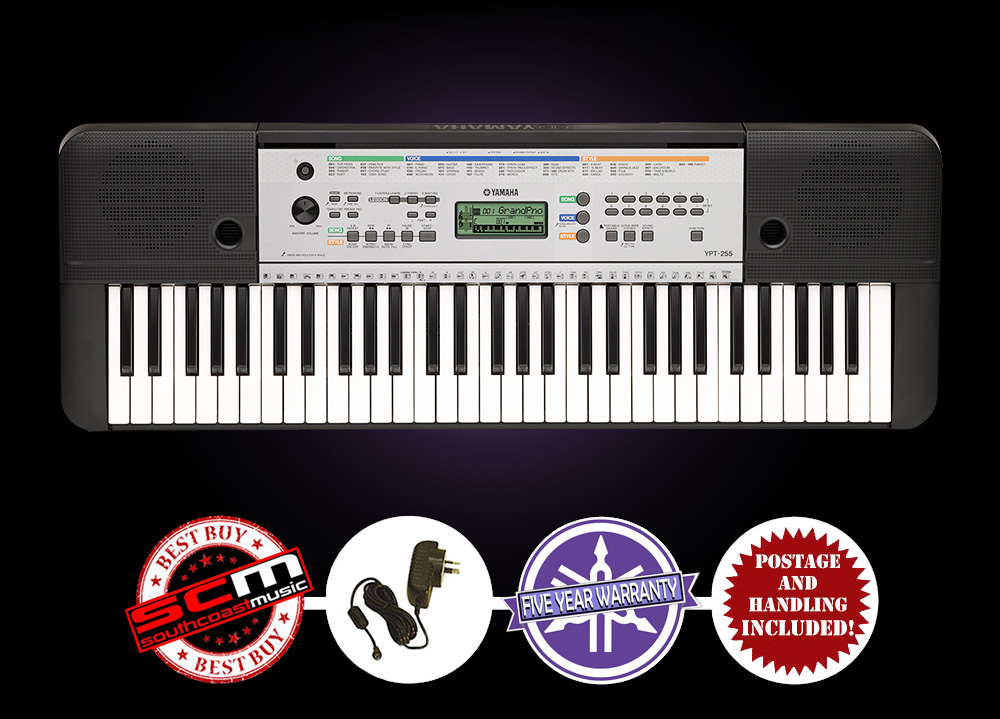 YAMAHA YPT-255 PORTABLE KEYBOARD
The Ideal First Keyboard for Schools and Students!
• Compact, Portable Keyboard with 61 Keys
• 240V AC Adaptor Included!
• Removable Music Stand Included!
• 385 high-quality Voices, including Pianos, Guitars, Drums, Organs and Orchestral instruments!
• Nine-Step Lesson Function Yamaha Education Suite (Y.E.S.) helps Beginners Learn to Play Songs!
• Connect an External Audio source to the AUX IN Jack to Enjoy Playing Along with your Favorite Songs!
• Auto Power Off Function Saves Energy or Battery Power when the Instrument is Idle for a While!
• 100 Auto-Accompaniment Styles provide Real-Time Band Backing Tracks based on the Chords you Play!
• Five Year Warranty!
• Australia-Wide Delivery with Tracking Included!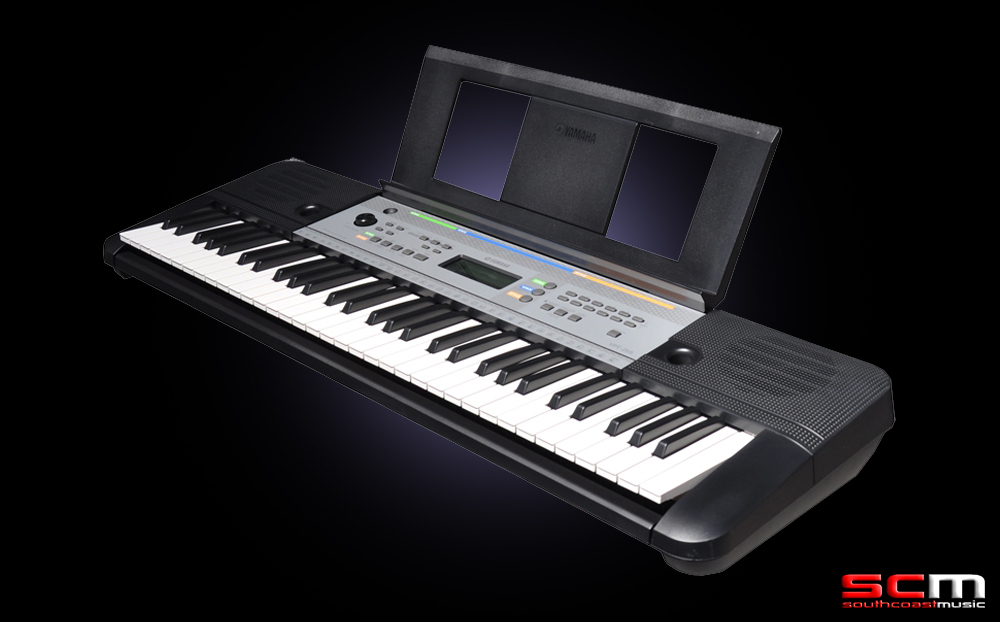 YAMAHA YPT-255 PREMIERE PORTABLE KEYBOARD
The Yamaha YPT-255 has been Yamaha's premiere entry-level portable keyboard for years. Yamaha's most popular Portable Keyboard in Asia, Europe and America, people love it for its great sound, ease of use, and how simple and fun it makes learning to play the piano.
The Yamaha YPT-255 is a Portable Keyboard packed full of great sounds and features, ideal for aspiring musicians who are just starting out. There is a fabulous on-board lesson feature, Yamaha Education Suite (Y.E.S.) that will help you learn the 100 preset songs.
There are also 385 instrument Voices and 100 Styles to experiment with and create your own music.
The Aux Line Input can even turn the YPT-255 into a speaker system for your MP3 player so you can play along or just listen!
Thanks to the buying power of southcoastmusic – the Yamaha YPT-255 is now available at a very special price – but only while stocks last!
YAMAHA YPT-255 FANTASTIC LIBRARY of 385 HIGH-QUALITY VOICES
Including Pianos, Guitars, Drums, Percussion and Orchestral instruments!
The YPT-255 comes with a diverse array of 385 different voices, including pianos, flutes, and guitars. The grand piano voices in particular utilise high quality stereo-sampled sounds with a superb feeling of presence.
Players can enjoy an added sense of realism with the on-board Digital Effects that include Digital Reverb effects for the feeling of playing in a concert hall and Digital Choruses that add extra breadth and resonance to the sound.
YAMAHA YPT-255 NINE STEP LESSON FUNCTION with YAMAHA EDUCATION SUITE – GET STARTED!

The lesson function offers a total of nine stages — three for the left hand, three for the right, and three for both hands, helping beginning players to practice the songs stored in the instrument.
There's a scoring function that makes it fun to practice and improve, and a "Waiting" function that adjusts the tempo to the person playing, pausing the accompaniment until the correct note is played.
YAMAHA YPT-255 COMPACT, LIGHTWEIGHT, PORTABLE DESIGN
Weighing in at less than 4kg, the YPT-255 is light enough to take anywhere with ease. It can even run on batteries for live performances when you're out and about.
YAMAHA YPT-255 PLUG IN YOUR FAVORITE MUSIC
Connect an External Audio source to the AUX IN Jack to enjoy playing along with your Favorite Songs
The audio input socket (AUX) turns the YPT-255 into a speaker system for your MP3 player so you can listen to and play along with your music collection. Take your smart phone to your lesson, your teacher records the piece that they want you to learn, play it back through the audio input of your YPT-255 . . .it's almost like having your teacher with you whenever you need them!
YAMAHA YPT-255 CHORD DICTIONARY
You can learn to play a whole dictionary of chords with YPT-255's built in training system.
YAMAHA YPT-255 REAL-TIME BACKING TRACKS
100 auto accompaniment Styles provide real-time band backing tracks based on the chords you play
YAMAHA YPT-255 PHRASE RECORDER
With the YPT-255 you can quickly and easily capture phrases and song ideas with the built in phrase recorder.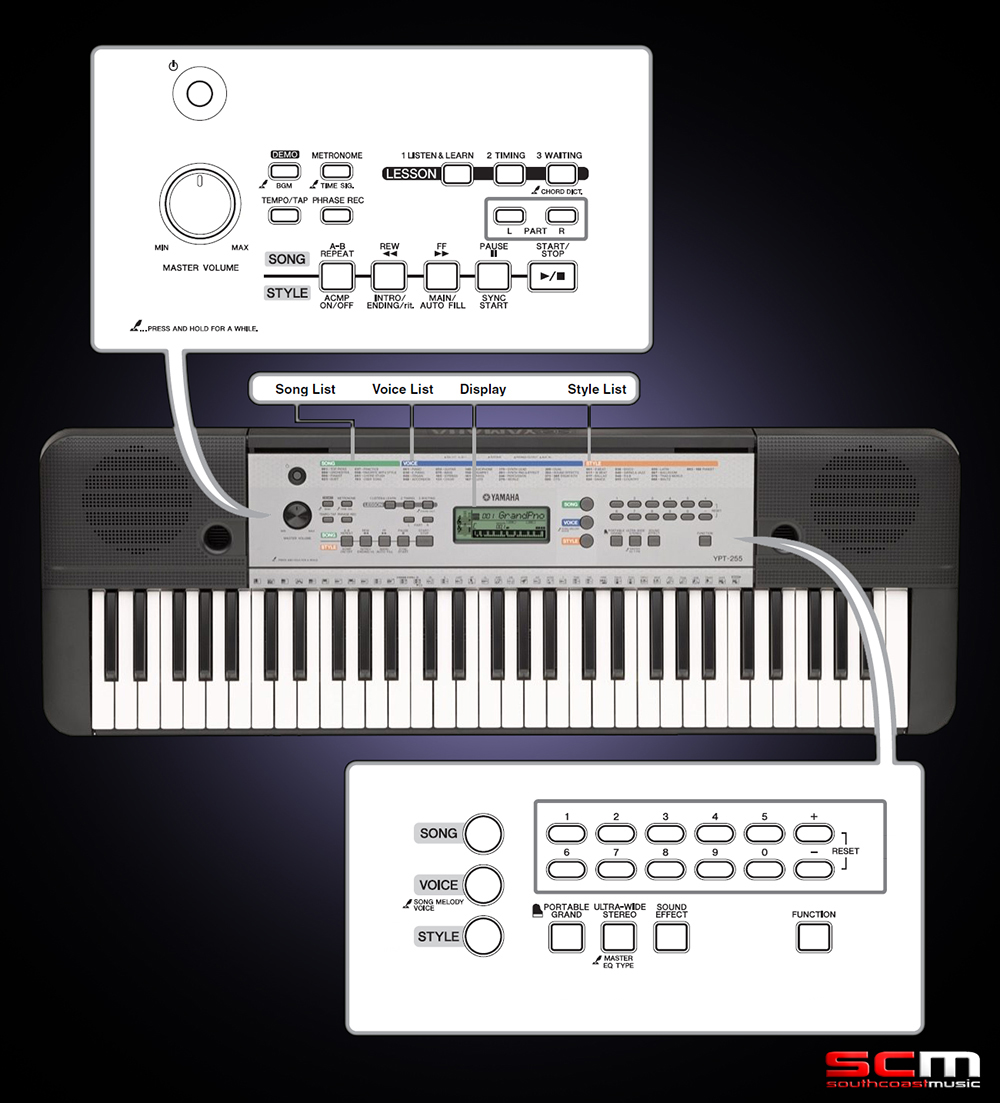 YAMAHA YPT255 PORTABLE KEYBOARD SPECIFICATIONS
• Number of Keys: 61 Full Size Keys
• Display Type: LCD display
• Tone Generating Technology: AWM Stereo Sampling
• Polyphony: 32 Note Polyphony
• Number of Voices: 372 Voices
• Number of Drum Kits: 13 x Drum and Special Effects (SFX) kits
• Digital Effects: Reverb, Chorus, Master EQ Ultra-Wide Stereo
• Number of Preset Styles: 100
• Fingering: Multi
• Style Control: ACMP ON/OFF, SYNC START, START/STOP, INTRO/ENDING/rit, MAIN/AUTO FILL
• Number of Preset Songs: 102
• Digital Recorder: Yes
• Number of Songs: 1
• Number of Tracks: 1
• Recording Data Capacity: Approximately 300 notes
• Lesson/Guide: [1 LISTEN & LEARN], [2 TIMING], [3 WAITING], [A-B REPEAT], [CHORD DICTIONARY]
• Lesson/Guide: Yamaha Education Suite (Y.E.S.)
• Tempo Range: 11 – 280bpm (beats per minute)
• Transpose Function: Yes
• Transpose Range: -12 to 0, 0 to +12
• Tuning: 427.0 – 440.0 – 453.0 Hz (approx.0.2Hz increments)
• Headphone Output: Yes [PHONES/OUTPUT] x 1
• Audio Output: Yes via [PHONES/OUTPUT]
• Sustain Pedal Input: Yes [SUSTAIN] x 1
• Amplifiers: 2.5W + 2.5W
• Speakers: 2 x 12cm Full Range Speakers
• Mains Power Supply: 240VAC-12VDC (INCLUDED!)
• Battery Power: Six "AA" size Alkaline, Manganese or Ni-MH Rechargeable Batteries (not included)
• Power Consumption: 6W (When using 240VAC-12VDC power adaptor)
• Music Rest: Yes
• Dimensions: W940 x H106 x D314mm (37 x 1/8 x 4 x 12″)
• Weight: 4.0kg
• Warranty: Five Years
Buy with confidence, southcoastmusic is an authorised YAMAHA Dealer!