Yamaha DXR15 1100w 15″ Powered PA Speaker
You'll be amazed at the sonic clarity and depth you get from Yamaha's DXR15 powered loudspeakers, part of their new DXR/DXS line of Class D-powered PA speakers. Housed in durable, compact ABS enclosures, the 15″ DXR15 two-way speakers represent Yamaha's latest sound reinforcement technology. DXR15 speakers pack maximum performance into an efficient design that's perfect for the gigging musician that's on the go. And thanks to the built-in three-channel mixer, the DXR15 is perfect for those times when you need sound reinforcement but don't need an entire PA system. Whether you're playing pre-recorded music or performing for a crowd, you'll love the transparent sound of the Yamaha DXR15 powered loudspeakers.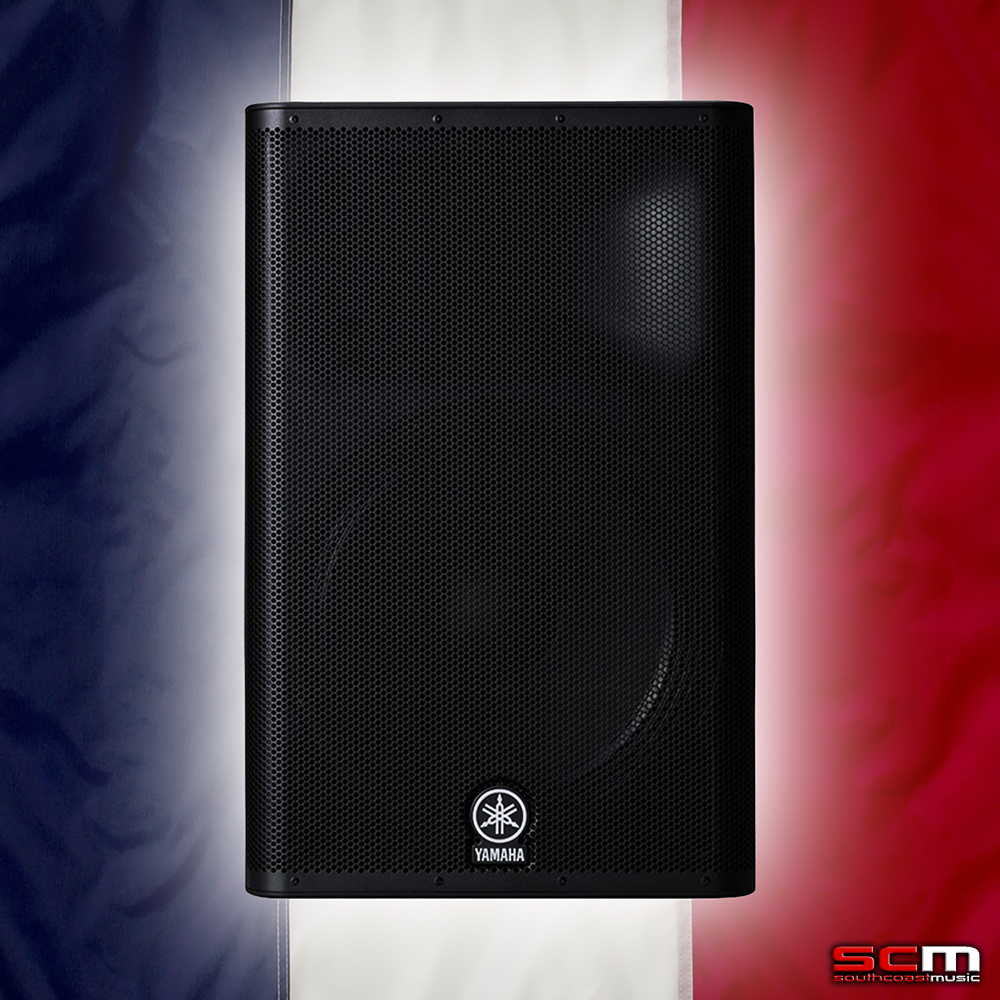 Touring Intelligence in Portable Loudspeakers
Ever since Yamaha began developing their professional audio equipment in the 1960's, they made it their goal to stay at the forefront of the technology curve and they have succeeded at every step. Drawing on decades of experience as a true industry innovator, Yamaha haven't merely relied on cutting-edge technologies- they actually created them.
With the express purpose of making the most powerful and reliable high-resolution speakers possible, Yamaha assembled a specialised team of Yamaha's most skilled engineers to examine and improve on, every detail of loudspeaker design. This passion for innovation served as the impetus for an intensive collaboration with French loudspeaker giant NEXO – adding their insight and expertise as an industry leader in touring-grade sound reinforcement to the development of the DSR, DXR and DXS Series speakers. Working closely with NEXO's engineers at their state-of-the-art facility, Yamaha adopted a new approach to some crucial aspects of these speakers' design.
The DXR15 features a biamplified Class-D design that provides a combined peak output power of 1100W for a strong performance with minimal distortion. A D-contour processor allows you to use the speaker as a main/FOH speaker or as a high performance stage monitor. The rear panel has XLR, 6.35mm (1/4″) and RCA inputs along with XLR thru and output connectors for wide compatibility with a variety of professional sound systems and devices.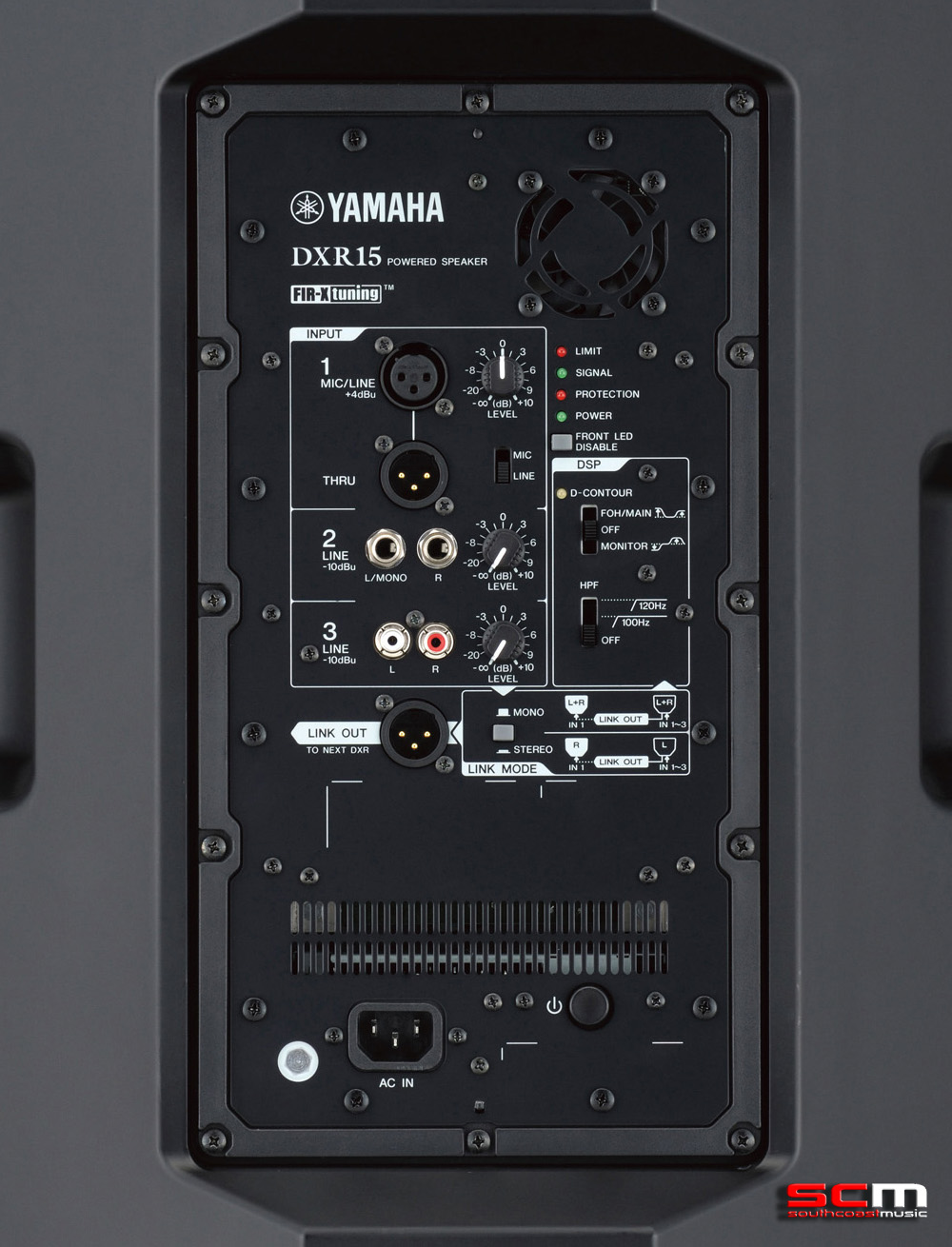 The detailed analysis of the transducers, thorough testing of the enclosures' acoustic properties and optimised limiter settings all contributed to unprecedented Sound Pressure Levels (SPL) delivered with stunning clarity and an unsurpassed level of reliability. Incorporating touring-grade technology into these speakers has resulted in the most powerful, dependable high-performance, active and affordable loudspeakers…ever! This is no hollow boast – you owe it to yourself to visit us and hear this amazing range for yourself. Yamaha back it up with a five year warranty. There are plenty of opinions out there, some mis-guided, some uninformed. At southcoastmusic we are comitted to providing the best solution at the best price . . . sometimes it may be a little more than you expected to pay but quality and reliability are remembered long after price is forgotten.
POWER TO THE PEOPLE
Performance runs in the family and DXR Series loudspeakers offer superb high-definition sound and class-leading sound pressure levels in a compact and extremely functional design that provides a level of versatility unmatched by any speaker in its class today. The DXR15 is perfectly suited for front-of-house sound, monitors, simple amplification, rigged applications and more – think Bass gutar amplification (come in and try it and be prepared for a paradigm shift). Combining your DXR series cab with Yamaha's newly designed DXS subwoofers will further elevate your system's performance, delivering versatile control of its tight, punchy and thunderous bottom end. With the perfect balance of raw power and innovative speaker technologies, you can depend on your DXR loudspeaker to deliver the full power of your performance to every member of your audience.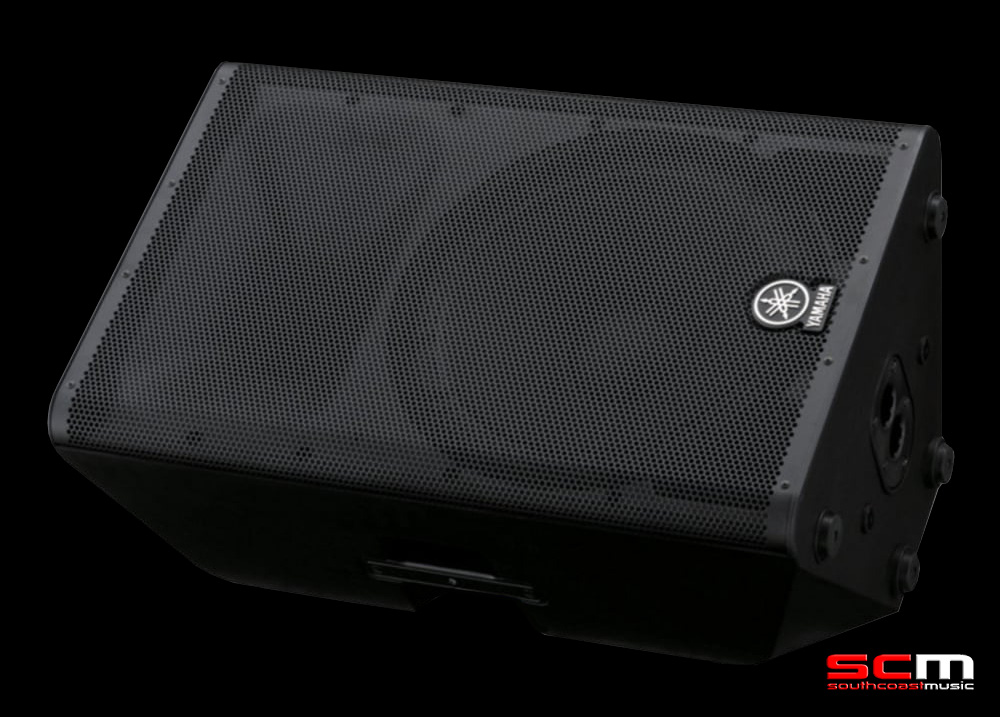 YAMAHA NEXO DXR15 POWERED SPEAKER FEATURES AND SPECIFICATIONS:
• Designed: NEXO France
• Built: YAMAHA
• Power Configuration: Bi-amped
• LF Driver Size: 1 x 15″
• HF Driver Size: 1.4″
• LF Driver Power Amp: 600W RMS
• HF Driver Power Amp: 100W RMS
• Total Power: 700W
• Inputs: 2 x XLR, 2 x 1/4″, 2 x RCA Outputs: 1 x XLR (Link)
• Frequency Range: 49Hz-20kHz
• Maximum Peak SPL: 133dB
• Horizontal Coverage Angle: 90 Degrees
• Vertical Coverage Angle: 60 Degrees
• Enclosure Material: ABS
• Mounting Options: Pole Mount with 1.37″ socket, Floor Wedge, 3 x M8 Fly Points
• Dimensions: H27.5″ x W17.5″ x D15″
• Weight: 49.56 lbs.
• Warranty: Five Years