YAMAHA CVP805B CLAVINOVA DIGITAL PIANO ENSEMBLE
Clavinova CVP digital pianos have earned an enviable reputation for their superb instrument Voices, all of which have been tuned to perfection on the CVP805. Enjoy authentic Voices and backings in an instrument with the same feel as a grand piano. Bluetooth connectivity makes it easy to play music from your smart device.• CFX and Bösendorfer Imperial piano sample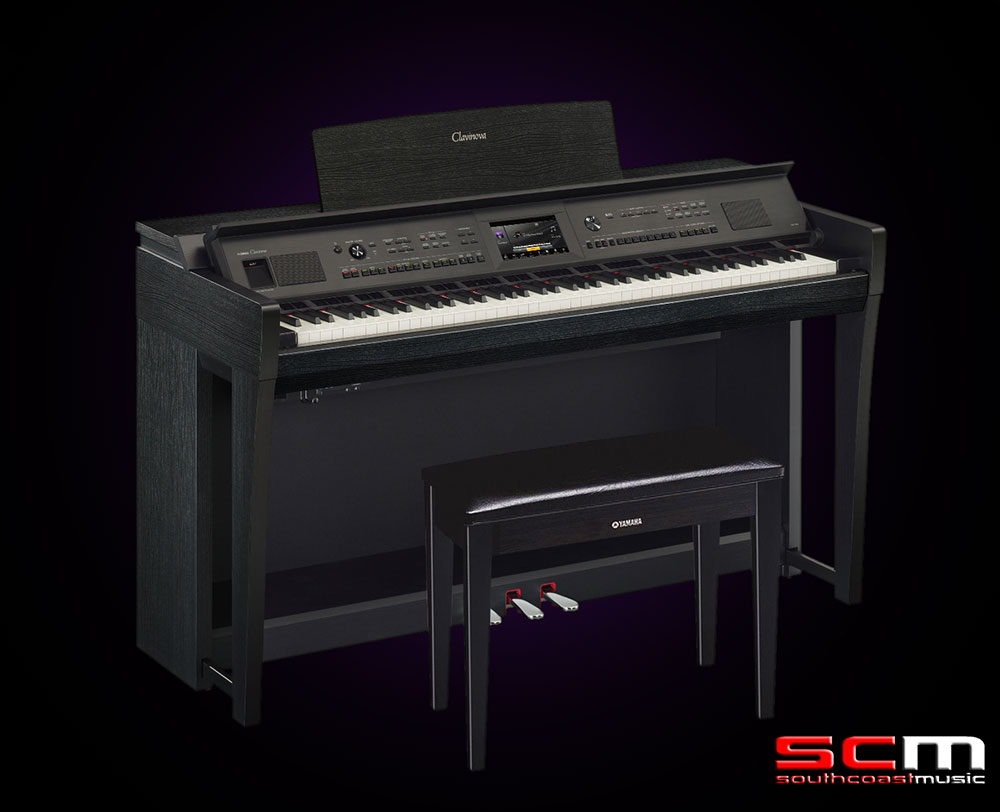 Black Walnut Cabinet with matching Bench
CFX and Bösendorfer Imperial piano samples
Binaurally-sampled CFX, for a totally immersive headphone experience
GrandTouch™ Keyboard with, 88-key Linear Graded Hammers
1,315 Voices + 49 Drum/SFX Kits + 480 XG Voices
525 Styles
130 watt Bi-amped Hi-Fidelity Audio System
2 x (16cm LF + 2.5cm HF (dome)) speaker system
7″ TFT color LCD Touch Screen (800 x 480 dots)
Built-in Bluetooth® audio
iOS app "Smart Pianist" integration (Song function only)
USB to HOST audio/MIDI interface
USB Display Output (HDMI)
Chord Looper
Microphone jack to sing-along with on-screen lyrics for karaoke fun
GP Response Damper Pedal offers a grand piano-style resistance curve, starting out light to the touch and growing heavier as the pedal is depressed further
2 GB of onboard RAM enables audio recording without a thumb drive
Five Year Warranty
Yamaha's Clavinova series is the leading digital piano on the market today and the new CVP805 is a premium digital piano designed to deliver the ultimate digital piano experience.
Packed with stunningly realistic instrument Voices and inspiring accompaniment Styles, the CVP805 has been designed to delight and inspire the player. Whether you want to learn to play hit songs with professionally-arranged accompaniment, plug-in a microphone to sing-along with on-screen lyrics for karaoke fun or add lush harmonies to your singing voice with virtual backup singers, the 800 series CVP Clavinova models provide a definitive, immersive playing experience.
Featuring incredible samples from the Yamaha CFX Concert Grand Piano and Bösendorfer's legendary Imperial Concert Grand Piano, the CVP805 allows you to enjoy superb-sounding performances with polished introductions and endings, dramatically improved tones, delivering authentic accompaniments that will enhance your playing across a diverse range of musical genres. Connect your way to various devices via the built-in Bluetooth, WiFi or USB.
At the centre of the CVP805 is a gorgeous full colour TFT Touch Screen that is simple to navigate and makes operating a wide selection of functions quick and easy.
The Music Finder Database on the previous generation has been replaced with the more versatile and powerful Playlist feature, which allows song titles to be stored with attached registrations, song files and setups for instant recall.
The dream of learning or playing along with favourite songs is one held by many aspiring musicians, and the CVP-805 makes this dream a reality. This new digital piano takes full advantage of the Audio-to-Score function found in the Yamaha Smart Pianist App for iOS and Android. The app analyses iTunes music files that already reside on an iPad or Android tablet, then generates a piano accompaniment and a chart of chord symbols for those songs, which is displayed on the device placed in front of the user. Like magic, the user is sitting in with their favourite band and playing inspiring accompaniment, from the very first moment they touch the keys.
The CVP-805 has also inherited the powerful sound engine found in the flagship Yamaha Arranger Workstation, Genos, bringing Articulation Element Modeling (AEM) technology to specific acoustic instrument Voices. This technology powers the Super Articulation 2 Voices, the most realistic, expressive-sounding instrument Voices available.
Clavinova CVP digital pianos have earned an enviable reputation for their superb instrument Voices, all of which have been tuned to perfection on the new models. The CVP-805 features 50 new Voices (1,844 total).
When it comes to touch, the CVP805 Clavinova digital piano should impress the most discerning pianist, thanks to the new GrandTouch keyboard action with escapement. Immensely popular on the company's CLP Clavinova models, the GrandTouch keyboard features real wooden keys and reproduces the true key resistance of an acoustic grand piano with even greater fidelity.
For example, the instrument responds with a controlled nuanced sound when the keyboard is played softly, while a stronger touch will elicit powerful brighter tones, just like a grand piano. The result is an instrument with a more responsive touch, offering a greater dynamic range than ever before.
To elevate the enjoyment factor even more, players can wirelessly connect an iPhone, iPad or iPod touch to easily share the music they make with friends.
The CVP805 Clavinova is an incredibly powerful music instrument equally suited to the home, the recording studio, school music labs as well as in contemporary houses of worship for worship leading.
CVP805 Clavinova A fully immersive concert grand experience—even with headphones
Yamaha's advanced binaural sampling technology uses samples from the CFX, Yamaha's acclaimed concert grand piano, recorded with specialized microphones that capture locational information and other nuances discerned by the human ear. The resulting sound is so natural, so enveloping, that you'll soon forget you're even wearing headphones at all.
Once you choose the Yamaha CFX Grand Voice and put headphones on, the binaural sampled sound is automatically ready and no additional settings are required. Now with or without headphones, you can fully enjoy the concert grand experience at home.
CVP805 Clavinova The Stereophonic Optimizer—a new kind of headphone experience
When using headphones, the Stereophonic Optimizer lets players enjoy the dispersed sound heard when sitting in front of an acoustic piano. With the Stereophonic Optimizer, Voices sampled from acoustic pianos* appear to come from the body of the instrument. This provides a comfortable, natural experience that removes the drawbacks of performing with headphones.
* The CFX Voice utilizes binaural sampling technology
CVP805 Clavinova Steam wirelessly with Bluetooth® audio
You can play music through the audio system on the Clavinova by using a Bluetooth-enabled smart device. Enjoy playing along with any songs on your smart device as you stream audio such as mp3 files.
CVP805 Clavinova Multi-track Song RecorderYamaha
Your Clavinova can record MIDI and AUDIO data. Imagine recording your performance as a wav. file and uploading it to social media or burning it to a CD. Record your performances with the press of a button, which is also useful when you want to review your playing objectively. Additionally, you can record up to 16 tracks for simultaneous playback, so different hands can be recorded separately or overdub parts with different Voices.
* Recordings are made in MIDI format, and can also be recorded to USB flash memory. Compatible software is required for playback of recorded data on a computer.
CVP805 Clavinova USB Audio Recorder
Record performances to USB flash memory and create audio files* you can save and play back on a computer, share with friends or create a CD.  * Data is saved in WAV or mp3 format
CVP805 Clavinova USB Connectivity
Connect the Clavinova to a computer or a USB memory device to manage your library.
YAMAHA CVP805 SPECIFICATIONS
CONTROL INTERFACE
Number of Keys: 88
Type GrandTouch™ Keyboard: wooden keys (white only), synthetic ebony and ivory key tops, escapement
Touch Sensitivity: Hard2, Hard1, Medium, Soft1, Soft2
88-key Linear Graded Hammers: Yes
Number of Pedals: 3
Half Pedal: Yes
Functions: Sustain, Sostenuto, Soft, Glide, Song Play/Pause, Style Start/Stop, Volume, etc.
Display: 7″ TFT Colour LCD (800 x 480 dots)
LCD Brightness Control: Yes
Touch Screen: Yes
Colour: Yes
Score Display Function: Yes
Lyrics Display Function: Yes
Text Viewer Function: Yes
Languages: English, Japanese, German, French, Spanish, Italian
Panel Language: English only
CABINET
Finish: Black Walnut
Key Cover Style: Folding
Music Rest: Y
Music Clips: Yes
Matching Bench: Yes
VOICES
Tone Generation: Piano Sound Yamaha CFX, Bösendorfer Imperial
Binaural Sampling: Yes (CFX Grand Voice only)
Key-off Samples: Yes
Smooth Release: Yes
Virtual Resonance Modeling (VRM): Yes
Polyphony Number of Polyphony (Max.) 256
Preset Number of Voices: 1,315 Voices + 49 Drum/SFX Kits + 480 XG Voices
Featured Voices: 14 VRM Voices, 227 Super Articulation Voices
Custom Voice Edit: Yes
Compatibility XG, GS (for Song playback), GM, GM2
DIGITAL DSP EFFECTS PROCESSOR
Reverb: 65 Preset + 30 User settings
Chorus: 106 Preset + 30 User settings
Master Compressor: 5 Preset + 30 User settings
Master EQ: 5 Preset + 30 User settings
Part EQ: 27 Parts
Intelligent Acoustic Control (IAC): Yes
Stereophonic Optimizer: Yes
Insertion Effect: 322 Preset + 30 User settings
Variation Effect: 322 Preset + 30 User settings
Vocal Harmony: 54 Preset + 60 User
Functions Dual/Layers: Yes
Split: Yes
ACCOMPANIMENT STYLES
Number of Preset Styles: 525
Fingering: Single Finger, Fingered, Fingered On Bass, Multi Finger, AI Fingered, Full Keyboard, AI Full Keyboard
Style Control: INTRO x 3, MAIN VARIATION x 4, FILL x 4, BREAK, ENDING x 3
Custom Style Creator: Yes
One Touch Setting (OTS): 4 for each Style
Chord Looper: Yes
File Format Style: (SFF), Style File Format GE (SFF GE)
SONGS
Number of Preset Songs: 50 Classics + 303 Lesson Songs + 50 Popular
• Score: 50 Classics Piano Score Book Included
• Recording Number of Tracks: 16
• Data Capacity approx. 3 MB / Song
• Recording Function: Yes
• Compatible Data Format Playback: SMF (Format 0 & 1), XF
• Recording: SMF (Format 0)
FUNCTIONS
Demo: Yes
Number of Buttons: 8
Control: Registration Sequence, Freeze
Playlist Number of Records: 2,500 Records
Lesson/Guide: Follow Lights, Any Key, Karao-Key, Your Tempo
Guide Lamp: Yes
Performance Assistant Technology (PAT): Yes
Piano Room: Yes
USB Audio Recorder Playback: WAV (44.1kHz, 16bit, stereo), MP3 (MPEG-1 Audio Layer-3)
Recording: WAV (44.1kHz, 16bit, stereo), MP3 (MPEG-1 Audio Layer-3)
USB Audio Time Stretch: Yes
Pitch Shift: Yes
Vocal Cancel: Yes
Metronome: Yes
Tempo Range: 5 – 500bpm, Tap Tempo
Transpose: From -12 to +12
Tuning: 414.8 – 440 – 466.8 Hz (approx. 0.2 Hz increments)
Scale Type: 9
Display Out: Yes (by using a commercially available USB display adaptor)
Bluetooth: Yes (Audio Streaming)
STORAGE AND CONNECTIVITY
Storage Internal Memory approx. 2 GB
External Drives: USB Flash Drive
Connectivity Headphones: Standard stereo phone jack (x2)
Microphone Input Volume, Mic / Line In
MIDI IN / OUT / THRU
AUX IN Stereo mini
AUX OUT L / L + R, R
AUX Pedal: Yes
USB TO DEVICE: Yes (x 2)
USB TO HOST: Yes
AMPLIFIERS AND SPEAKERS
Amplifiers: 2 x (Bi-Amped 45 W + 20 W)
Speakers: 2 x (LF16 cm + HF2.5 cm dome) speakers
WARRANTY: