ROLAND FP-30

Digital Piano with matching Timber Stand and Three Pedals – White Finish FP30WHS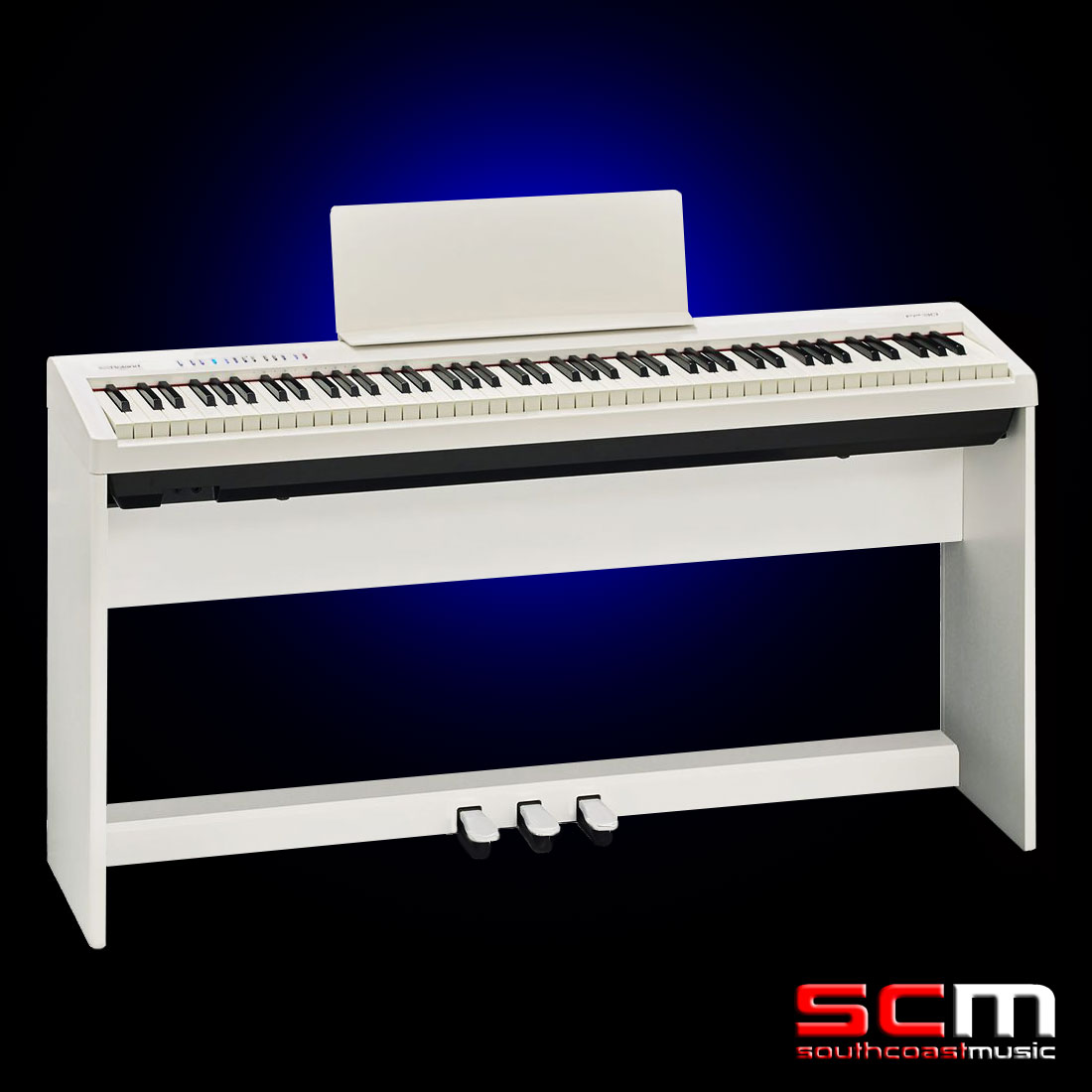 If you've ever dreamed of owning your own piano but don't have the space or budget for a full-sized acoustic instrument along with the ongoing maintenance costs, your wait is finally over. The Roland FP30 offers 88 full size keys, weighted and featuring Roland's acclaimed sound, feel and modern features in a top-quality compact digital piano that fits any space with ease. Light and portable, the FP30 never needs tuning or any other expensive ongoing maintenance plus it's a great fit for performing players and music classrooms as well.
With the addition of numerous sounds beyond the piano, built-in practice and recording functions as well as Bluetooth® wireless support for working with popular music apps, the FP-30 delivers a premium musical experience previously unattainable in such a streamlined package – and at this price.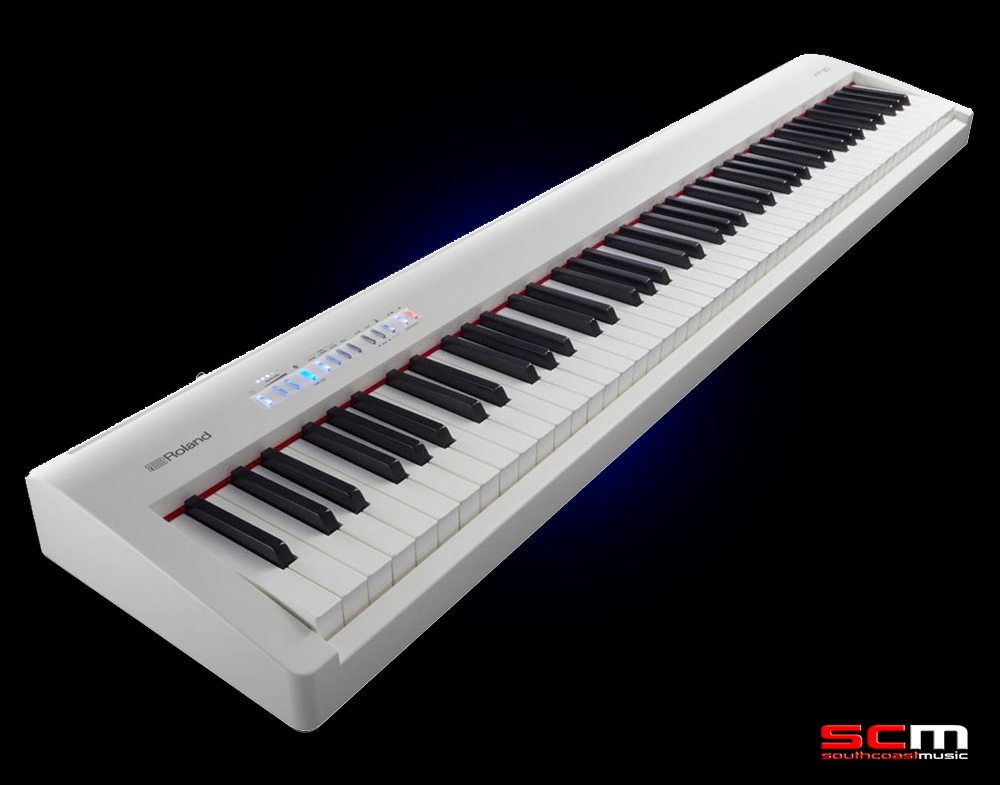 ROLAND FP30

COMPACT DIGITAL PIANO – Superior Sound and Touch Designed to Satisfy the Most Experienced Pianist

The FP30's exceptional performance easily outshines other instruments in its class. Roland's unrivaled sound and feel deliver an authentic piano experience for the maximum musical expression. It provides a solid foundation for proper learning and the detailed articulation and response that experienced players and teachers demand.

Supporting the FP30's advanced SuperNATURAL Piano engine is a powerful onboard sound system, along with a newly developed keyboard that inherits the touch, escapement and Ivory Feel keys found in Roland's high-end home pianos.
ROLAND FP30

COMPACT DIGITAL PIANO – Powerful Digital Advantages for Learning, Creativity, and Enjoyment

Thanks to its modern digital engine, the FP30 goes far beyond the capability of any acoustic piano, bringing more fun and productivity to your playing experience. In adition to the superb piano sounds are a selection of voices that include organs, strings and many more to let you enjoy all types of music styles. A variety of drum patterns are also included to provide back-up rhythms to your playing and elevate practice above the monotony of a metronome.

It's even possible to layer two sounds together or play different sounds with each hand. Bluetooth wireless is built in for working with MIDI music apps on mobile devices, while USB support enables you to play along with favourite tunes and save SMF songs captured with the FP30's onboard recorder.

Twin Piano mode is perfect for private lessons, allowing student and teacher to play side by side in the same octave ranges.

The ability for silent practice is an important requirement in a busy household and by plugging headphones into your FP30, you can get lost in musical journeys day or night without disturbing housemates or neighbours.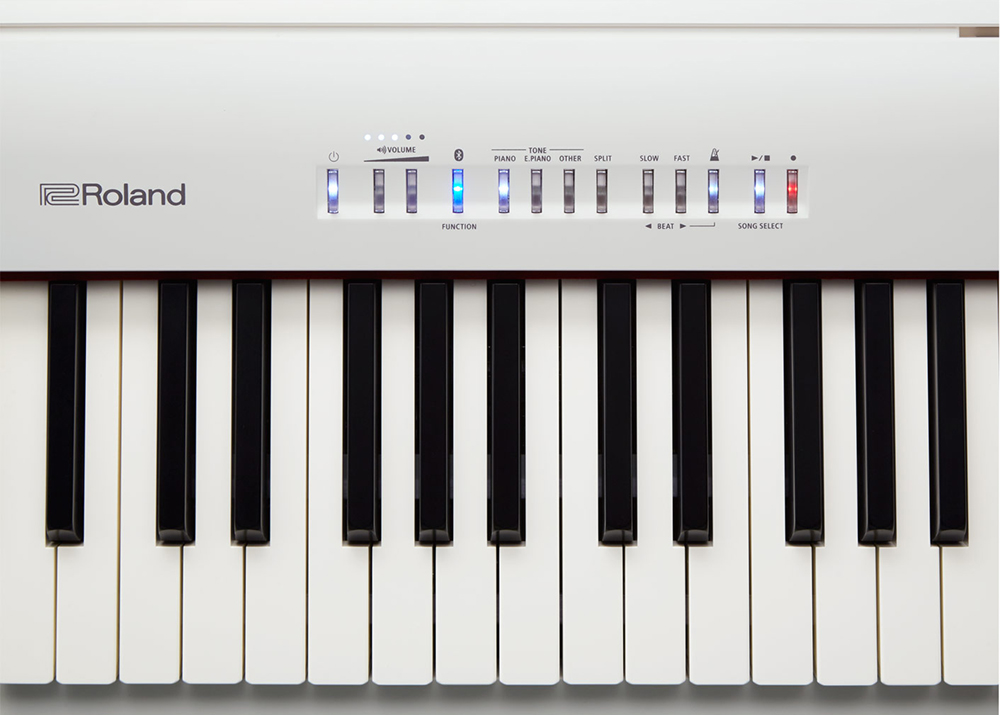 ROLAND FP30

COMPACT DIGITAL PIANO – Highly Portable for Life on the Move

The FP30 offers a sleek, elegant look that's a welcome addition to any room. The light, compact design fits in tight living spaces and is easy to move when needed. It's great beyond the home as well, giving performers and music educators a professional level instrument that's incredibly mobile. If you need a mobile Digital Piano, the FP30 fits any quality keyboard stand – contact us to discuss the many options available.
ROLAND FP30

COMPACT DIGITAL PIANO – An Elegant combination of Tradition and Technology

This package offers a more traditional setup with the addition of the matching Roland KSC-70 stand and KPD-70 three-pedal unit. Together they provide an integrated look and classic pedal configuration while maintaining a much smaller footprint than a typical upright piano. Another great benefit is that the KPD-70's foot pedals can be used for hands-free turning of onscreen music pages while using mobile apps such as piaScore and Sheet Music Direct.
Rich, responsive tone from Roland's renowned SuperNATURAL Piano sound engine
88-note PHA-4 Standard keyboard provides authentic piano touch for maximum expression
Powerful amplifier and stereo speakers deliver impressive sound
Headphones output and quiet keyboard action allow you to enjoy playing at any time without disturbing others
Compact and lightweight body for easy mobility in and out of the home, studio or classroom
Built-in Bluetooth wireless connectivity for using the piano with popular apps on your smartphone or tablet such as GarageBand, piaScore, Sheet Music Direct, and many others
Broaden your musical experience with dual/split modes
Wide selection of sounds including organ, strings, voices, drums and more
Twin Piano mode is ideal for lessons, letting student and teacher play side by side in the same octave ranges
Connect USB memory to save songs you've captured with the onboard SMF recorder
Play along with your favourite WAV and SMF songs
What's included:
1 x Roland FP-30 Digital Piano
1 x Roland KSC-70 stand
1 x Roland KPD-70 three-pedal unit