WMS40 Mini2 Dual Wireless Vocal and Instrument Set Bands US25A and US25C
IDEAL FOR:
• Live sound
• Bands
• Hotels
• Clubs
• Schools
• Houses of worship
• Conferencing
• Sound and Audio Visual companies
• Gyms and more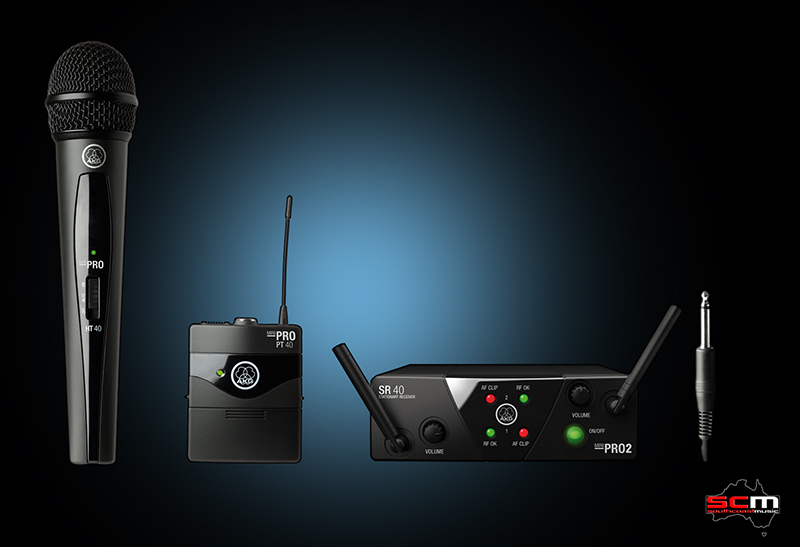 From humble beginnings in 1949, AKG microphones and headphones have built a rock solid reputation on stage and in the studio with international musicians such as Frank Sinatra, Eric Clapton, Peter Gabriel, Stevie Wonder, Aerosmith, the Rolling Stones, Rod Stewart, Anastasia, Eros Ramazotti, Kayne West and Simply Red.
The AKG WMS 40 Mini2 Dual Vocal and Instrument Set is a true plug and play solution for people requiring a versatile wireless solution with clear, natural sound and ease of use at an unbeatable price/performance ratio.
AKG have been at the forefront of wireless microphone technology from the beginning and their unique HDAP (High Definition Audio Performance) technology ensures the best possible, most realistic sound at any time.
You don't need a science degree to operate this system either – operation is fairly straight forward; simply connect the SR40 mini2 to a PA amplifier input, power the transmitters and receiver and you're ready for wireless performances.
You'll be up and running" in moments making this the ideal wireless solution for small stages, clubs, places of worship, hotels, gyms and more.
The WMS 40 Mini Vocal / Instrumental Set Dual ensures brilliant sound and ease of use at an unbeatable price/performance ratio.
AKG SR40 MINI2 DUAL RECEIVER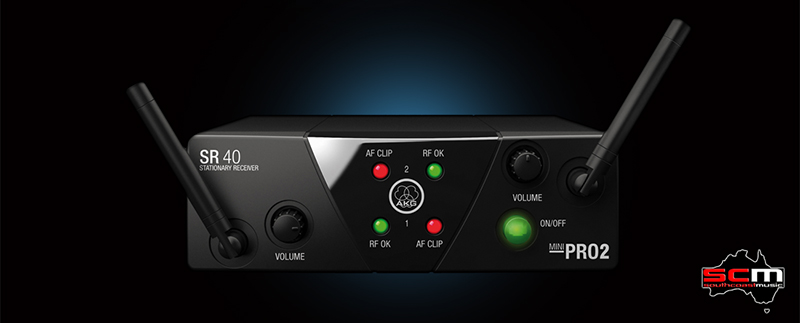 The AKG SR 40 Mini2 is a compact and powerful dual channel receiver.
Using the SR40 Mini2 is simple with a single illuminated ON/OFF button to switch both channels on and off at the same time.
The two channels are set at the following frequencies:
• US25A 537.500MHz
• US25C 539.300MHz
Each channel features three LEDs indicating ON/OFF status, received signal strength (RF OK) and audio clipping (AF CLIP).
The receiver offers two balanced outputs via 6.35mm (¼") jack connectors with the large VOLUME control controlling the output level at the output jacks.
Each receiver comes with a 240VAC 12VDC switched mode power supply made for Australia.
AKG PT40 MINI BELTPACK TRANSMITTER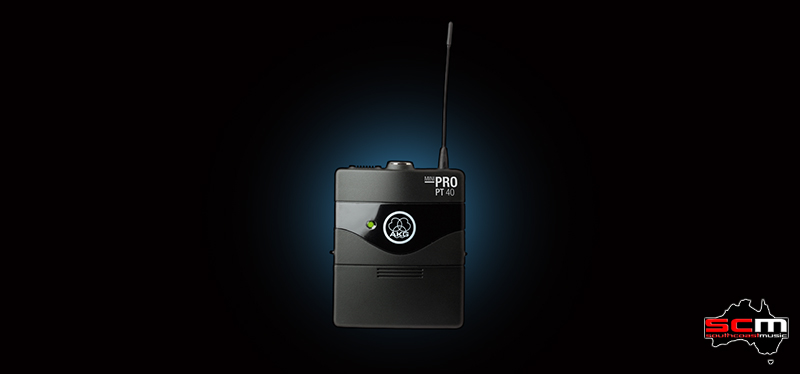 The AKG PT 40 Mini bodypack is widely considered to be the smallest and lightest transmitter in its class. A professional quality reliable mini XLR input allows you to connect every compatible AKG miniature microphone as well as musical instruments with a 6.35mm connection. An AKG MKG-L instrument cable with mini XLR to a 6.35mm plug is included at no extra charge.
AKG PT40 MINI BELTPACK TRANSMITTER FEATURES
• Up to 30 hours playtime with one single AA battery
• Plug & Play
• Gain control on pocket transmitter
• Compatible with all AKG MicroMics
• Low battery indicator
• Smallest and lightest bodypack transmitter in its class
AKG HT40 MINI HANDHELD MICROPHONE TRANSMITTER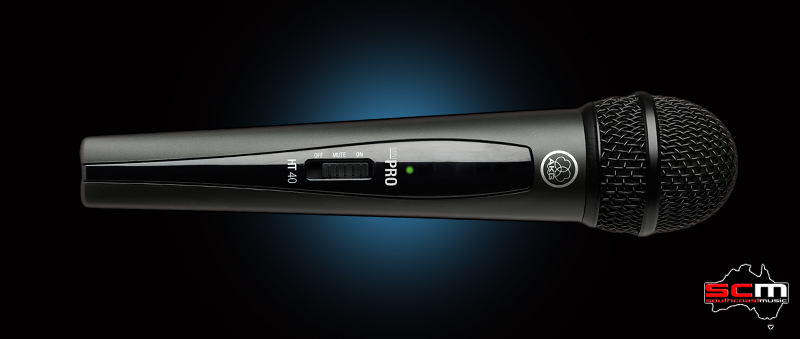 The AKG HT 40 Mini handheld transmitter features a lightweight yet rugged, high impact plastic body with a sturdy sprung steel mesh cap protecting the high energy cardioid dynamic microphone element.
With superb clarity and excellent gain before feedback, the audio performance of the HT 40 Mini rivals that of many wired microphones costing as much as this entire wireless system.
The on/off/mute switch provides instant control over the output signal.
Battery life is equally impressive with up to 30 hours from a single AA battery, reducing the need to replace batteries and thus saving real money in the long run.
AKG HT40 MINI HANDHELD MICROPHONE TRANSMITTER SPECIFICATIONS
• Transmitter Form: Handheld Microphone
• Capsule Type: Dynamic
• Polar Pattern: Cardioid
• Battery Type: 1 x AA alkaline (or better)
• Operating Time: Up to 30 hours
• Body Material: High Impact Plastic
• Head Shell Material: Sprung Steel Mesh
• Internal Pop Filter: Yes
• Dimensions: H230mm x W51mm (9.1″ x 2.0″)
• Weight: 195g (6.9 oz)
AKG HT Mini and PT Mini TECHNICAL SPECIFICATIONS:
• Audio Frequency Response: 40Hz – 20 kHz
• Signal to Noise: 110 dBA
• Total Harmonic Distortion (THD): 0.8 % @ 1 kHz
• Operating Temperature Range: 14 to 131°F (-10 to 55°C)
• Peak Deviation: 45 kHz
• Nominal Deviation: 15 kHz
• Transmitter Output Power: 10 mW
• Transmitter Synchronization: Manual
• Channels: 3
• Number of Selectable Frequencies: 1 fixed frequency
• Range: 20 metres (66′)
• Modulation: FM
THE WMS40 Mini2 DUAL VOCAL and INSTRUMENT SET INCLUDES:
1 x AKG SR 40 MINI2 Dual Channel Receiver
1 x AKG PT 40 MINI Bodypack Transmitter
1 x AKG MKG L Instrument Cable
1 x AKG HT 40 MINI Handheld Transmitter
1 x Switch Mode 240VAC-12VDC Power Supply
2 x AA Size Dry Batteries