VOX VX50 GTV 50W HYBRID MODELING COMBO AMPLIFIER with NUTUBE VACUUM TUBE TECHNOLOGY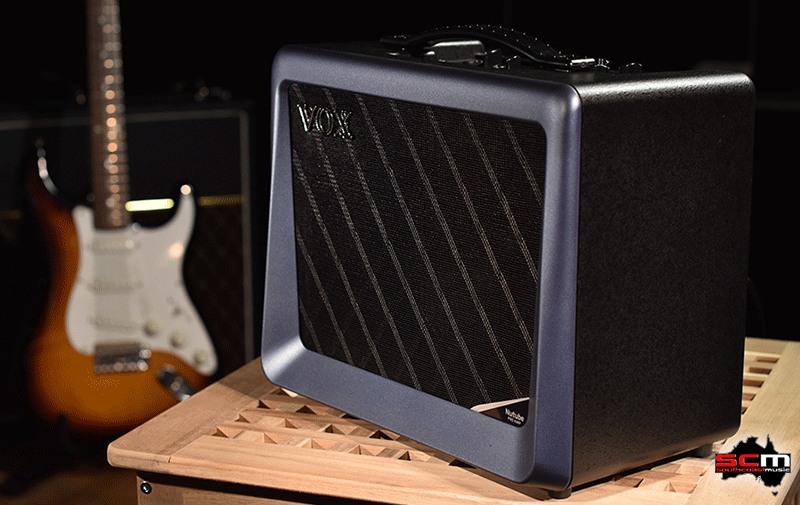 • Proprietary VET (Virtual Element Technology) models highly desirable tube amps
• Models include the classic VOX AC30 and other famous tube amps including modern high-gain and rare boutique amps
• NuTube 6P1 vacuum tube delivers authentic valve tone
• Two categories of effects, modulation and delay/reverb that can be used simultaneously
• Tap button allows delay time to be easily set in real time
• Integrated USB audio interface for simple direct-to-computer recording
• Compatible with Tone Room editor/librarian software for detailed parameter editing and preset management
• Compatible with Mac, Windows, iOS, and Android operating systems
• Internal structure crafted and tuned for optimal acoustic response
• Ultralightweight sealed body made of ABS featuring a bass-reflex design for incredible tone
• Stone-colored body with black-toned diamond grille cloth
• On-Board digital tuner
• 3.5mm headphone/line output with built-in cabinet simulator
The VOX VX50 GTV is a powerful 50W hybrid modeling combo amplifier with a NuTube vacuum tube offering the tube character and tone with multiple effects expected by today's guitarists for use at home or in the studio.
■ NuTube VACUUM TUBE
The VX50 GTV features the most exciting vacuum tube innovation in decades – NuTube. Using electro-luminescent technology with the same structure as a conventional vacuum tube, the NuTube has proven itself in a variety of VOX and other products. The distortion and sense of compression that you expect from a vacuum tube, and even the response and playing feel, are perfectly captured by NuTube. As well as real tube tone, the benefits of NuTube technology are many including the light-weight design and energy efficiency that are simply unobtainable from a conventional old-school vacuum tube amp. Nutube also brings additional unique advantages such as being maintenance-free and delivering amazing cost-effectiveness.
■ USB AUDIO INTERFACE
The VX50 GTV features USB audio interface functionality that lets you connect it to your computer via USB, and record the Nutube sound directly. In addition to letting you enjoy performing, this unit brings high potential as an amp that integrates well with your desktop music setup.
■ 11 INCREDIBLE AMP MODELS and VET TECHNOLOGY
Thanks to their many years of developing modeling amps, VOX delivers the ultimate in sound. Proprietary VET (Virtual Element Technology) enables unprecedented realism, reproducing not only the audible result but rethinking the original circuit itself, painstakingly modeling even individual components that affect the sound. In addition to the classic AC30, this single amplifier covers a diverse multitude of sounds that include famous tube amps, modern high-gain amps and rare boutique amps. Newly added is a LINE type which supports not only electric guitar but also acoustic guitar, further expanding this unit's usefulness.
■ STUDIO QUALITY EFFECTS PROCESSOR
Vox have included a full selection of the effect types that are indispensable in shaping your sound. You can simultaneously use both types, modulation and delay/reverb and choose from four types each, giving you a total of eight variations. The 24-bit / 44.1 kHz internal digital processing ensures recording studio quality resolution for the eight effects providing you with the ability to add the final touches to shape your overall guitar sound. There's also a tap button, so you can set parameters such as delay time in real time.
■ POWER TO THE PEOPLE – LIGHT ON
With an ultra-lightweight sealed bass-reflex design body made of ABS, the internal structure of the Vox VX50GTV is crafted for excellent acoustic response.
You'll be amazed the instant you lift this unit! The VX50 GTV achieves an ultra-lightweight design that seems unreasonable for a guitar amp that produces this amount of sound.  Lightness however, is not its only advantage. A sealed body made of ABS for its excellent acoustical properties minimizes unneeded vibration, eliminating loss of sound and efficiently projecting your guitar sound. The bass-reflex structure ensures good coverage of the low-frequency range. Unlike the case with a typical small amp, you will feel no lack of power.
The VOX VX50 GTV delivers 50 watts RMS output through a specially designed 8″ speaker. Punching well above its weight, the VX50 GTV is well suited to environments where manageable volume is necessary. A 3.5mm stereo output with cabinet simulation is provided for convenient headphone monitoring or routing to an audio recorder.
Inputs include a 1/4″ TS instrument jack and a 3.5mm stereo aux in, making it simple to jam alone or along with tunes from your mobile device.
The lightweight and durable closed-back ABS enclosure features a ported bass-reflex design to extend frequency response and improve tone. Toggle between two user presets via the top-panel controls, or use the VFS5 footswitch (available separately) to access up to eight programs. The built-in tuner helps you stay on pitch without having to worry about an external tuner.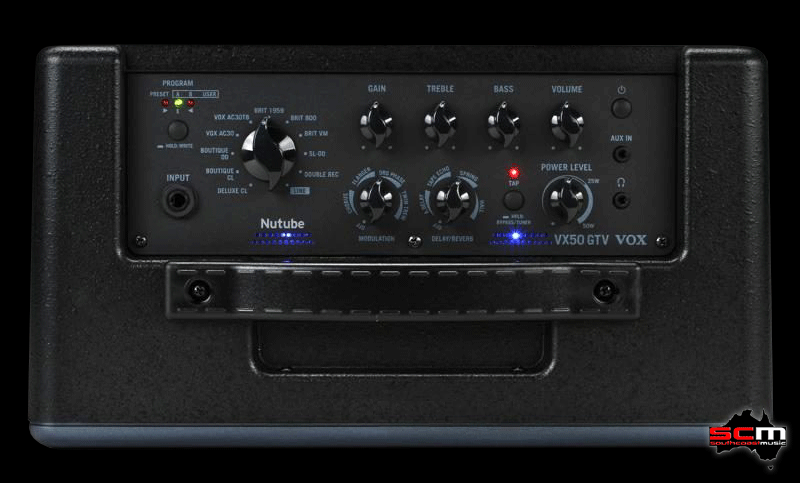 VOX VX50 GTV COMBO AMPLIFIER SPECIFICATIONS:
• Amplifier Type: Hybrid
• Output Power: 50 W RMS
• Channels: 1
• Preamp Tube: 1 x Nutube
• Output Impedance: 4 Ohms
• Built-In Effects: Digital Reverb, Chorus, Delay, Echo, Flanger, Phaser, Spring Reverb, Tremolo
• Factory Presets: 11
• User Presets: 2
• Master Volume: Yes
• Inputs: 1 x 6.35mm (1/4″) Instrument input
• AUX input: Yes – 1 x 3.5mm (1/8″) Stereo Input
• Footswitch Input: 1 x 6.35mm (1/4″) Mono Footswitch input
• Outputs: 1 x 3.5mm (1/8″) Stereo Headphone output
• USB Output: 1 x USB Stereo Digital Output
• Tone Section: Bass, Gain, Preamp Volume, Treble
• Speaker Configuration: 1 x 8″ Speaker
• Cabinet Type: Straight Closed Mono
• Input Impedance: 4 ohms Mono
• Cabinet Construction Material: ABS Plastic
• Dimensions: W35.4cm x H20.8cm x D31.30cm (W13.9 x H8.2 x D12.3″)
• Weight: 4.1kg (9.04 lbs)