VOX TONELAB EX MULTI-EFFECTS PEDAL
Real Valve Tone from This Awesome Pedal!
The VOX Tonelab EX is an amzing multi-FX pedal with specific enhancements tailored towards live performance.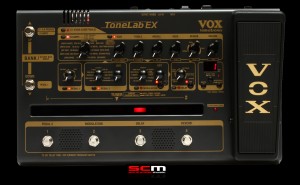 The basic formula is similar to the previous VOX modelers…select an amp type, dial in individual types of effects such as delays, reverb, chorus and other time-based modulation effects. The VOX Tonelab EX features noise reduction which is makes it perfect for high-gain players or single coil pickups.
The amp modeling is amazing with 33 different amps and 11 different cabinets that covers all of the popular bases from the classic Vox tones of yesterday and today, to metal Mesa-style tones and Marshall-style rock tones and plenty of others in between,
Additionally, once you have dialed in that perfect tone, you can store it in any one of 50 banks of 4 channels. You can store and retrieve up to 200 different tones at the press of a footswitch.
The VOX Tonelab EX adds some exclusive features including on-board stereo monitor speakers! While they are not meant for long-term rehearsal, they are perfect for backstage warmups and final tone tweaking. Second, the built-in tuner is a wide, strobe-style instead of a small digital readout, making it easy to tune up between songs under dim lighting. Third, the onboard pedal is a very sturdy pedal evocative of Vintage Vox Wah pedals that can also be used for volume control. Finally, the Tonelab EX has plenty of inputs and outputs, including a USB connection for direct recording to your favorite DAW recording package on your computer.
From the biggest live stages to the smallest recording studios, the Vox ToneLab EX multi-effects and modeling pedal gives you the effects and real tube amp sounds your music demands. Right out of the box, the ToneLab EX gives you 200 amazing, 100% useful programs, all professionally programed by serious live guitarists. At the heart of the ToneLab EX, there's a real 12AX7 vacuum tube, the same valve responsible for most of the real valve amps out there today. Combined with Vox's Valvetronix technology, this analogue circuitry gives you incredibly realistic drive and breakup sound.
Vox ToneLab EX Guitar Multi-effects and Amplifier Modeling Pedal Features at a Glance:
o Vox Valvetronix technology provides amazingly realistic amp/effect modeling
o Powerful Valve Reactor circuit features a real 12AX7 vacuum tube for true-tube tone
o 200 Ready-to-use and instantly available Programs, all professionally programmed (includes 100 User Programs and 100 Preset Programs)
o Preloaded with 50 Song Presets that recreate the guitar sound used on well-known songs
o 33 expertly voiced amp models cover rare, vintage, boutique, and coveted amps, plus much more
o 11 cabinet models perfectly mimic the original's depth and tone; mix and match with any amp model
o 45 premium quality effects: 11 stand-alone distortion pedals, 15 pedal effects, 11 modulation effects, 4 delay types including tap tempo delay, 3 reverb types, 1 noise reduction effect
o Use up to 9 effects at once
o Normal/Strobe chromatic tuner with high-visibility LED display that's easy to see on stage
o Built-in stereo monitor speakers
o Full-size Vox expression pedal provides stable pedal control during live performances
o Intuitive panel design places the amp head and stomp-box effects at your feet
o Completely independent editing sections for the amp and effects allows for simple editing
o Amp/Line output switch provides optimal sound through any amp or system:
o Amp Mode has settings for connecting directly to a guitar amplifier (support for major amplifier brands built in)
o Line Mode provides a three-band Total Equalizer to control the tone
o Aux input lets you jam along to your favorite tunes
o USB port provides a single-cable audio connection to your DAW
o Dimensions: 15.51″ x 9.37″ x 2.83″
o Weight: 6.61 lbs.
o Included items: AC adapter (DC12V)