VOX AMPLIFICATION
LIMITED EDITION VOX UNION JACK MINI SUPERBEETLE ELECTRIC GUITAR AMPLIFIER STACK
Past meets Present – the new VOX MINI SUPERBEETLE combines iconic looks with stunning Nutube Valve sound.
• Iconic design and tribute to the original VOX Super Beatle Guitar Amp stack of the 1960s
• Traditional VOX AC tones, powered by Nutube, with a maximum output of 50W (at 4Ω)
• Open-backed cabinet equipped with 1 x 10″ Celestion speaker
• On-board digital reverb & NuTube driven tremolo
• Built-in digital reverb that simulates a spring reverb
• 6.35mm Speaker output for pairing with a variety of cabinets
• 3.5mm Headphone/Line output for practice or recording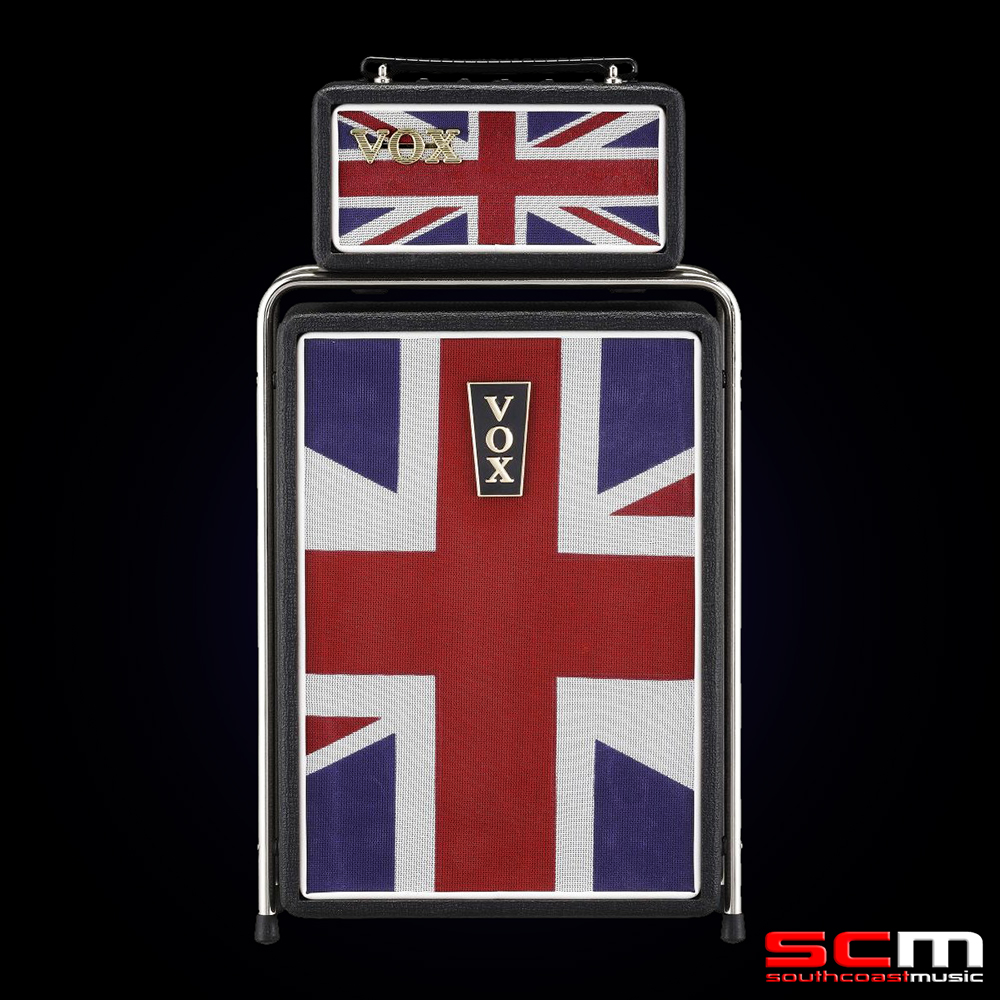 Mini and mighty at the same time, the all-new VOX MINI SUPERBEETLE 25 Electric Guitar Amplifier Stack brings back the iconic look of the 1960's combined with incredible tone thanks to all-new analog NuTube circuitry. Inspired by the Vox Super Beatle stack used by the Beatles at the height of the "British Invasion" of the USA, the Limited Edition VOX MINI SUPERBEETLE 25 is a scaled down tribute complete with the iconic chrome stand and distinctive VOX styling!
The VOX MINI SUPERBEETLE 25 delivers the sounds of a classic VOX amp in a compact and cool looking package – the head and cab's Union Jack Grille cloth capping off what is sure to become a future collectable and the perfect addition to any guitarists' home.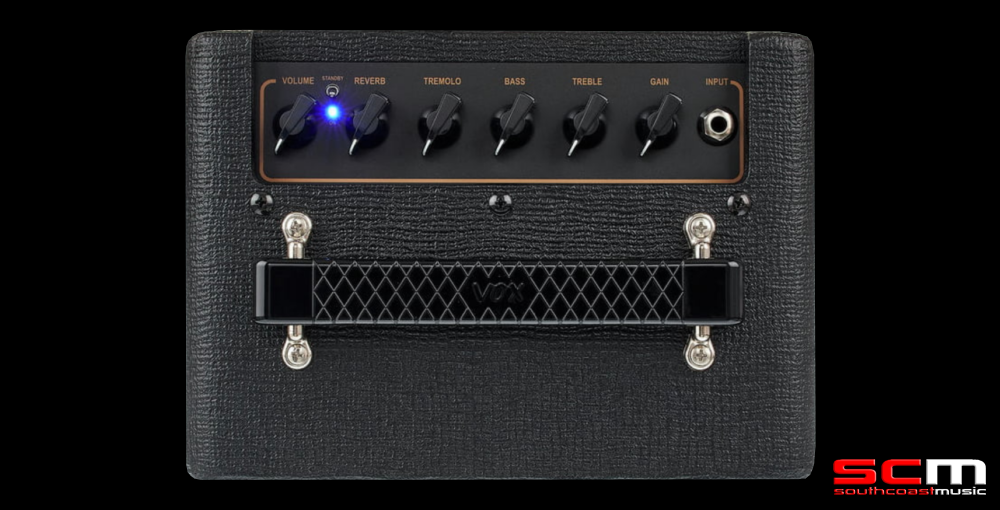 IT'S WHAT'S INSIDE THAT COUNTS
Nutube is the new vacuum tube developed in a collaboration between KORG and Noritake Itron. This dream device uses vacuum fluorescent display technology to obtain the same vacuum tube sound and response, while eliminating the problematic aspects of a vacuum tube and has begun to be used by VOX as well as other musical instrument manufacturers.
The Nutube is used in the VOX MINI SUPERBEETLE, faithfully reproducing the tonal character of VOX's legendary AC30. The sparkling, chimey sound that has captivated guitarists for more than fifty years is alive and well in this new amplifier.
Additionally, the traditional VOX tremolo effect has also been included and sounds lovely and immersive. The amplitude of the tremolo also changes the depth of Nutube distortion, varying the sound, resulting a true tube driven tremolo effect. Also provided is a digital reverb that simulates a classic spring reverb, dramatically improving the potential for shaping your sound. An extension speaker cabinet can also be added to this package for more volume when you need it.
The MINI SUPERBEETLE 25 is not merely a scaled reproduction of the classic stack; it is a true re-imagining of an iconic amp that has been updated to meet the needs of today's players while looking incredibly cool at the same time.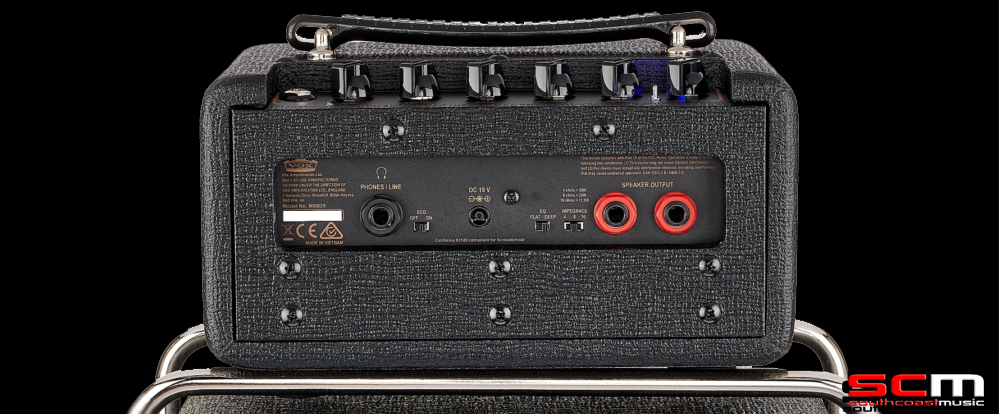 BETTER CONTROL BY DESIGN
The Superbeetle head has been thoughtfully designed with some extra features that enhance the amp's useability, tonality and expressiveness. The control panel is simple and easy to navigate with Volume and Gain knobs at either end of the control array with Bass and Treble controls mounted inbetween. The Digital Reverb and NuTube driven Tremolo controls are simple to use — the Tremelo knob controls rate while the Reverb control regulates depth.
The MINI SUPERBEETLE 25's back panel is also home to a host of useful features. There's an "eco" switch that automatically shuts the power off after a time, two 6.35mm (1/4″) phono speaker outputs, and a 6.35mm (1/4″) TRS headphone/line out that can be used with a DAW. The 3-position impedance switch (the amps actually runs at a full 50 watts RMS of power at 4 ohms) and an EQ slider that moves from a flat voice (recommended for large cabinets) to a deep one designed to work with the stock 1 x 10″ cabinet.
MORE THAN A SALUTE TO BRITISH ROCK HERITAGE
VOX boasts a sophisticated sense of design that is unmatched by any other guitar amp manufacturer. From a historical point of view, there is no other guitar amp that resonates so strongly with music aficionados in both looks and sound. Throughout VOX's history, the AC100 stack set, wrapped in its chrome frame stand, stands out as one of the amps that exemplifies VOX and its lasting impact on pop culture during the height of the British Invasion. The VOX MINI SUPERBEETLE emanates the spirit of that shining history, and is the rare amp that you'll enjoy not only while playing it, but also as décor. It's a privilege that's backed by more than sixty years of VOX history.
LIMITED EDITION VOX UNION JACK MINI SUPERBEETLE ELECTRIC GUITAR AMPLIFIER STACK
• Format: Head, Speaker Cabinet and Chrome Frame/Stand
• Livery: Black Vinyl Covering with Union Jack Grille cloth
• Inputs: 1 x 6.35mm (1/4″) Phono input
• Audio Output: 1 x 6.35mm (1/4″) TRS Stereo Headphones/Line out
• Speaker Outputs: 2 x 6.35mm (1/4″) Speaker outputs
• Controls: Gain, Treble, Bass, Reverb, Tremelo, Volume, EQ Switch (Flat/Deep), ECO On/Off, Impedance 4/8/16Ω
• Speaker: 1 x 10″ Celestion Custom speaker, Maximum input 50 W RMS at 8Ω
• Valve: Nutube 6P1
• Output Power: Maximum approx. 50W RMS@Ω, 25W RMS@Ω, 12.5W RMS@Ω
• Current Consumption: 3.43Amps
• Effects: Digital reverb, Nutube tremolo
• Dimensions: W32.3 cm x D18.0 cm x H59.6 cm (12.7″ x 7.09″ x 23.5″)
• Weight: 8.7kg (19.18 lbs.)
• Included Items: AC adapter (DC 19 V), AC cord, Speaker cable