VOX AC4TV MINI
VOX AC4TV MINI Valve Combo Amp Tube Electric Guitar Amplifier Cream Heritage
Legendary VOX vintage tone preserved in the definitive mini tube amp.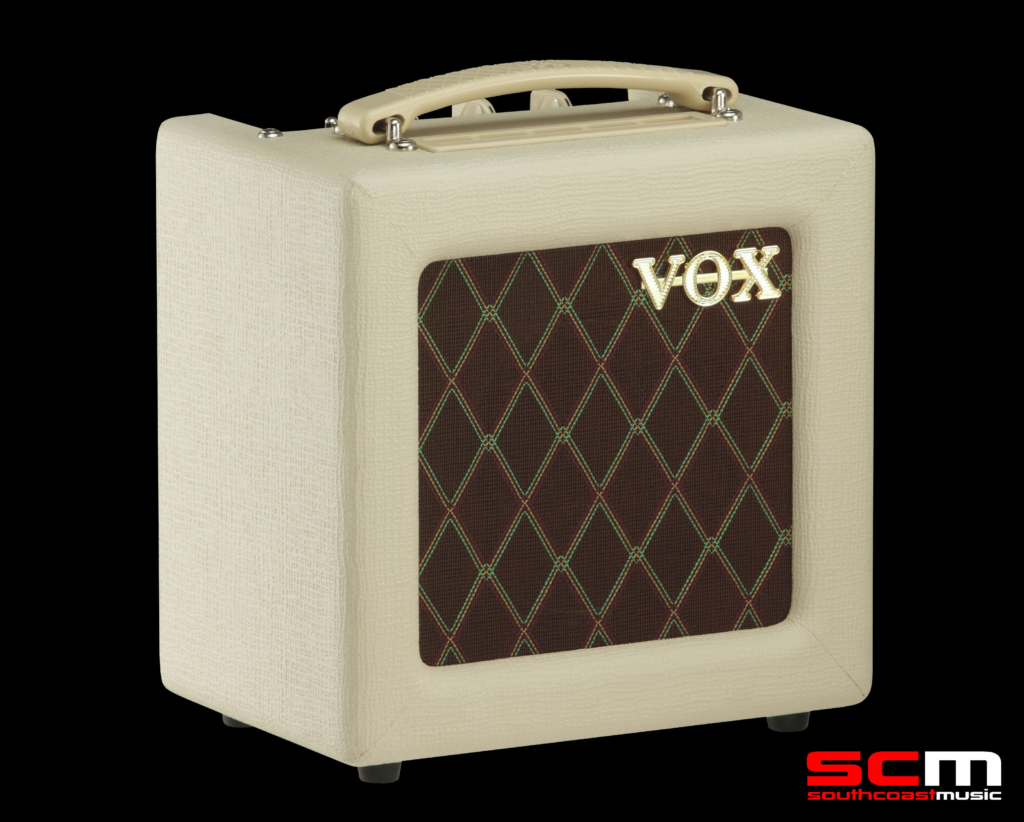 COMPACT and STYLISH RETRO CHIC
Today's modern AC4 Series includes this AC4TV mini. Borrowing the retro-chic "TV" front styling that first appeared on the classic 1958 AC15, the AC4TV Mini punches well above its weight delivering that classic chimey harmonically rich Vox Tone in a compact, ear-friendly package. The vintage VOX look is still a big part of the current VOX Heritage Collection. Stylish, clean and classic, the AC4TV mini looks great anywhere your music takes you.
PURE BRITISH CLASS A TONE
Think of the AC4TV Mini as the original AC4, reborn with today's technology. The AC4TV mini improves on the hardware of its vintage counterpart and the result is improved reliability and consistent tone from amp to amp. This up-to-date Class A version retains the distinctive EL84 power valve (tube) of the original and features a 12AX7 powered pre-amp that delivers the pure British tone that's loved by all. By adjusting the volume and tone settings, you can create a broad range of tones " from a sweet, clean sound to that distinctive VOX overdrive sound.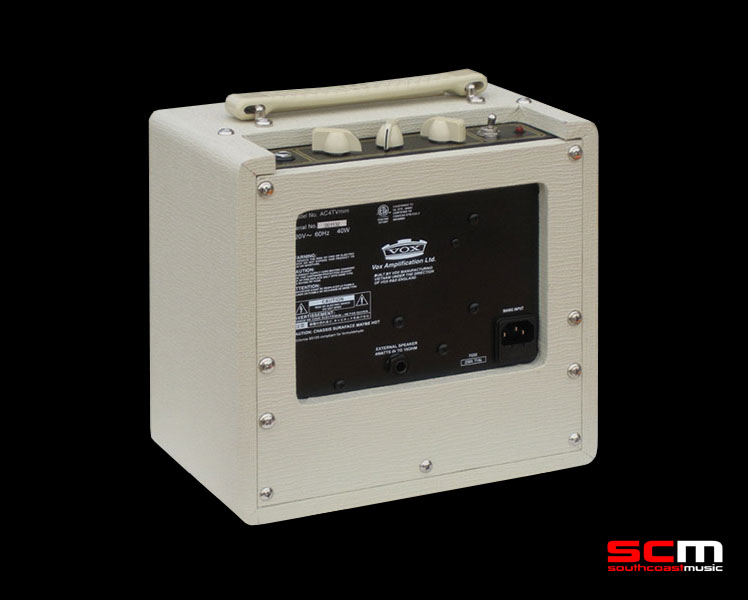 CRANK IT UP and TURN IT DOWN!
In the past, the only way to obtain great-sounding distortion with a single volume control was to simply crank the volume. The AC4TV mini has an attenuator switch that allows the output power to be set at 4 Watts, 1 Watt or even 1/10th of a Watt. This convenient and ear-saving feature allows the AC4TV mini to create a real, musically satisfying distortion even at the lowest power setting.
You'll be able to enjoy playing to your heart's content with your favorite tone late at night, in your dorm room wherever and whenever!
If you've got a quad box nearby, connect the AC4TV mini extension speaker jack and enjoy the music!
Extremely portable, the AC4TVmini is also ideal for recording, jamming with friends, rehearsals and more.

VOX AC4TV MINI FEATURES:
o Controls: Volume, one, OP (Output Power) Switch
o Output Levels: 4 Watts, 1 Watt, 1/10th Watt RMS
o Preamp Valve: 1 x 12AX7
o Power Amp Valve: 1 x EL84
o Speaker: 1 x 6.5″ VOX Original 16 ohms
o Input Jack: 1 x 6.3mm (¼") phono
o External Speaker Jack: 1 x 6.3mm (¼") phono
o Output Power: 4 watt RMS @ 16 ohms
o Dimensions (W x H x D): 260 x 280 x 170 mm (10.24 x 11.02 x 6.69″)
o Weight: 13.45 lb
o Power cable included