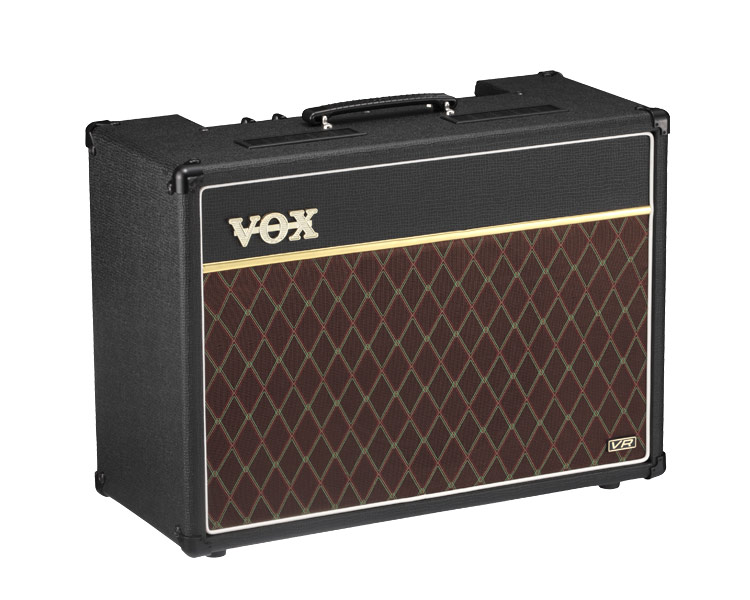 Tube and solid-state, vintage and modern, clean and dirty – the new VR Series has it all. Now, for the first time in VOX's 50-plus-year history, you can channel switch between legendary VOX tones and higher gain modern tones, all powered by Valve Reactor real tube technology and at a price that will pleasantly surprise you!
VR Valve Reactor
Originally designed for the critically acclaimed Valvetronix modelling amplifiers, the Valve Reactor circuit places a 12AX7 vacuum tube (or "valve") into the power stage. Known as a dual-triode tube, the 12AX7 is actually two tubes in one. Our engineers have configured this tube to act as a small power amplifier. This circuit provides all of the tonality and feel of an all tube amp. Too small to be used as an amplifier on its own, the output of this Valve Reactor circuit is fed to a high-quality solid state power amp that adds no tone coloration to the signal. This power amplifier also has some special circuits that feed the changing loudspeaker impedance information back to the Valve Reactor. This last interaction of tube, amp, and speaker provides the lively sound and feel that defines an all tube amplifier.
The AC15VR amp offer great tone, versatility, and stylish VOX looks, in two popular combo configurations ready to take you from the bedroom to any stage anywhere.
AC15VR: Twin channel, guitar amplifier with 1x 12 inch VX 12 Celestion custom made loudspeaker and digital reverb.
Play in Style
Using an "old-school" split-panel design, the AC15VR offers two distinct channels- Normal and Overdrive-with the Overdrive channel adding a separate Gain knob. In addition, the overdrive Style button delivers two distinctive flavours.
In Control
In addition to the Master Volume and Master Reverb, both channels of the AC15VR (Normal and Overdrive) share the same Treble and Bass tone controls. As with the AC30VR, the Overdrive channel features a Gain knob to add just the right amount of warmth and snarl to your sound. The 15 watt power amp feeds into a single 12″ custom-designed Celestion speaker for attention-grabbing tone.
Back for More
The AC15VR's back panel features an external speaker jack for use with an 8 ohm extension cabinet. Using an extension cabinet will mute the internal speaker. Also provided is a jack for the optional VOX VFS2A dual footswitch, which offers hands-free channel-switching and reverb on/off action.
VOX AC15VR Valve Reactor Specifications
Dimensions (W x D x H): 602 x 265 x 456 mm (23.70 x 10.43 x 17.95 inches)
Weight: 16.4 kg (36.16 pounds)
Output Power: 15 Watts RMS into 8 Ohms
Speaker: 1x 12″, 8 Ohm VX12 Celestion custom speaker
Inputs: Input jack, Footswitch jack
Outputs: External LoudSpeaker jack
Options: VFS2A Dual Footswitch with LEDs