FOCUSRITE
FOCUSRITE SCARLETT SOLO STUDIO PACKAGE
COMPLETE DAW RECORDING PACKAGE
LATEST GENERATION 3 TECHNOLOGY
Every song you'll ever write, in a box!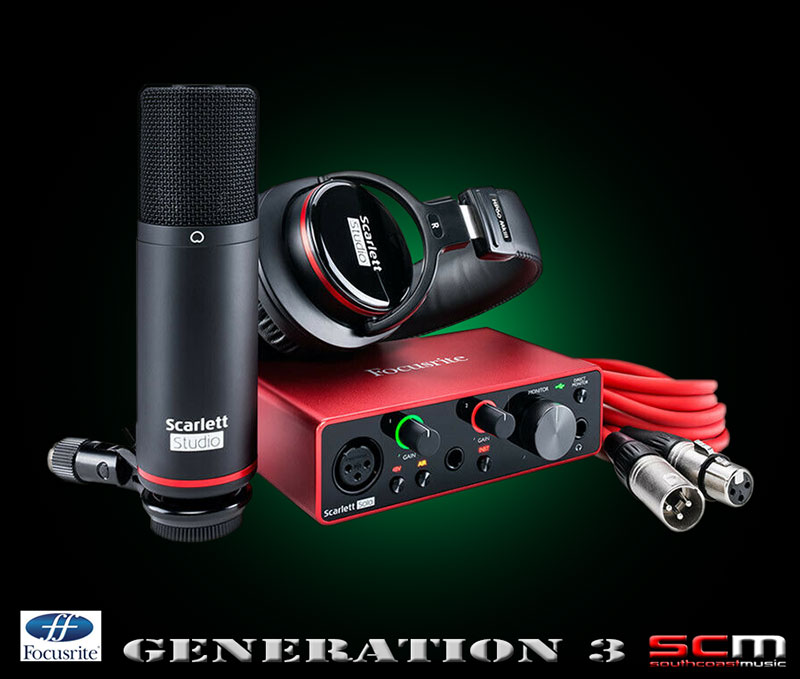 • Focusrite's simplest Scarlett USB interface, featuring the Best Performing Scarlett Mic Preamp ever – now with 'Air'
• CM25 MkIII condenser microphone, Detailed Studio-Quality Recordings, Amazing Podcasts
• HP60 MkIII Professional Closed-back Headphones, for Pristine Audio Quality Playback, Mixing and Monitoring
• XLR and USB Cables in the box, no power supply needed. Simply Unpack, Plug in and Record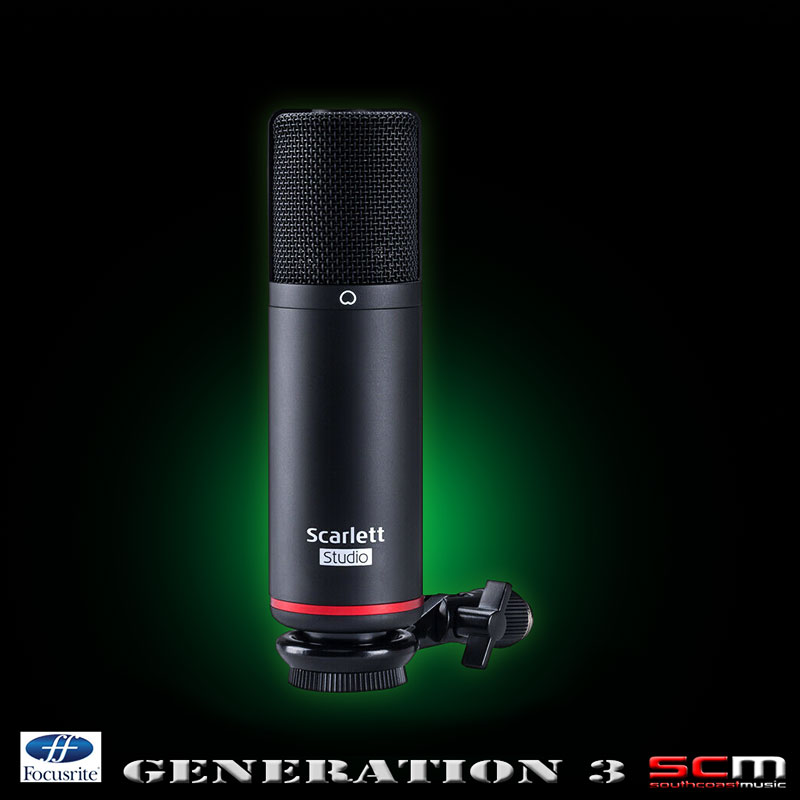 Congratulations! You have just found the simplest way to record your music. This package provides you with the ability to create incredible broadcast quality recordings of your music, your songs . . . your creativity.
Don't be misled by the compact size of the Scarlett Solo – this third Generation Focusrite USB Audio Interface is a little monster – simple to use and featuring the best performing Scarlett mic preamp the range has ever heard – now with "Air" . . . it doesn't get any better than this – especially at this price!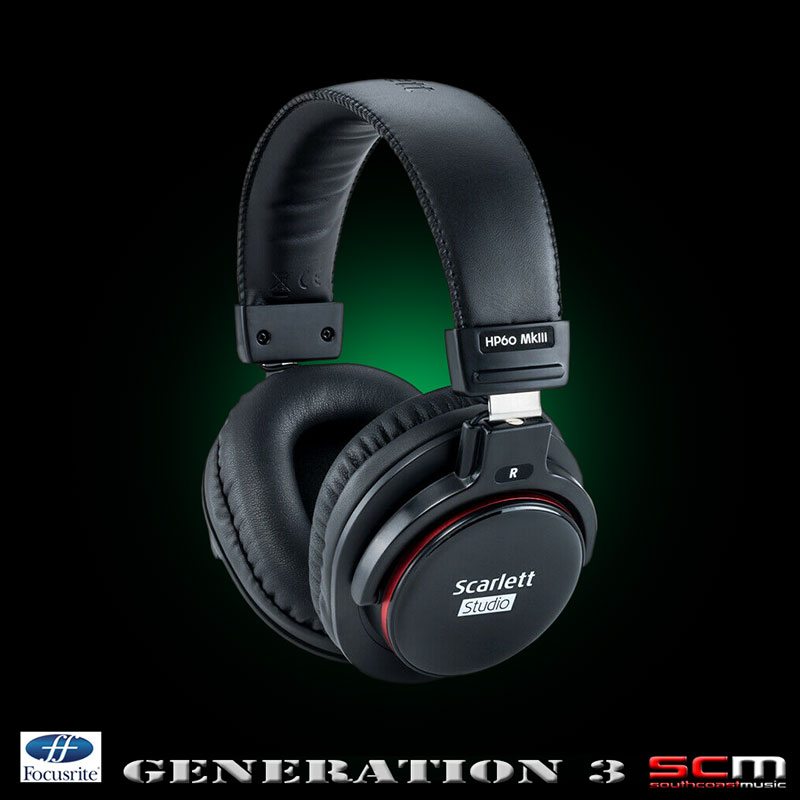 This mighty package includes the 3rd Generation Scarlett Solo USB-Audio interface, the Focusrite CM25 MKIII Large Diaphragm Recording Microphone, a pair of Focusrite HP60 MKIII Professional closed-back Studio Monitoring Headphones along with all the cables you'll need to get started straight away!
As if that wasn't enough, your brand new Generation 3 Solo interface comes complete with a huge range of recording software, sounds and plug-ins!
Your Creative Suite includes:
• Avid® Pro Tools® First Focusrite Creative Pack
• Ableton® Live Lite™
• Free Three Month Subscription to Splice Sounds
• XLN Audio Addictive Keys
• Softube Time and Tone Bundle
• Focusrite Red Plug-in Suite
• Focusrite Plug-in Collective
That's a small fortune worth of tools to help you create your next sonic masterpiece.
YOUR SIGNATURE SOUND AND ONE SIMPLE SETUP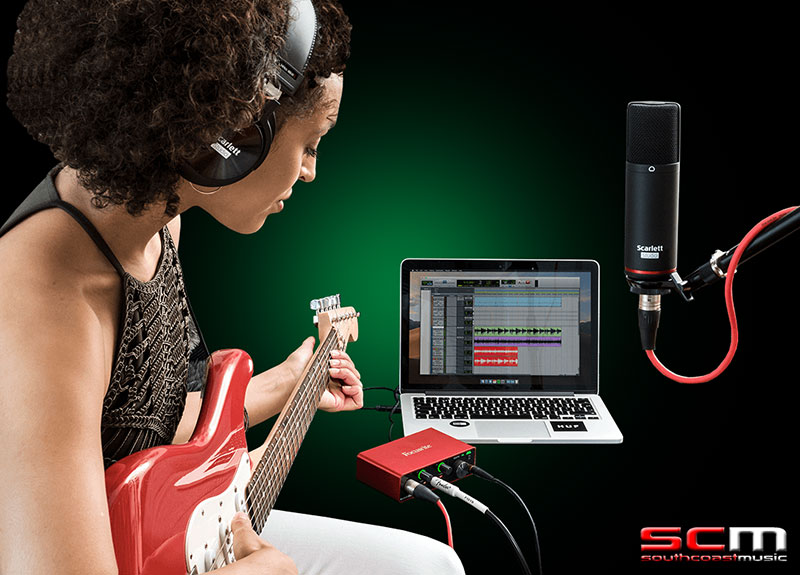 The 3rd Generation Focusrite Scarlett Solo Studio USB-AUDIO interface allows thousands of musicians and songwriters to share their music with the world every day. Featuring a natural sounding 3rd Generation microphone preamp and 'Air', emulating the legendary Focusrite ISA preamps. With your songs and Scarlett Solo Studio Pack, you have everything you need to record in studio quality. Your Podcasts will also be broadcast quality.
THE BEST SOUNDING RECORDINGS . . . EASILY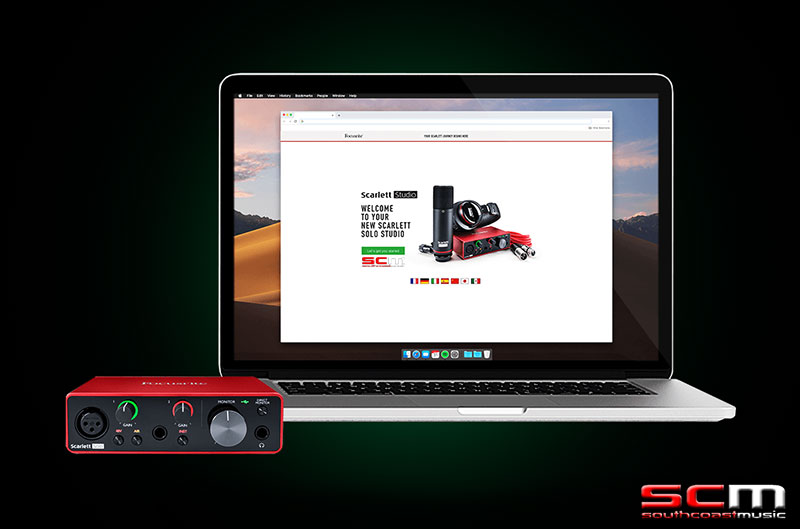 Easy Start gets you set up and recording within minutes. With the Large Diaphragm CM25 MKIII recording microphone you'll capture every nuance and detail while the closed-back HP60 MKIII Monitoring Headphones mean clear and comfortable mixing and monitoring. A 3rd Generation mic preamp, high-headroom instrument input and now-iconic Gain Halos mean the science of sounding great is sorted out. Now there's no need to worry about the tech, you can simply focus on the music.
YOUR RECORDING IS 30 YEARS IN THE MAKING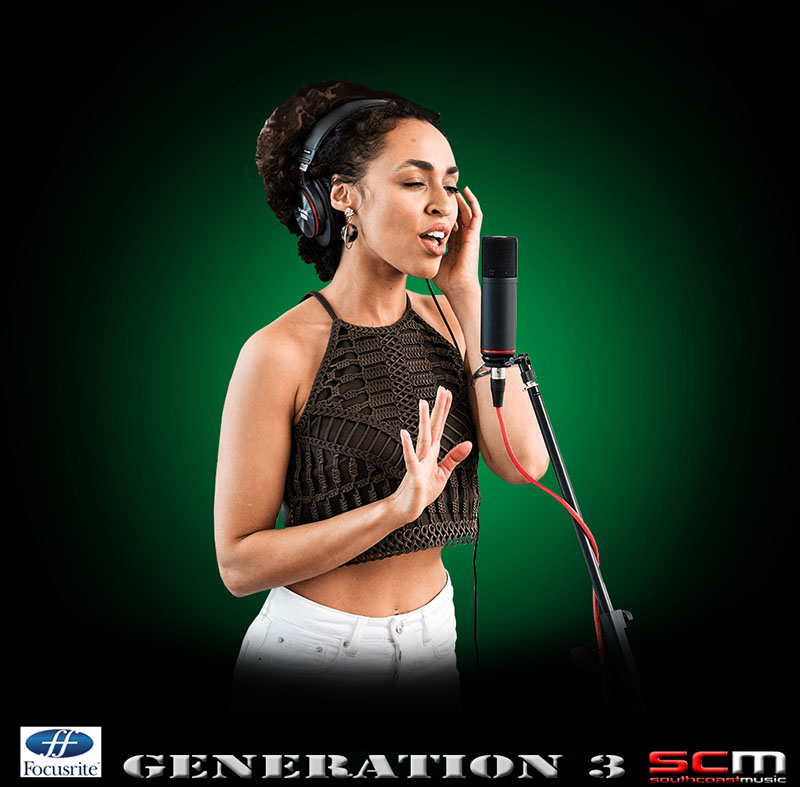 Focusrite have been making superb microphone preamps for more than 30 years and the all new 3rd Generation Mic Preamp is the best that has ever been offered in the Scarlett series. The 24-bit/192kHz converters give your recordings clarity and detail. Air mode breathes life into vocals, adding unique high-end detail. Decades of experience means that Scarlett sounds just like you.
TECHNOLOGY THAT IS SOUND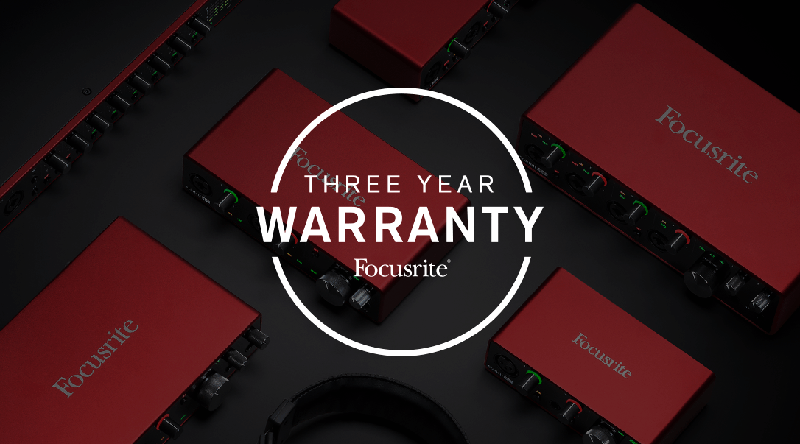 Incredibly reliable, Focusrite hardware won't let you down. If, however, you come across a problem you can rely on a global support team and a three-year warranty to get it sorted.
"It's hard to find fault with these units. They're built rock solid, look great, come with a good starter software selection, and most importantly sound like they cost way more than they actually do." sonicscoop
"…one of the best-value bundles of hardware and software we've seen, with everything you need to record, mix and monitor the results." MusicTech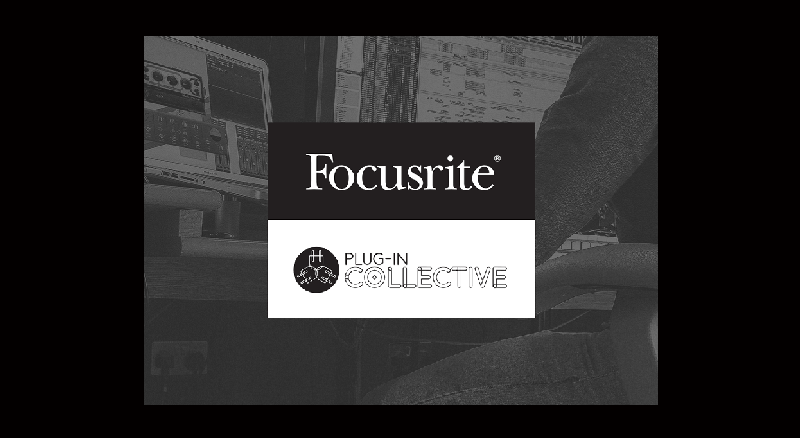 ALL THE TOOLS YOU NEED TO START RECORDING RIGHT NOW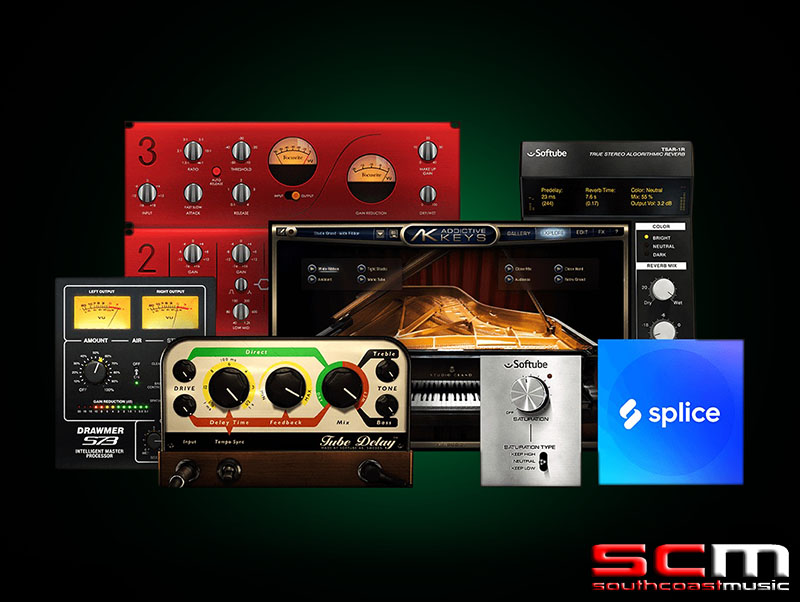 Along with CM25 MkIII microphone and HP60 MkIII headphones, your Solo interface comes with a whole range of recording software, sounds and plug-ins designed to aid and assist your creative flow:
Avid® Pro Tools® | First Focusrite Creative Pack:
• Hundreds of virtual instrument sounds
• 500MB of loops
• Pristine Studio-Quality Effects
Ableton® Live Lite™:
• Industry-leading music-making software
Three Month SPLICE SOUNDS Subscription:
• For three months you get free access to millions of high-quality, royalty-free one-shots, loops, and presets, with new releases daily!
XLN Audio Addictive Keys:
• Access one of four Virtual Keyboards
• Access granted after registering your Gen3 Focusrite Scarlett Solo
Softube Time and Tone Bundle:
• Three of Softube's world class Reverb, Delay and Distortion plug-ins
• Softube's easy-to-use Mastering Software Tool
Focusrite Red Plug-in Suite:
• Accurate models of the classic Focusrite Red 2 Equaliser and Red 3 Compressor
Focusrite Plug-in Collective:
• Receive free versions of the most innovative software
• Benefit from discounts
Plug-in Collective, for a lasting connection
When you buy any Focusrite hardware you gain access to the most innovative music software brands on the market. Plug-in Collective keeps you up to date on the latest tools, offering you new free downloads every couple of months, along with generous discounts. Let's stay together.
FOCUSRITE SCARLETT SOLO STUDIO SPECIFICATIONS
• Supported Sample Rates: 44.1kHz, 48kHz, 88.2kHz, 96kHz, 176.4kHz, 192kHz
• Microphone Input Frequency Response: 20Hz – 20kHz ± 0.1dB
• Microphone Input Dynamic Range: 111dB (A-weighted)
• Microphone Input THD+N: <0.0012%
• Microphone Input Noise EIN: -128dBu (A-weighted)
• Microphone Input Maximum Input Level: 9dBu (at minimum gain)
• Microphone Input Gain Range: 56dB
• Microphone Input Impedance: 3kΩ
• Line Input Frequency Response: 20Hz – 20kHz ± 0.1dB
• Line Input Dynamic Range: 110.5dB (A-weighted)
• Line Input THD+N: <0.002%
• Line Input Maximum Input Level: 22dBu (at minimum gain)
• Line Input Gain Range: 56dB
• Line Input Impedance: 60kΩ
• Instrument Input Frequency Response: 20Hz – 20kHz ± 0.1dB
• Instrument Input Dynamic Range: 110dB (A-weighted)
• Instrument Input THD+N: <0.03%
• Instrument Input Maximum Input Level: 12.5dBu (at minimum gain)
• Instrument Input Gain Range: 56dB
• Instrument Input Impedance: 1.5MΩ
• Line/Monitor Output Dynamic Range (Line Outputs): 108dB
• Line/Monitor Output THD+N: <0.002%
• Line/Monitor Output Maximum Output Level (0 dBFS): 15.5dBu
• Line/Monitor Output Impedance: 430Ω
• Headphone Output Dynamic Range: 104dB (A-weighted)
• Headphone Output THD+N: <0.002%
• Headphone Output Maximum Output Level: 7dBu
• Headphone Output Impedance: <1Ω
• Warranty: Three Years