THE PAT METHENY GROUP
SPEAKING of NOW – DVD LIVE in TOKYO 2002
US import DVD
135 minutes
DTS SURROUND – DOLBY 4.1 SURROUND SOUND
PAL 0 or REGION ALL — Can be played Worldwide (Must be played in a PAL compatible player)
ULTRA RARE – BRAND NEW!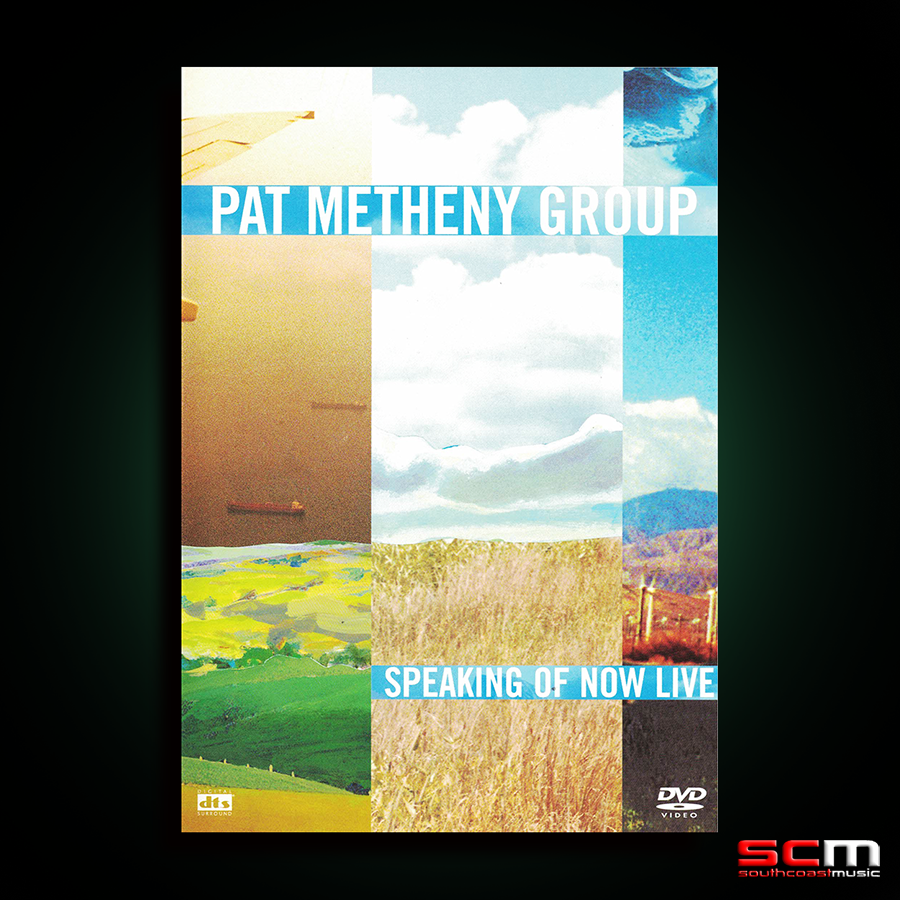 ACCESSIBLE INNOVATION – LIVE!
Pat Metheny's music is special, very special. He is a jazz innovator par excellence and his music – while creative – still manages to draw strong melodic themes from his music and fellow musicians.
Pat Metheny, one of the world's greatest and most prolific jazz guitarists, features work that ranges from avant-garde to commercial fusion. With Speak of Now – Live In Concert, the Pat Metheny Group delivers a tight, intense, uplifting and musically complex assortment of sounds that has never been put together before and can be enjoyed by all in one outstanding performance.
The band features Metheny (guitar), Lyle Mays (keyboards), Steve Rodby (acoustic bass, cello), Richard Bona (vocals, percussion, guitar, bass), Cuong Vu (trumpet, vocals) and Antonio Sanchez (drums).
The Pat Metheny Group's Speaking of Now Live introduces a new generation of world class players to the Pat Metheny Group's established musical core. Recorded in Japan in 2002, this inspiring DVD serves to remind us how change refreshes the human tendency towards habit. In this case, it makes for a great concert video.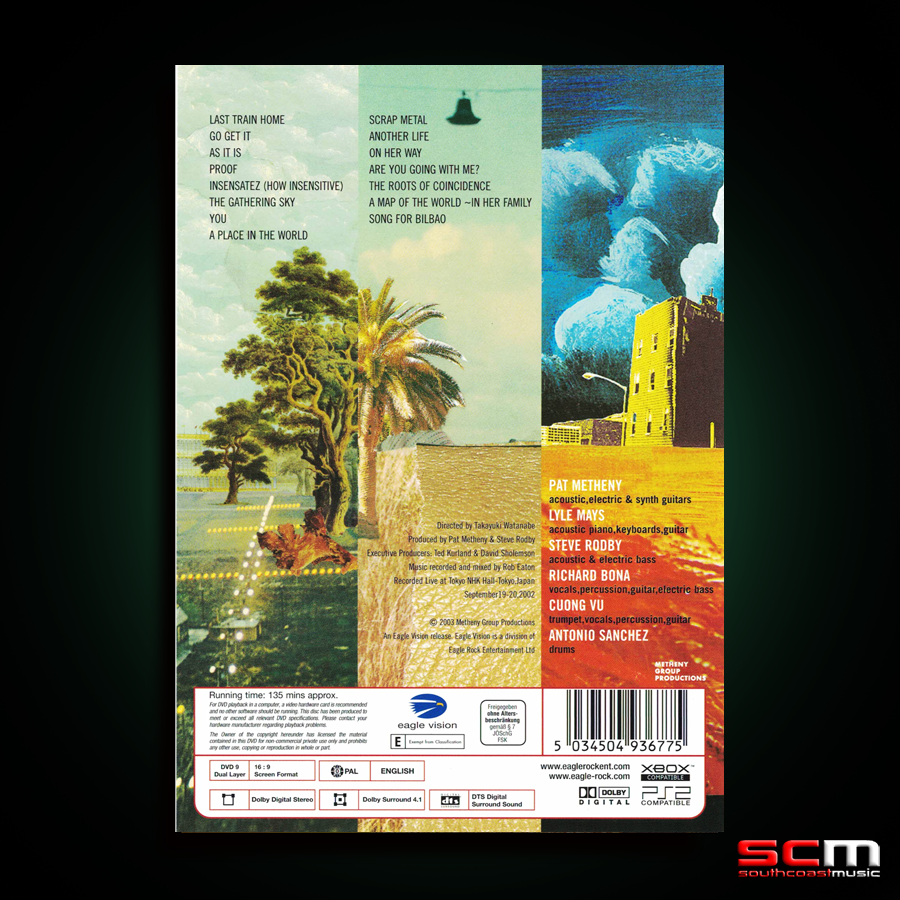 NEW BLOOD – NEW CONCEPTS
Introducing new blood into the heart of an established band is always a challenging task. Yet, Pat Metheny introduced three new additions to the PMG – Richard Bona, Cuong Vu and Antonio Sanchez and the result is a sonic masterpiece. All three are distinguished musicians in their own right and their performances displayed autonomy within the Metheny framework — an almost impossible task for any other than musicians of this calibre.
The sheer emotion shown by both Vu and Sanchez provide lovely images of musicians intensely immersed in the strain of new musical formations. Richard Bona's apparent ease of execution indicates a type of vitality that graces more experienced players. Together, PMG's new blood energises the band's newest work and the video set builds to a healthy crescendo.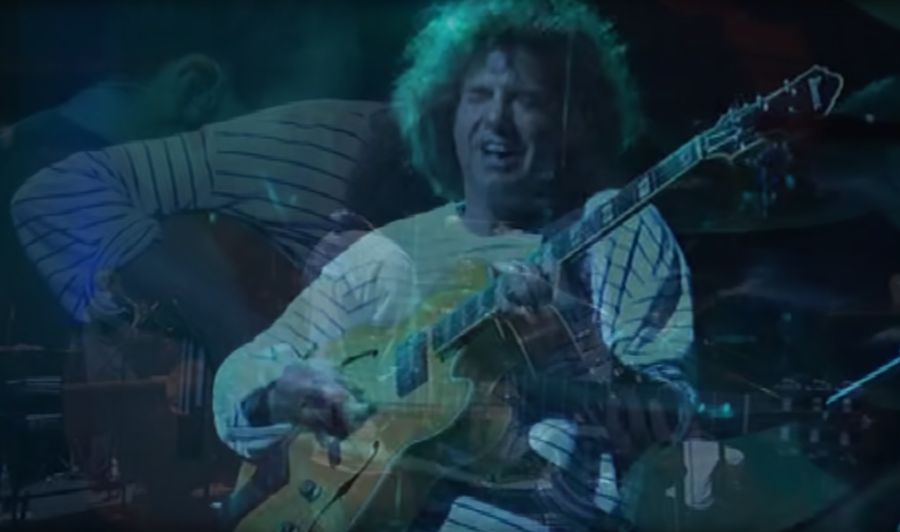 MUSICAL EXCELLENCE
As with any modern Jazz performance, solos abound and augment this performance beautifully. Cuong Vu guides us through a stream of ambient and acoustic sound that make his lone solo an adventure. Antonio Sanchez plays as though he has twice the number of arms and legs of mortal beings. Richard Bona's percussion work is outstanding and percussion is not even "The String's" main musical focus. Add this to the almost routine virtuosity of Pat Metheny, Lyle Mays and Steve Rodby and you have an extension of musical accomplishment that transcends what is considered "normal".
Speaking of Now Live is enhanced with a new incarnation of the piece, "Scrap Metal." Almost free form in its execution, one could view this song as an example of how difficult it can be to translate some of Pat Metheny's unorthodox concepts into a live performance. Metheny has kept "Scrap Metal" in the live set for many years as a technical exercise of how nobody can carry the tune all at the same time. Perhaps it is the ultimate initiation for young players.
"Speak Of Now" – Live In Concert marked the 25th Anniversary of the Pat Metheny Band and laid the foundation for what was to come from this musical genius.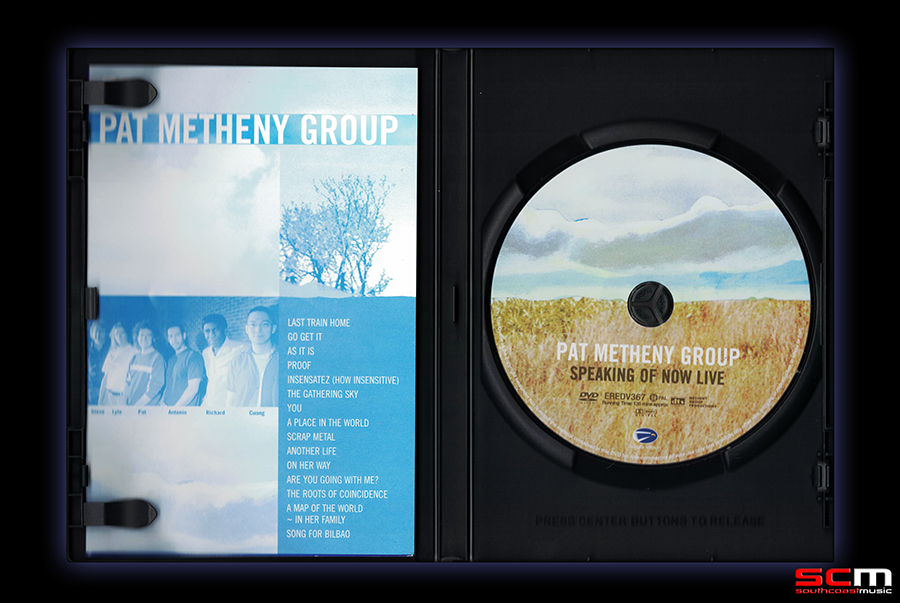 SPEAK OF NOW TRACK LISTING
1. Last Train Home
2. Go Get It
3. As It Is
4. Proof
5. Insensatez (How Insensitive)
6. The Gathering Sky
7. You
8. A Place in the World
9. Scrap Metal
10. Another Life
11. On Her Way
12. Are You Going with Me?
13. The Roots of Coincidence
14. A Map of the World ~ In Her Family
15. Song for Bilbao
This is an official US import – stocks are very limited.