TECH 21 FLY RIG 5 V2

• Second Generation Multi-effects pedal for electric guitar
• Silent-switching, custom footswitch actuators
• Choose from emulated Marshall Plexi or Boogie style Amp tones
• All Analog SansAmp Amplifier Emulation
• 12dB of Switchable Clean Boost to take your solos into Saturated Overdrive
• Digital Delay offers slap-back delays, atmospheric ambience and everything in between
• Tap tempo switch allows easy adjustment of delay in real time
• Reverb with Small and Large Room Settings
• Effects Loop and super accurate Chromatic Tuner
• Compact and incredibly portable by itself or as the basis for your Pedal Board
From it's introduction in 2014, the original Fly Rig was a true game-changer for guitarists of all levels and genres.
Back when pedal boards and racks were expanding – and backs were breaking, the innovative Tech 21 Fly Rig enabled players to slim down without sacrificing great tone and travel without fear of baggage surcharges and dreaded mystery back lines.
The all-analog SansAmp technology went way beyond being just a multi-effects unit, enabling any Tech 21 Fly Rig to be an actual "rig."
As well as augmenting your existing amplifier set-up, the Fly Rig can be plugged straight into the mixers of recording desks, Audio Interfaces and PA systems,
Tech 21 have always led the way when it came to providing a tube/valve experience from an analog solid state device. The new Fly Rig 5 2 follows that tradition. Always seeking to improve their offerings and listening to customer feedback, Tech 21 have incorporated some new features to follow the same form factor as later Fly Rigs, such as the Bass, Acoustic and Paul Landers Signature PL1.
If it ain't broke why fix it – right? The Fly Rig 5 V2 retains the same SansAmp heart, Plexi/Cali distortion and Delay with the addition of a few twists and turns that include an independent reverb with choice of room size, an effect loop, a tuner and an XLR Output. Where the Fly Rig 5 was a great pedal, the Fly Rig 5 V2 is simply outstanding.
SANSAMP
Has the tonality of the Blonde Character Series pedal. It includes 3-band active EQ, Level and Drive controls. To dirty things up, you have the flexibility of using the Drive control, the Boost function, or you can add grit from the Plexi/Cali section. Or all three. Each method achieves different tones.
PLEXI / CALI
Provides the dirtier side of the Fly Rig. You have a choice of a roaring Marhsall Plexi inspired tone with its muscular crunch, detailed mids and mule-kick low end or the chunk of a '70s high gain amp tone inspired by Mesa Boogie over on the West Coast. Each mode can be dialed in to your liking with dedicated Drive, Tone and Level controls.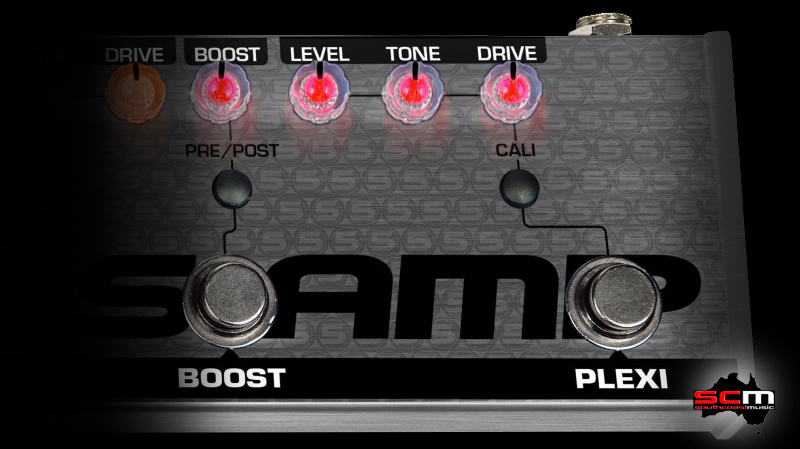 BOOST
Switchable Pre/Post Boost up to approx 12dB to beef up drive and distortion or increase the overall volume to punch up fills and solos.
DELAY WITH TAP TEMPO
Voiced for the sounds of a vintage tape echo, with Time and Repeats controls. The Delay includes a switch to change from 1/4-notes to dotted 8ths. A Drift button adds a random, unpredictable element to the modulation in keeping with its vintage roots.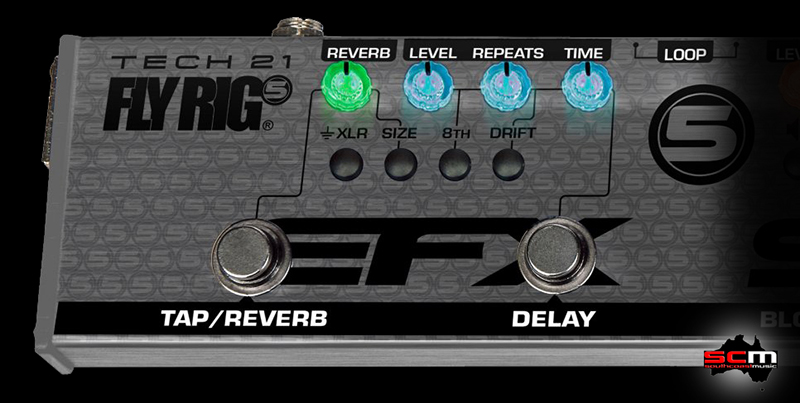 REVERB
Independent footswitchable reverb with choice of large and small "room sizes."
EFFECTS LOOP
Post-SansAmp, pre-effects to patch in external effect pedals.
TUNER
Chromatic Tuner, operable via the BLONDE/TUNER footswitch. You simply hold the footswitch down to engage, which simultaneously mutes the signal path.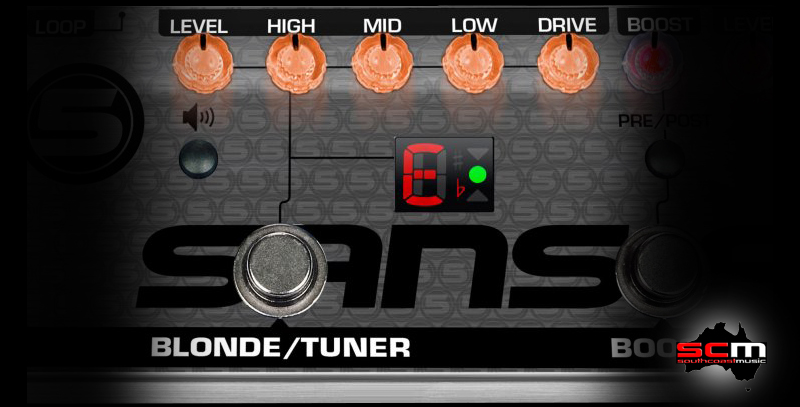 TECH 21 FLY RIG 5 V2 SPECIFICATIONS:
• Pedal Type: Multi-Effects Pedalboard
• Construction: All Metal Chassis
• Signal Path: All Analog Sansamp Guitar Tone processor, Digital Effects Engine
• Effects Types: Sansamp Blonde, Plexi/Cali drive, Boost, Delay, Reverb
• Inputs: 1 x 6.35mm (1/4″)
• Main Output: 1 x 6.35mm (1/4″)
• Balanced Output: 1 x XLR with Ground Lift
• Bypass Switching: Buffered
• Chromatic Tuner: Built-in
• Power Source: 240VAC-9VDC 200mA power supply (included)
• Dimensions: L12.5″ x W2.5 x H1.25
• Weight: 20.7 oz.