tc electronic
TC Electronic 250W Bass Amplifier Combo
TC-BG250-210
AUTHORITATIVE TONE – SUPREME CLARITY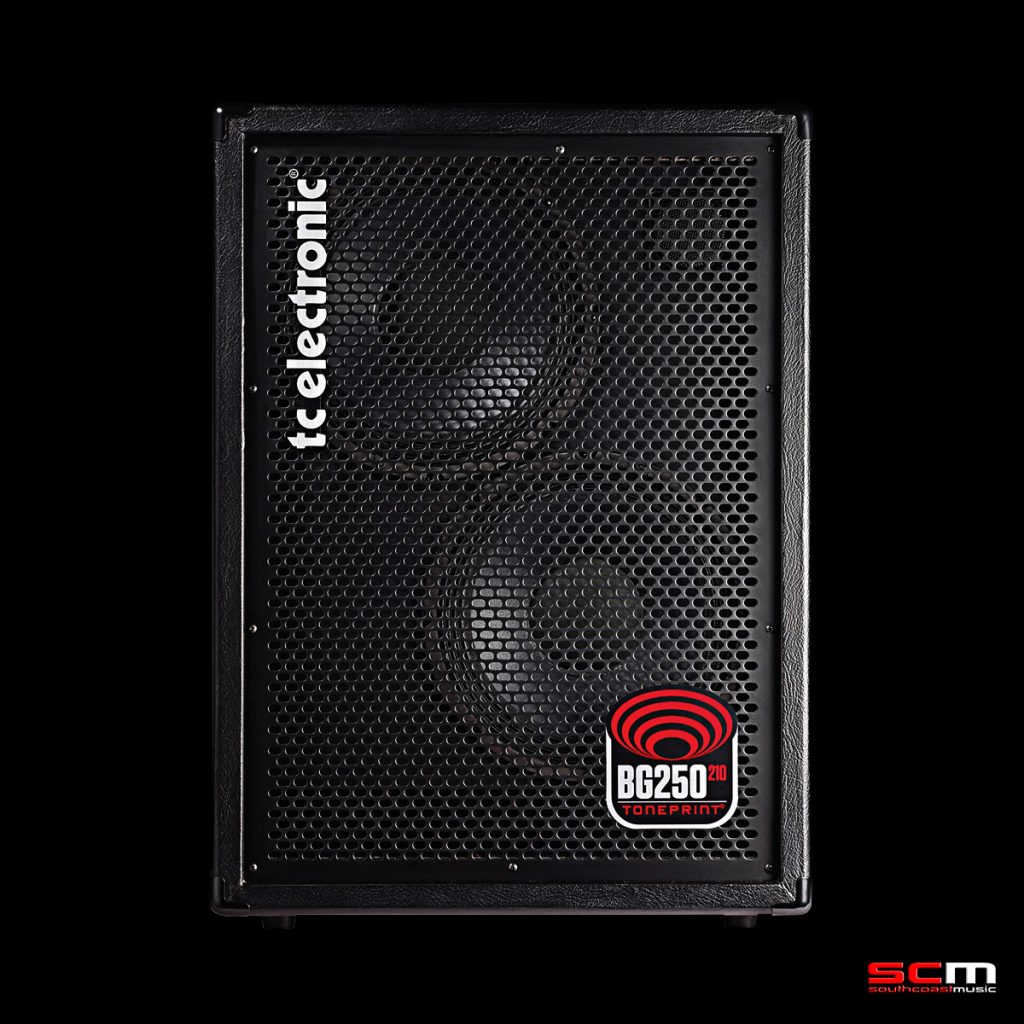 When TC Electronic introduced their Bass Amp 2.0, the world took notice in a big way. The TC Electronic Bass Amp 2.0 made its Mark on the Bass world and was a smash success – ever since they've been thinking of ways to push things forward.
o TonePrint Enabled
o Ultra-light 20kg, Ultra-powerful
o Intelligent EQ Section
o Versatile 2 x 10″ plus 1″ Tweeter speaker configuration
o Built-in Digital Bass Tuner
What TC Electronic have come up with is a combo that combines tons of raw power with stunning tone shaping tools and an impressive list of unconventional features – and all in a 20kg package…this is the BG250-210.
Signature Effects – For Free!
BG250-210 sports Bass TonePrint, a unique feature that lets you load signature effects into a TonePrint slot. And since more is more, they have included two slots. Just load any of the Bass TonePrints and off you go! You can switch between them with the optional Switch-3 footswitch; change them on the fly or mute – whatever you need to create your tone.
It is no surprise that TC Electronic have got an ever-expanding roster of the coolest people in bass today that have given them their signature versions of TC effects, so there's bound to be a sound that inspires you!
If you want to use some of the slots for a bit (or a lot) of dirt – go for it! They accept TC Electronics BassDrive TonePrints as well, which range from TubeDrive – ported from the RH750 – to the crushing 'The Beast' TonePrint. Or maybe you want SpectraComp, the amazing world-class per string compression TonePrint specifically designed for bass players. This allows you to shape your sound, create your tone and basically take the TC Electronic Bass TonePrint arsenal wherever you need it to go.
They're all available for free and you can beam them directly to your BG250 via the übercool free smartphone app or via the TC Electronic website if you want to use a computer.
Power – To Move You
What good is having a ton of power if you risk your back or need to rent a forklift every time you have a gig? NO good at all, that's why we love this amp! TC Electronic designed the BG250-210 to have 250 watts of raw power, delivered through cutting-edge, lightweight Class D amp technology. This helps bring the total weight down to an extremely portable 20 kg! – making it one of the lightest yet loudest combos in its class. This combo has a warm, powerful and fat sound but never loses the high mids or treble frequencies.
Innovate Music – Pure Bass Performance
No matter how you look at it, power matters. Bass has historically been an instrument of power and authority and with BG250-210, you can rest assured there is always plenty of power to go around. The 2×10 version has a scooped sound, with a fast response. This results in a tone that is focused, without ever losing the low end. Plus, with TC Electronic's innovative Intelligent EQ Section, you'll always be cutting or boosting at just the right frequencies, making sure the sound is spot on.

Your Speaker – Your Voice
BG250-210 has a 1″ custom Piezo tweeter and the 2 x 10″ custom designed Eminence driver configuration adds a percussive punch that really allows you to cut through.
TonePrint® Enabled – Signature Bass Effects
Bass TonePrints are free, custom-tuned effects, provided by your favorite bass players! TonePrints give you access to an effect as it is used by the artist – so you can tap directly into the TC tones used by the best bass players in the world.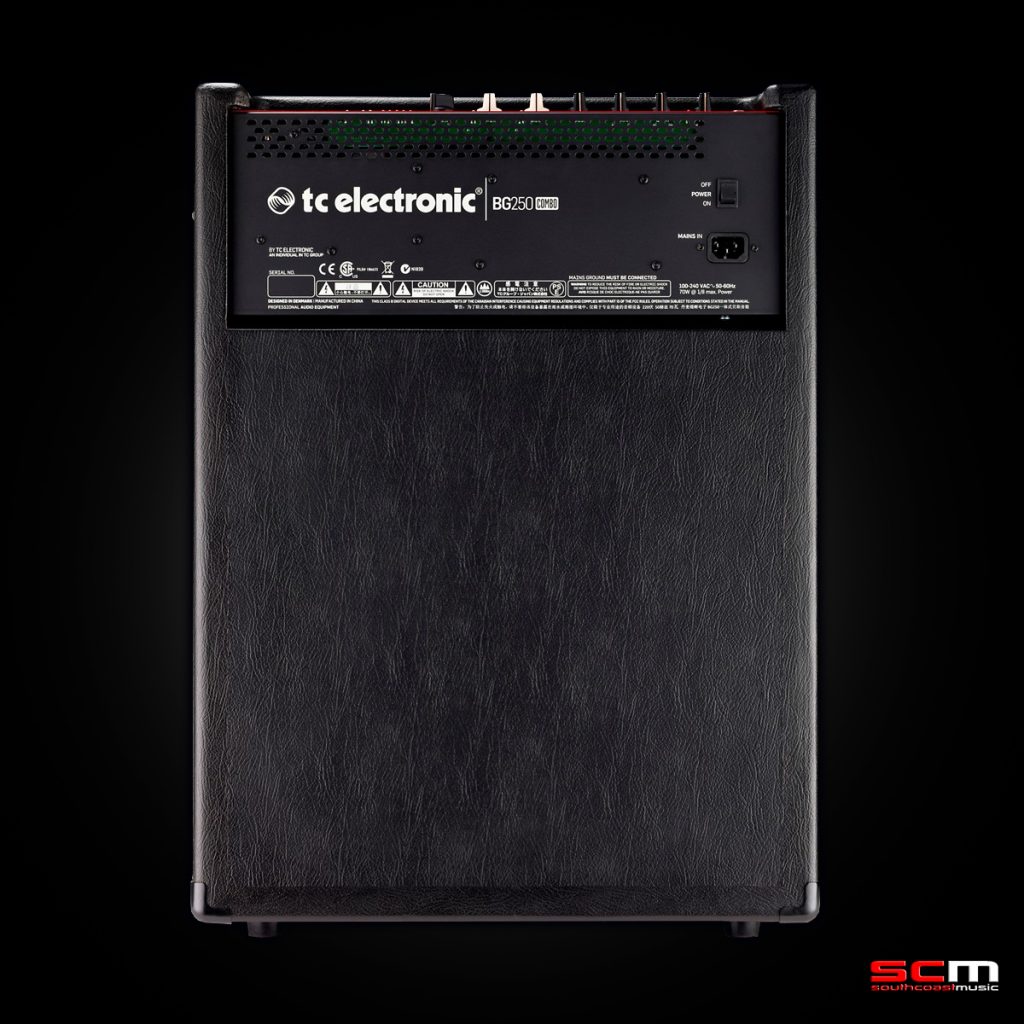 TC Electronic BG250-210 Specifications
o Power: 250W
o 2 x 10″ Custom Eminence Drivers
o 1 x 1″ custom HF Piezo Tweeter
o Built in 6 String Digital Tuner
o Intelligent 3-band EQ
o Headphone Output (mutes speaker)
o Auxiliary Input (for playalong devices such MP3 etc)
o TC Electronic's TonePrint system
o Balanced DI Output
o Lightweight 20kg (44 lbs.)
o Dimensions: 18″ x 14.7″ x 24.4″
Buy with confidence! southcoastmusic is an authorised reseller of TC Electronic products.