Suzuki MCF-1 Master Class Flute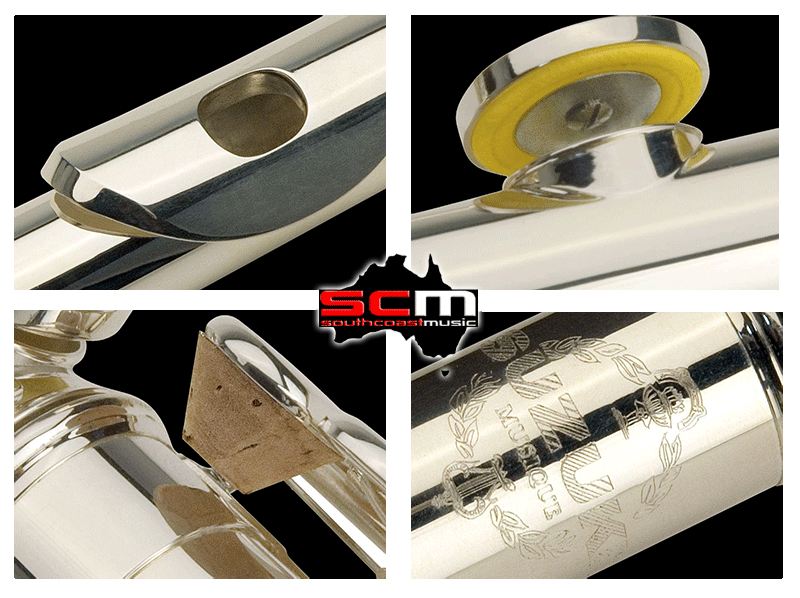 Suzuki proudly offers the Master Class series, a collection of woodwind instruments designed to inspire entry and intermediate level players.
Widely imitated, every Master Class series instrument has been specifically designed with professional features, practical cases, helpful accessories, assembly and care instructions and website support to ensure the beginning musician every opportunity to succeed.
Headquartered in Hammamatsu, Japan, Suzuki is a leading designer and manufacturer of musical instruments and tuition material. Drawing on their vast experience and relationships with artists and educators, Suzuki utilise their global design and manufacturing facilities to provide instruments of excellent value and playability.
Head Joint Features Beveled Lip Plate
Flute designers have many opposing viewpoints about flute design and construction, especially when it comes to the head joint. The Suzuki flute carries a combination of features that create ease of blowing, great intonation and even register response. A special beveled undercut blow hole assures accurate chimney placement giving the beginning flute player greater pitch control in all registers.
Premium Grade Italian Double Pads
A major element in any woodwind instrument, the quality of the pads are often the difference between an instrument that plays well and an instrument that never quite makes the grade. Flutes have many pads and every one must securely cover and close the tone holes with a perfect fit to ensure ease of play and intonation. Suzuki uses only the finest imported bladder pads, not synthetic pads, for long life and exceptional seating characteristics.
Professional Logo Engraving
Normally found on only the most expensive imported professional flutes, all Suzuki Flutes have expertly hand engraved logos. Students will take pride in knowing that their instrument has the quality look, feel and sound of an instrument designed by Professionals.
Highest Grade Silver Plating
Unlike some manufacturers who chrome plate their flutes, Suzuki uses professional plating techniques to give each flute a double layer of silver for a long lasting shine and the tonal characteristics associated with quality silver plating. This creates a tone that is warm and rich, and gives the Suzuki flute a professional sound that will encourage young players.
Hidden Adjustment Screws, Professional Style Bumpers
Most inexpensive student flutes use synthetic cork bumpers and cushions. Suzuki flutes feature the highest grade cork for virtually noiseless and smooth operation. This creates a firm feel found only on most professional flutes. Adjustment screws are hidden under the post-rod setup to discourage 'adventurous' young players from attempting key adjustments on their own.
Rugged Aluminium Case
Indestructible, lightweight and 'hip' looking, every music student will be excited and proud to carry their chosen instrument in a Suzuki aluminium case. Its special construction will protect the instrument for many years. Unlike a soft case which exposes the instrument to damage, the strong aluminium frame and custom formed soft foam interiors provide the ultimate choice for long term use.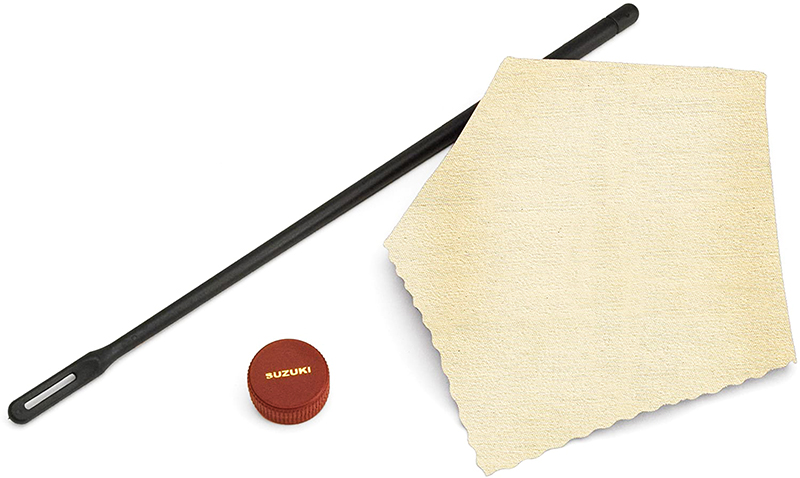 Suzuki MCF-1 Master Class Flute Features:
• Deluxe Flute Outfit
• Entry/Intermediate Level
• Rich, Warm Sound With Excellent Intonation In All Registers
• Key of C
• Double Layer Silver Plated Head Joint, Body And Keys
• Beveled Undercut Blowhole And Accurate Chimney Placement
• Hidden Adjustment Screws
• Professional Style Bumpers
• Furnished with Cleaning Rod, Tenon Grease, Polishing Cloth, Care, Maintenance & Assembly Guide
• Deluxe, Lightweight Aluminium Case With fitted Foam inserts
• One Year Warranty