STERLING by MUSIC MAN RAY34 ORIGINAL 2009 MODEL BRAND NEW!
Yes, its true…from the depths of the southcoastmusic V.A.U.L.T. this is a brand new and unplayed example of the original Sterling by Music Man Ray34.
We took delivery of this baby in 2009 and now offer it for sale on line for the very first time.
In 2009 the freshly minted Stingray was a breath of fresh air.
Built in the Far East, this Ray34 passed through the American factory for inspection & setup, to ensure that the stringent Music Man quality control had been met.
This Ray 34 is to all intent and purpose a standard swamp ash bodied Stingray that should please even the most fussy player with superb tone and playabilty that belies its price. This Sterling by MM bass is supplied in a very nice tapered oblong, thickly padded & fur lined gigbag with the Sterling logo on the front pocket but just to protect your investment we are included a premium molded bass case.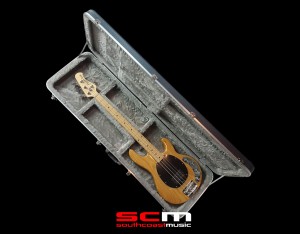 Quality, fit & finish & playability are comparable to Skyline series Laklands & Tribute series G&L's which puts this Bass in very good company indeed.
The fretwork is smooth and looks superb. The neck pocket fit is excellent & sports a six-bolt neck plate for added stability. The hype around these excellent basses is well deserved and playing wise, this instrument sounds like a Stingray! The 3-band eq is extremely powerful, delivering a huge range of tones & everything from thumping lows to seriously sizzling highs. The overall output is huge and clearly underpins the power of the preamp and pickup.
The set-up, finish and playability are all very comparable to the great Stingray and at half the price the Ray34 is indeed a bargain . . . this one is just a little bit special too.