Spongebob Squarepants Ukulele Pack

Ukulele Pack including Gig Bag, Picks, and Pitch Pipe In Matching Coloured Box!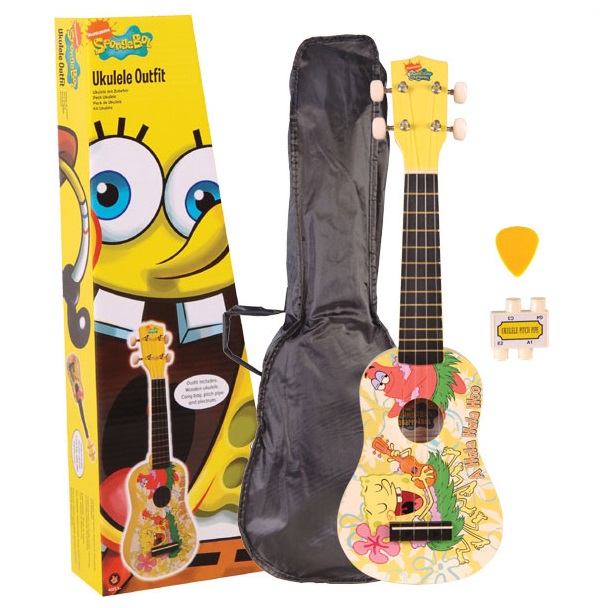 Check out our entire spongebob range Here
Fun SpongeBob Square Pants Ukulele Package including Gigbag, Plectrum and Pitch Pipes.
Wooden bodied standard soprano ukulele with a stunningly attractive SpongeBob Square Pants graphic design.
Great quality instrument perfect for younger students and great for oldies.
Small in physical size maybe, but the fun element in this cheerful little instrument is big, people can't help but see this instrument and smile.
The single octave fretboard means that you only have to learn a few chords and you are on your way!
Amazing price including a quality gigbag, a plectrum and pitch pipes.
Designed under licence from Spongebob's creators and featuring all the great Spongebob graphics and colours, kids will love the Spongebob Squarepants ukulele outfit.
The Ukulele is off a high quality and make and the tone is full and and bright. Not only a nice design but a high quality sound output.
Pack Includes
Spongebob Squarepants Ukulele

Gigbag,

Plectrum 

Pitch Pipe
This item includes FREE DELIVERY AUSTRALIA WIDE by COURIER FOR A LIMITED TIME!
Check out the Entire Spongebob Sqaurepants Range by Clicking the Picture Below!