SPONGEBOB SQUAREPANTS B-BLASTER TEN WATT ELECTRIC GUITAR AMPLIFIER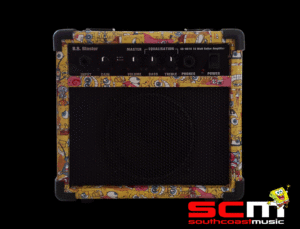 The SpongeBob B-Blaster Ten Watt Electric Guitar Amplifier is a whole lot of fun! Covered in way-cool SpongeBob SquarePants Graphics and featuring a comfortable carry handle, the B-Blaster has been designed for the beginner electric guitarist who wants a straight forward and easy to use practice amplifier with great tone and intuitive controls.
This 10 watt combo electric guitar amplifier really rocks. Portable and LOUD, the SpongeBob B-Blaster Electric Guitar Amplifier is a feature laden, great sounding and versatile amplifier. Suitable for all kinds of music, from Sweet Clean tones to Dirty Funky Blues and on to Metal Shredding Madness, this 10 watt amplifier sounds amazing. Whatever style you choose, it's ready!
The SpongeBob B-Blaster Electric Guitar Amplifier features 2 band EQ controls (treble and bass) to tailor your sound and a DRIVE switch for true overdrive/distortion tones. There is also a Headphone jack for discrete jamming.

o INPUT: The standard 6.3mm (1/4″) input jack is intended for guitars but will accept other instruments as well. It will also accept a Dynamic microphone.
o DRIVE/CLEAN: Simply press the switch and turn up the Gain Control for thick overdriven distortion.
o GAIN: Adjust this clockwise to increase the amount of distortion you add to the overdrive signal. Use it in the lower ranges "bluesy" tones, increase the gain for a harder edged "crunch" tone. Turn it all the way up for Heavy Metal mayhem!
o BASS/TREBLE EQ: Use these controls to fine tune your tone.
o VOLUME: This is the master output control for the entire amplifier.
o PHONES: You can connect set of Headphones with the 6.3mm (1/4″) output jack for sient practice. Plugging in headphones automatically disconnects the internal speaker when plugged in.
o POWER: This switch turns the power to the amp on and off.