SoundArt MMA-60W-M 60 Watt Portable PA System with Hand Held Wireless Mic, Bluetooth & Echo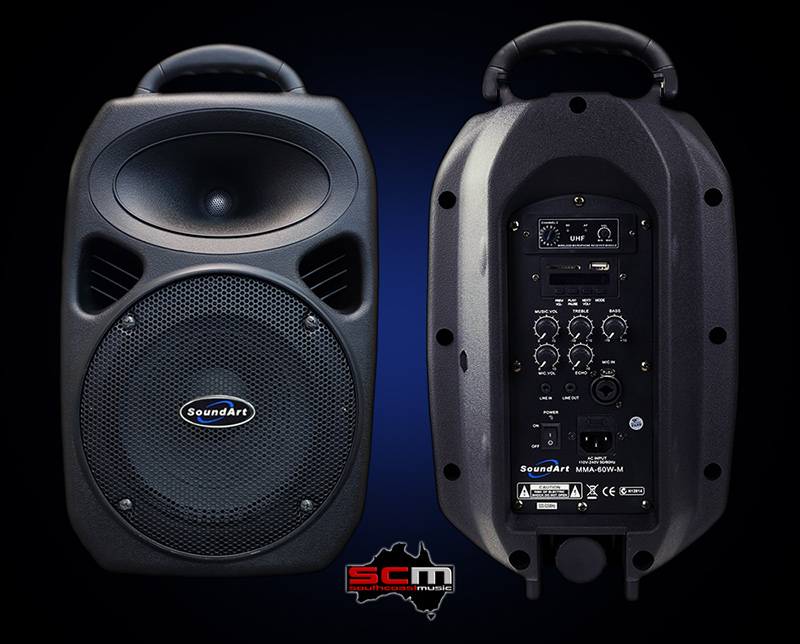 The SoundArt MMA-60W-M is an ultra compact and versatile portable PA system ideal for a wide variety of uses.
The MMA-60W-M is a two way active system with 60 watts of output power driving a robust 8″ speaker and HF Horn loaded driver.
The rugged ABS cabinet is lightweight and portable at only 5.5kgs and features a comfortable carry handle and pole mount with locking screw for added safety. Two flying points are also provided should you wish to hang the system.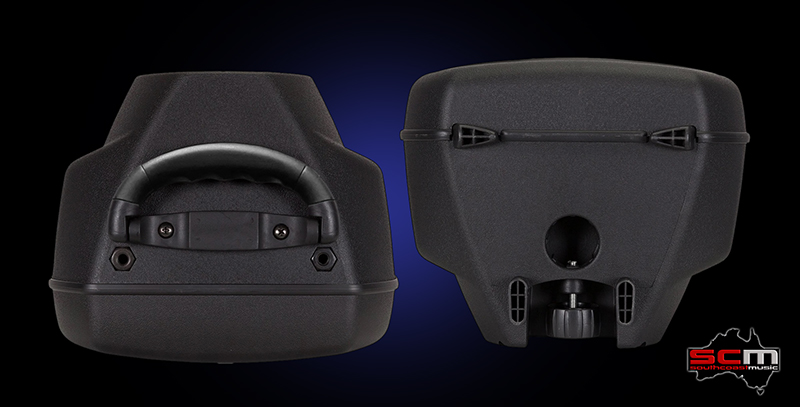 A built-in Media player lets you play MP3 files from either an SD card or the USB port. A handy wireless remote control also provides control over track selection and output volume.
This compact yet powerful system features a built-in 16 channel wireless receiver and hand held wireless microphone.
If an additional microphone is required, the combo XLR/6.35mm input allows connection of an optional wired microphone or separate wireless microphone system. If you don't need another microphone, you can also connect instruments such as a guitar or keyboard to this input.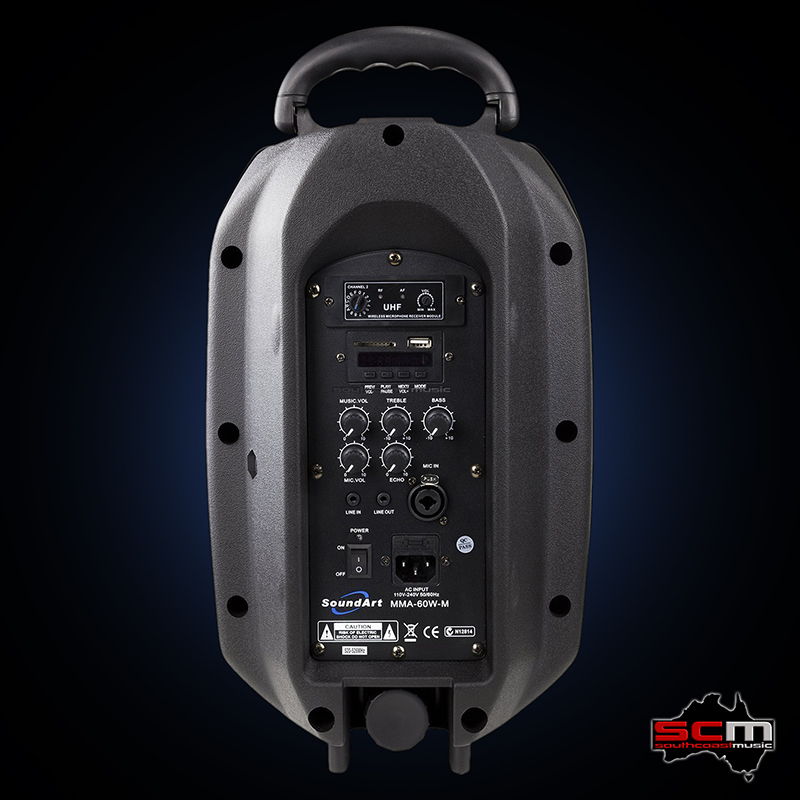 The controls are simple yet comprehensive and feature separate volume controls for the wireless microphone, the combo XLR/6.35mm mic/instrument input and the Media player. Tone controls include Treble and Bass and there is also an Echo control for the built-in echo effect.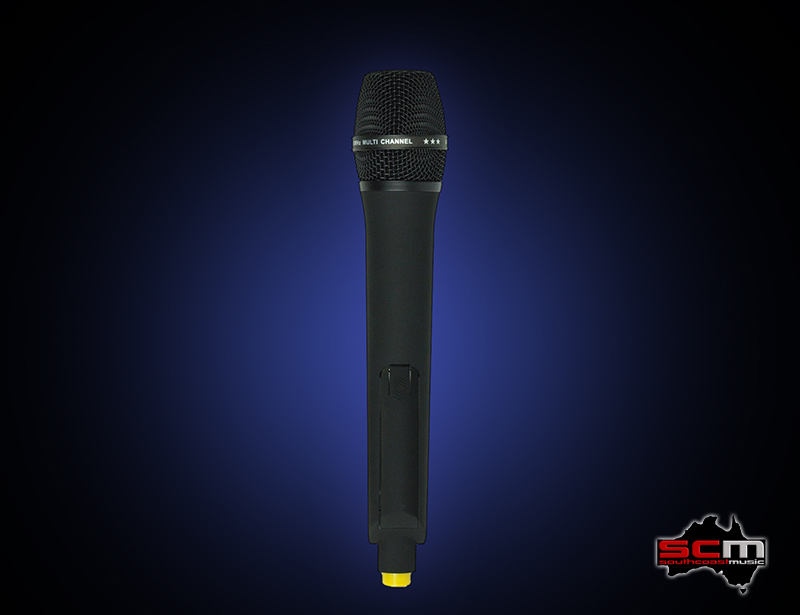 A 3.5mm AUX Line Input allows for connection of other audio devices such as smart phones etc and a 3.5mm Line Output lets you run other amplifiers directly from the unit.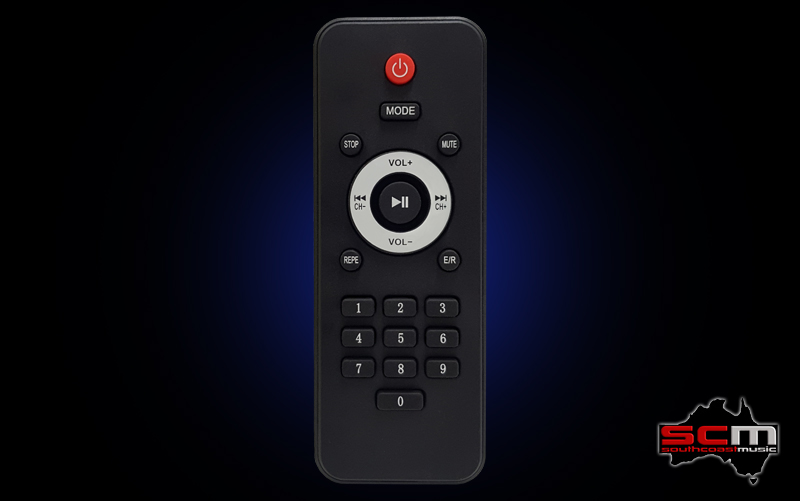 This mighty portable PA system is a cracker and we are suitably impressed here at southcoastmusic. As long as you have 240V mains power, it is the perfect solution for auctioneers, parties, schools, sporting venues, outdoor events, spruikers, corporate presentations and more. It also makes a perfect partner for your karaoke machine and . . . the list goes on.
SoundArt MMA-60W-M 60 Watt Portable PA System Specifications:
• Brand: SoundArt
• Model Number: MMA-60W-M
• Configuration: Two Way Active Portable PA System
• Output Power: 60 watts RMS
• Low Frequency Driver: 8″ Speaker
• High Frequency Driver: HF Horn
• Cabinet Construction: Molded ABS
• Music Playback: Onboard Media Player
• Media Player Playback Format: MP3
• Playback Media: SD Card and USB
• Remote Control: Yes – for Media Player
• Bluetooth: Yes
• Inputs: 1 x Balanced XLR/6.35mm Combo input (for 1 x Wired Microphone or Instrument)
• AUX Input: 1 x 3.5mm TRS input
• Line Out: 1 x 3.5mm output
• Wireless Receiver: 1 x UHF Wireless Receiver
• Wireless Transmitter: Hand Held Wireless Microphone
• Wireless Operating Frequency: 520-526MHz
• Controls: External Mic/Line Volume, Master Tone, Echo, Wireless Receiver Volume, Music (Media Player) Volume
• Carry Handle: Yes
• Pole Mount: Yes – with Locking Screw
• Flying Points: Yes – Two Mounts on top of Cabinet
• Weight: 5.5kg
• Warranty: One Year