SKB-56 ABS LES PAUL MOULDED HARDCASE WITH TSA LOCKS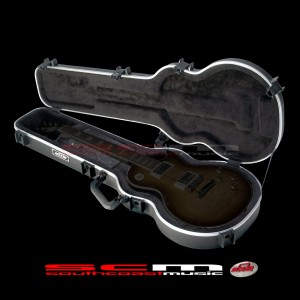 click on image to enlarge
Protect your treasured carved-top single cutaway guitar with SKB.
SKB guitar cases are world-famous for their unsurpassed protection and solid value. Many major guitar manufacturers have chosen SKB as their original equipment case supplier and with good reason.
The SKB-56 electric guitar case includes completely new latches made of indestructible fiberglass reinforced nylon and include a TSA approved lock. The over-moulded handle is not only comfortable but perfectly balanced.
The hardshell case features moulded in bumpers for protection and an extruded aluminium "tongue & groove" valance to keep dust and moisture out.
click on images to enlarge
SKB-56 ABS CASE FEATURES:
Designed to fit Gibson Les Paul®, PRS Singlecut®, ESP Eclipse® among other carved-top

*

single cutaway guitars

*see below for list

Highest Quality ABS moulded plastic outershell
Trigger latches with TSA lock
Indestructible cushioned rubber over-moulded handle
Moulded in feet
Moulded in bumpers
Full length neck support
Rigid EPS foam interior to keep your instrument secure
Extruded tongue & groove aluminium valance to keep dust and moisture out
Accessories compartment
This is an actual SKB owner's review of his SKB case from mylespaul.com/forums:
"Personally, Ill never use anything BUT SKB cases. I was T-boned in my old Grand Cherokee and rolled 3 times. I had a PRS in the SKB case in the car with me. It rolled, and tumbled and beat the hell out of the case. After I left the hospital, I was terrified to open the case, and see what happened to the guitar. To my surprise, the thing didnt even come out of TUNE! The case however was trashed. I sent pictures to SKB of the case, the guitar, and the Jeep, and they sent me a new case free. They earned a customer for life…"
click on images to enlarge
MODELS THAT WILL FIT PROPERLY IN THE SKB-56 LES PAUL STYLE GUITAR CASE INCLUDE:
– Gibson Les Paul Series
– Gibson Melody Maker Series
– Epiphone Les Paul Series
– Epiphone Genesis Series
– ESP/LTD EC Series
– ESP/LTD Eclipse Series
– Ibanez ARC Series
– Ibanez ART Series
– Ibanez ART Series
– Ibanez ARX Series
– PRS SE Singlecut Series Santana
– Washburn Idol Series
– Yamaha AES Series
SKB-56 LES PAUL STYLE GUITAR CASE IN STOCK NOW AT southcoastmusic
FREE AUSTRALIA-WIDE DELIVERY!