SAMSON XP510i EXPEDITION
500 WATT PORTABLE PA SYSTEM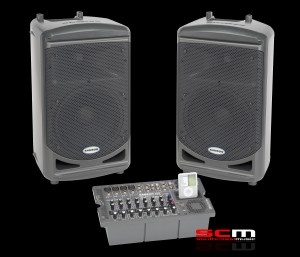 Packs up into a single portable unit that weighs just 22.7kg
Built-in iPod dock (adaptor required for lighting equipped devices)
Dual 2-way speaker enclosures with 10″ woofers
1″ Titanium high frequency drivers
Lightweight, Class D amplifier produces 500 watts (2 x 250) of stereo power
Removable 10-channel mixer
Four XLR Mic/6.3mm Line inputs for microphone, guitar and line level devices
Three 6.3mm (1⁄4″) & 3.5mm (1/8″) stereo inputs for stereo line level devices (MP3 players, keyboards, etc.)
Switchable Phantom power
Bass and Treble controls
Two 6.3mm (1/4″) Monitor outputs allows connection to external powered monitors
RCA outputs for external recorders
Digital effects processor
Music/Speech switch for setting overall system EQ
6-segment level meter with limit indicator
Integrated 35mm speaker stand mount
Enclosures tilt back for use as floor monitors
Speaker cables included
Two Year Warranty
The Samson Expedition XP510i is a versatile and easy to use portable PA system. The XP510i is an all-in-one portable PA system that offers outstanding power and convenience.
The pro-level performance of the XP510i begins with a pair of dual 2-way speakers with 10″ woofers, complimented by a 1″ titanium tweeter in a 60° x 90° horn. These speakers deliver punchy and dynamic low-end sound and broad dispersion in any performance space. The speaker cabs also feature integrated 1-3/8″ speaker stand mounts.
The XP510i features an 500 watt (250w x 2) Class D powered mixer equipped with a total of seven mic/line and stereo inputs. There is also switchable phantom power allowing you to use condenser microphones and as well as EQ controls, there are ten studio-quality 24-bit digital effects to shape and customise your sound for each and every performance. The XP510i features an iPod Dock so that you can stream recorded music and backing tracks with the need for complicated and messy cables. If you have a lightning equipped iPod, you will need a lightning adapter. These should be available from the Apple shop.
Thanks to its clever design and comprehensive feature set, the XP510i Portable PA offers an ideal solution for a variety of PA applications.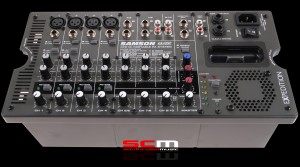 Musical Performance
The Samson XP510i has been designed to deliver unparalleled quality sound reinforcement in a variety of musical settings. Whether you're a singer/songwriter gigging in a small coffee shop, a full band practicing in a medium-sized rehearsal space, or a DJ entertaining 300 people at a club, the XP510i delivers. Additionally, the XP510i's speaker enclosures work perfectly as floor monitors.
Professional Presentation
The XP510i provides the perfect audio solution for presentations. No matter the application (PowerPoint presentations, company meetings, corporate events, etc.), the XP510i will allow you to convey your ideas clearly and with authority – your audience will appreciate it. The XP510i's integrated iPod dock also enables you to playback audio clips creating a more interactive listening experience for your audience.
Educational Endeavors
As well as presentations, audio playback, etc, the Samson XP510i offers functionality unique to music education. The XP510i is ideal for directing large instrumental ensembles and will help conductors keep even their percussionists on task. Thanks to it's integrated iPod dock, soloists and small ensembles can practice along with recorded accompaniment. Additionally, the XP510i's audio playback abilities make the analysis of recorded music easier, as well as providing a more interactive listening and educational experience.
Houses of Worship
The XP510i is perfect for use in Churches and Houses of Worship. As well as delivering clear and focused speech, its multi-channel flexibility makes it ideal for Music Production. The portability of the XP510i is means that services may be conducted anywhere there is 240V power available.
Recreational Use
Beyond producing impeccable public announcement sound quality, the XP510i's elements of portability make it ideal for countless recreational uses. For a traveling instructor, the XP510i is perfect for leading exercise/yoga classes in fitness clubs. Outdoor functions pose no problem whatsoever for the XP510i, all that is required is 240V power. Block parties, sporting events, and matters of crowd control now have a more practical, and still extremely portable, alternative to the megaphone.
SAMSON XP510i EXPEDITION – 500 WATT PORTABLE PA SYSTEM
PICKUP ONLY AT THIS CLEARANCE PRICE!