Samson AirLine AM-LS
D S L

R  

M I

C R

O   C A M E R A 

compact

wireless microphone system
Audio and video…now equal.
*LEGAL TO USE IN AUSTRALIA N2 FREQUENCY SET 642.875MHz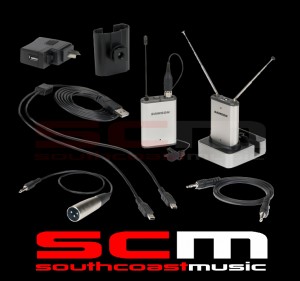 Founded The AirLine Micro Wireless Camera System from Samson utilises the latest in lithium-ion battery technology and high-quality audio and RF components to bring you outstanding audio, including DSLR video.
The SAMSON AirLine Micro Wireless Camera System represents a breakthrough in video camera audio capture applications and has resulted in one of the World's smallest Pro Quality wireless systems ever.
Best of all, this system is completely legal to use in line with Australia's new Digital frequency laws which come into force from January 1, 2015…
Samson AL2 Transmitter
To eliminate continually changing batteries, Samson has designed this wireless system to be fully rechargeable with lithium-ion batteries for both the AL2 transmitter and AR2 receiver. The AR2DT double-docking station provides power to both units via a USB DC input, as well as a 3.5mm balanced audio output for the receiver. With AirLine Micro, the days of replacing batteries in your wireless camera system are over.
AirLine Micro employs the AL2 beltpack transmitter for complete freedom and mobility. The transmitter features an excellent sounding LM10 omnidirectional lavalier mic. In addition, the unit features single button operation for power, mute and volume, all of which can be easily monitored via a multi-color LED.
The AR2 receiver boasts meticulous engineering that provides professional sound reproduction for your videos. Like the AL2 transmitter, the AR2 houses a rechargeable battery that will offer up to 8 hours of operation.
Due to its small profile, the unit is perfectly compatible with many of today's popular DSLR cameras, along with smaller camcorders. As such, the AR2 can also be inserted into the included hot shoe mount and attached to your camera for additional versatility.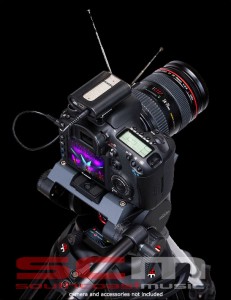 Now, DSLR Can Do It All!
Video capable DSLR cameras continue to grow in popularity between professional and amateur filmmakers. While the video content produced by these cameras is of exceptional HD quality, their sound recording capabilities have not been as flexible.
Filmmakers can seamlessly attach AirLine Micro's AR2 receiver to the top of their DSLR cameras via the included hot shoe mount. The AL2 transmitter is just as easy to adhere to any film subject with its built-in belt clip. From there it's LIGHTS, CAMERA, ACTION… AND SOUND!
Complete Your Camcorder
In addition to DSLR, AirLine Micro can also elevate the versatility and convenience of most camcorders on the market. In many cases, smaller camcorders are designed with their microphones mounted in some of the most awkward locations for capturing audio.
Depending on the camera, these units also feature "wind reduction" functions that often muffle the level of audio straight across the board. But with AirLine Micro and its wireless lavalier mic, camcorder videos can be filmed with pro-level audio.
The AirLine Micro Wireless Camera System packs an incredible amount of technology and innovation into small, easy-to-use components. When pro-level audio is a must in your camera application, Samson's AirLine Micro Camera System offers the most discreet, convenient and cost effective wireless camera solution available.

SAMSON Air Line Micro Wireless Camera System

Wireless system with micro-sized AL2 transmitter, AR2 receiver and double dock
Tone squelch and auto mute for clear operation
Includes a system carry case, hot shoe mount, 3.5mm and XLR camera connectors, AC adapter and charging cables
SAMSON AL2 Transmitter
Beltpack transmitter and LM10 omnidirectional lavalier microphone
Lithium-ion rechargeable battery (7-8 hours of operation)
USB DC input for recharging
Single button operation for power, mute and volume
Multi-color LED displaying RF, low battery and power
SAMSON AR2 Receiver
Low-profile wireless receiver (2.36" x 1.67" x .51")
Lithium-ion rechargeable battery (7-8 hours of operation)
USB DC input for power and recharging
3.5mm balanced mic/line level output
Multi-color LED displaying RF, low battery and power

SAMSON AR2DT Double Dock

Provides secure base for AL2 transmitter during recharging and AR2 receiver during operation and/or recharging
USB DC input for power and recharging (cables included)
3.5mm unbalanced audio output
OPERATING FREQUENCY –  (N2) 642.875MHz
AND

…

Australia-wide Delivery with Transit Insurance is

INCLUDED!