Proel SPL-series Keyboard Stand – single braced with snap lock mechanism – the World's best keyboard stands!
Proel Keyboard Stands are regarded as amongst the best in the business. Designed in Italy, Proel Keyboard Stands are built in their own Far Eastern Factory to be strong, lightweight, easy to adjust and most importantly reliable. Thanks to southcoastmusic's buying power, they are also affordable.
This innovative single-tier Proel keyboard stand features their often copied single-brace design with the addition of the proprietary Proel "Snap lock" mechanism along with protective rubber grippers for secure keyboard and floor positioning.
Don't risk your valuable keyboard or digital piano with an el-cheapo no-name stand.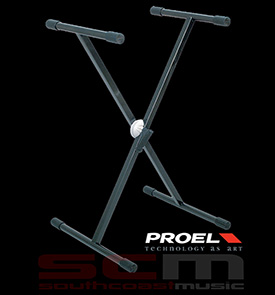 Proel SPL Keyboard Stand Main Features:
– Weight: 4.15kg (9.151lb)
– Pipe dimension: 25 x 25 x 1.2 mm
– Load capacity: 80Kg (176.400lb)
– Minimum Height: 560mm (22.047inch)
– Maximum height: 970mm (38.189inch)
– Arm length: 400mm (15.748inch)
Our price includes FREE Australia-wide Delivery!