PALOMA 120 BASS PIANO ACCORDION BLACK FINISH IN HARD CASE
The Piano Accordion is a wonderfully versatile instrument. Being Chromatic, the Piano Accordion may be used to play virtually any kind of music and with the resurgence in Folk and Roots Music, the Accordion has found a new Generation of players.
The use of the Piano Accordion in folk and traditional music is well known and its popularity remains strong in Scotland and Eastern Europe.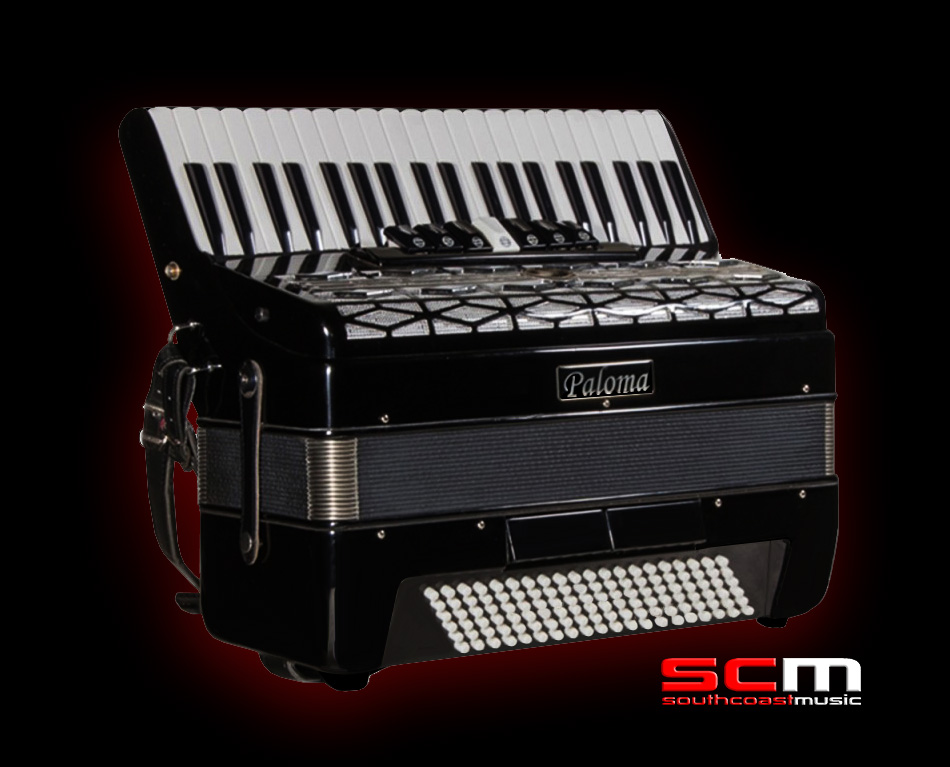 The Paloma 120 Bass Piano Accordion is a quality instrument. With design cues influenced by the classic European Builders such as Scandalli and Soprani, the Paloma 120 offers a variety of wonderful tones and fabulous action at a price that won't break the bank. At only 10.5kg, it shouldn't break your back either. At our price there is simply no contest between this instrument and a fifty year old out of tune accordion in need of a complete overhaul.
The Paloma 120 Bass Piano Accordion is an excellent choice for the developing and experienced player wanting to extend their musical vocabulary without breaking the bank. Older players wanting a lighter instrument without compromising too much on tonal versatility should also appreciate the 10.5kg relative light weight.
Seven Treble and Two Bass couplers offer a wide palate of quality sounds not normally associated with a new instrument at this low price. Suitable for both ensemble and solo performance, the Paloma is versatile, has a strong yet sweet voice and most importantly – plays in tune!
The Paloma 120 Bass Accordion is available in Black and comes complete with straps and a Hard Case. Red is also available by special order.
Our price also includes shipping to anywhere in Australia.
o 120 Bass Buttons
o 3 Reeds
o 41 Treble Keys
o 7 Treble Registers
o 2 Bass Registers
o Weight 10.5kg
o Black Finish
o Straps Included
o Hard Case Included