ORDERY FLUENCE SERIES 12″ x 7″ SOPRANO SNARE DRUM
Stunning finishes, top quality materials, superb attention to detail and exceptional value … these are Odery Drums.
In a congested market where drums appear to have more similarities than differences, Odery is a breath of fresh air.
From humble beginnings in Brazil, Odery have brought something new to the table, something special with a Latin twist!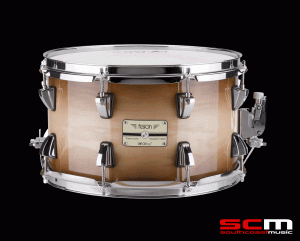 Ordery Drums are designed in Brazil and offer an innovative approach to the drum maker's craft – with impressive results. Ordery drums have the look, feel and tone of an expensive drum yet Odery's mission is to produce superb quality drums at really affordable prices and he has succeeded.
Ordery's Fluence series Snare Drums deliver exceptional performance, volume, attack, and tight rim-shots. Designed as an effect snare dum, Fluence series Snare Drums are finding increasing use as a main snare. With the sound, build quality, features and great visual appeal you expect from Odery, Fluence Series Snare Drums are helping drummers find their own unique voice with the most used drum in the kit . . . and at a remarkably accessible price.
The 8-ply 7mm shells are made of a Basswood/Maple mix with the outer ply in beautifully lacquered exotic Ash.
This 12″ x 7″ Soprano Snare Drum can be used as effect drum or the main snare and is perfect for Reggae, Funk and musical styles that require an authoritive and cutting snare sound.