NU-X
NU-X LOOP CORE DELUXE BUNDLE
NU-X Loop Core Deluxe 24-bit Looper Pedal + Footswitch + Stereo Connect Cable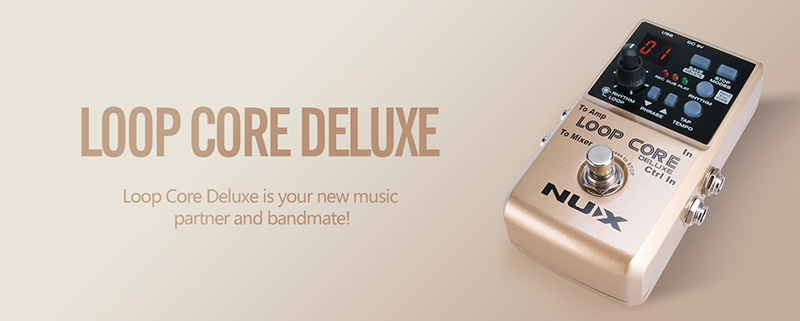 The LOOP CORE BUNDLE includes the NUX NMP-2 DUAL Footswitch which is absolutely the easiest way to switch between loop phrases.
With the included the DUAL Button footswitch and stereo connect cable, you can seamlessly access your recordings and select verse, chorus and bridge parts . . . simply brilliant.
The New Band Mate for Today's Musician
Featuring upgraded hardware, the new Loop Core Deluxe allows you to record loop phrases of up to 8 hours long with unlimited layers in 24-bit high-resolution audio quality then save the loops into 99 memory locations.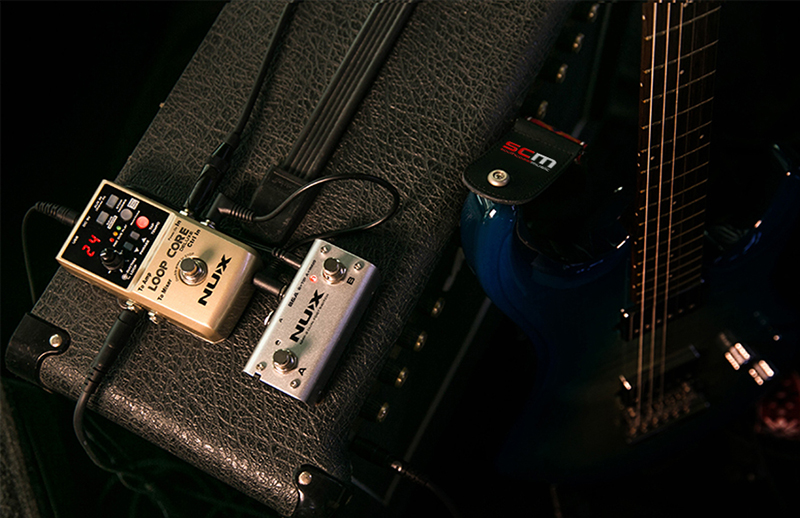 NUX Loop Core Deluxe`s Drum Rhythm
Nothing feels better than playing your guitar along with realistic drum rhythms. Loop Core Deluxe's all-new drum machine comes with 40 different drum rhythms (30 in 4/4, 10 in 3/4) covering different genres including rock, pop, blues, jazz and much more.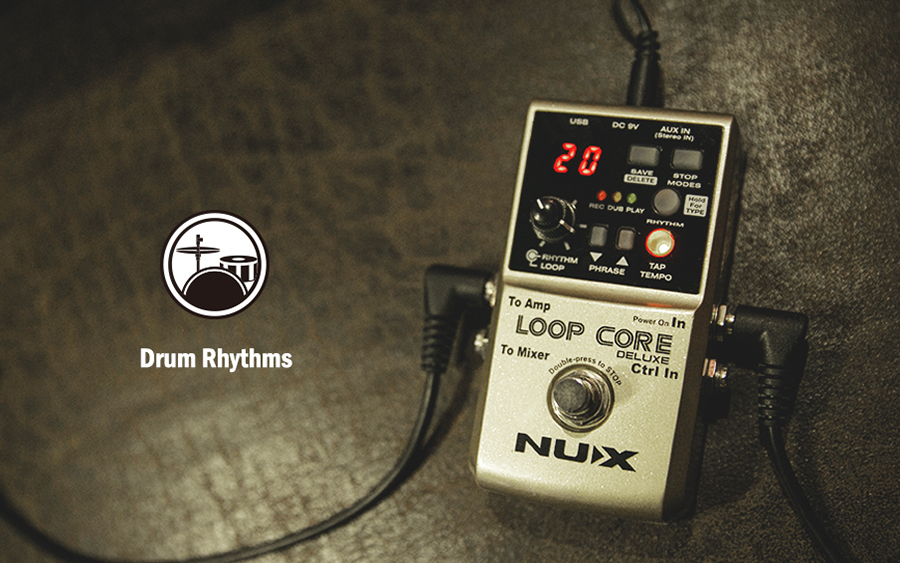 NUX Loop Core Deluxe – Stop Modes
As you approach the end of your musical piece, NUX Loop Core Deluxe – gives you three different endings to choose from:
1- NORMAL MODE: Double tap – Instant Stop
2- FINISH MODE: Plays until the end of the last measure
3- FADE OUT MODE: 10 seconds Fade-Out
NUX Loop Core Deluxe – Importing and Backing up Your Loop Phrases
Connect your Loop Core Deluxe to your PC/Mac with a Mini-B USB connector to import available loop phrases or to back up yours. Loop Core Deluxe is only compatible with 24-bit/44.1kHz WAV files.
NUX Loop Core Deluxe – Pro-Features: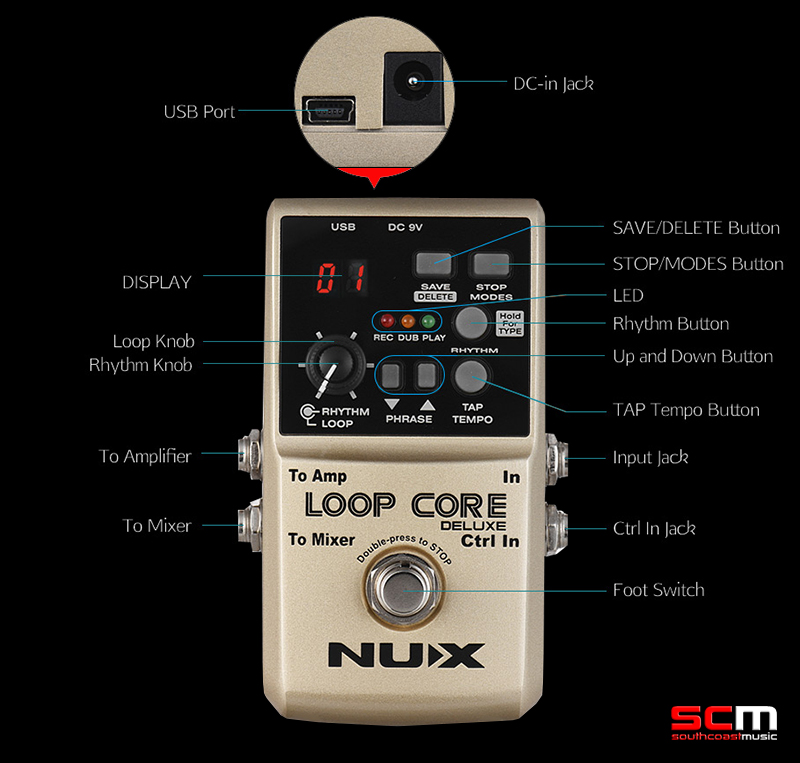 NUX Loop Core Deluxe – Frequency Compensation & Cabinet Simulation
To ensure the best possible tone, the NUX Loop Core Deluxe includes frequency compensation for drums and a cabinet simulator. Both are utilised through the stereo output Jacks.
NUX Loop Core Deluxe – Stereo Output Connectivity
When using Loop Core Deluxe in the same situation as pictured below, it will detect the type of devices connected. The original guitar tone and loop phase output to the guitar amplifier while the drum machine sound outputs to the mixer. To active this feature: please press down RHYTHM button before powering on the device and "F3" appears on the screen as shown in the illustration below . . .

The Stereo Output has several options: to amp, output guitar signal or to mixer, drum machine out. Loop Core Deluxe will detect the type of the device you are using and the original guitar tone and loop phase will output to your guitar amplifier while the drum machine sound will output to the mixer.

NUX Loop Core Deluxe – True Bypass or Buffer Bypass
The Loop Core Deluxe includes a switchable buffer bypass and true bypass mode. NUX offers this flexibility and the choice is yours . . . if you already have a buffer bypass pedal – use it! Loop Core Deluxe has been designed to work with a wide variety of situations. Just hold down the [STOP MODES] Button while plug in the power adapter to switch in between the 2 bypass modes.


NUX Loop Core Deluxe – Automatic Tempo Detection
Loop Core users are already familiar with the many hidden treasures of the original Loop Core such as automatic tempo detection. You can easily lay down a loop without a metronome or any drum patterns. Should you decide to add a drum pattern later – Loop Core Deluxe will automatically process your tempo to match the pattern. No technical mumbo jumbo to fumble with – just enjoy your music!
Loop Core Deluxe vs Original Loop Core:
* Broadcast Quality Recording sound quality (24-bit vs. 16-bit)
* Longer recording time (8 hours vs. 6 hours)
* Upgraded drum machine with more realistic drum sounds
* Equipped with NMP-2 Dual Footswitch control pedal for ultimate user experience
* Frequency compensation & cabinet simulation
NUX Loop Core Deluxe – Drag and Drop your own music into Loop Core Deluxe
You can convert any audio file to make it compatible for Loop Core Deluxe. The Nux Audio Converter software is available as a free download.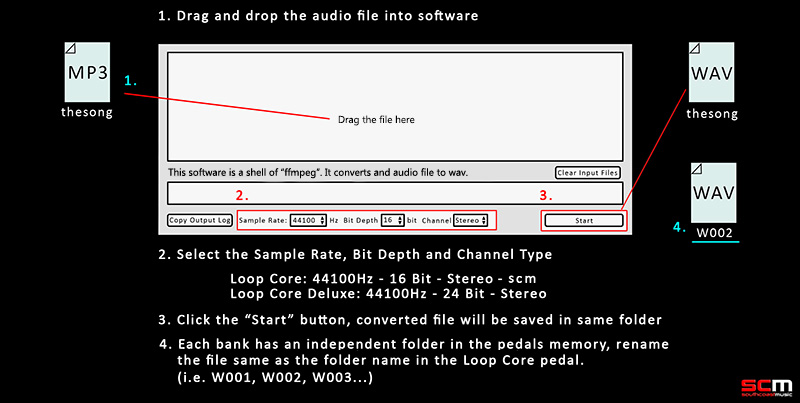 NU-X Loop Core Deluxe Specifications
o Sampling Rate: 44.1K
o A/D converter: 24bit
o Signal Processing: 24bit
o Frequency response: 20Hz—20KHz
o Noise Level: -98dBu
o Dynamic Range: 101dB
o Power Consumption: 65mA – 70mA
o Input: Mono
o Outputs: Amplifier Out, Mixer Out (Cabinet Simulated)
o Display: LED & LED Segment Displays
o Power: 9V DC Negative Tip / 9V Battery
o Dimensions: 122(L) x 72(W) x 47(H) mm
o Weight: 270g.
o Two Year Warranty