Mesa Boogie Subway Bass DI Preamp
This is the warm, musical Tone and powerful features of the acclaimed Mesa Boogie SUBWAY® D-800™ Bass Head in a Gig-Bag-Pocket ready package for floor or desktop duties that boasts friendly connectivity, take anywhere flexibility and ultimate control.
Features include Gain, Active BASS, LOW-MID, HIGH-MID and TREBLE EQ Controls, VOICING Control, ACTIVE/PASSIVE Instrument Select, DEEP Switch, XLR Balanced and 6.35mm (¼") Unbalanced PREAMP Outputs with GROUND LIFT and a Balanced DIRECT Output with PRE/POST SWITCH and GROUND LIFT.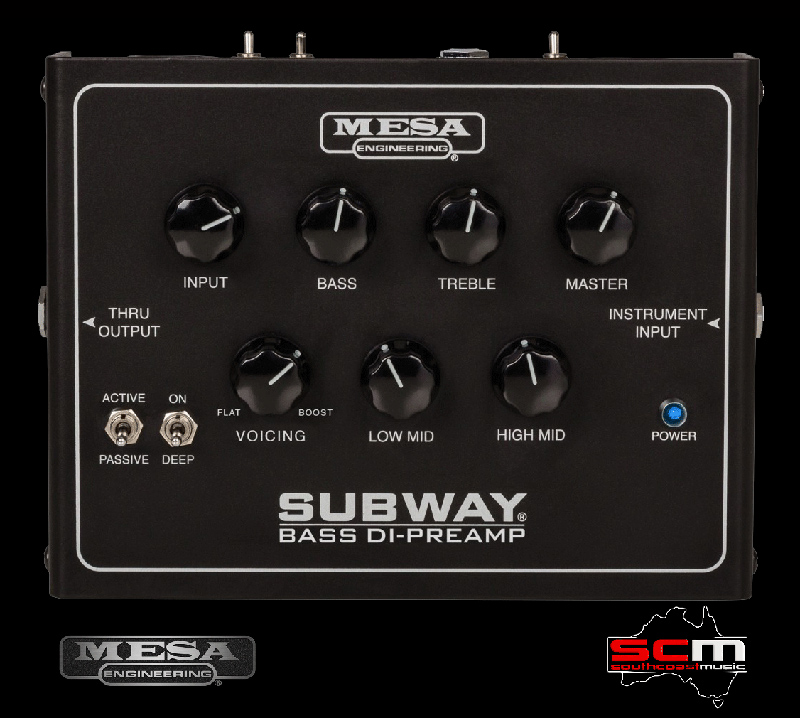 Mesa Boogie Subway Bass DI Preamp Features:
• Handmade in Petaluma, California with the World's Finest Materials
• Preamp derived from the renowned Subway D-800 Bass Amp
• Active/Passive Input Switch
• Preamplifier features: Input Gain, Variable Voicing (Flat to Vintage Scoop), Master Volume
• EQ: Fully Active 4-Band EQ (+/- 12dB of Bass, Low-Mid, High-Mid, Treble) plus Deep Switch (for enhanced low-end)
• Balanced XLR Direct Mic Level Out with Pre/Post & Ground Lift Switches
• Line Level Preamp Outputs – Unbalanced & Balanced with Ground Lift Switch (drives any power amp)
• Instrument-Thru Output
• Powered by AC or Battery, auto-switches to battery if AC fails
The Subway Bass DI PreAmp is the Pre-Amp section from the hugely successful Subway D 800 Head built into a compact package that's small enough to fit in the pouch of a Gig Bag or even on a pedal board.
It means that whether plugging direct into a recording desk, an existing bass rig or a live PA, Bass players never need to be without killer tone, warmth and dynamics again.
Carefully tuned and refined, the Subway Bass DI is the ultimate solution for anyone who doesn't always need to use a full bass rig both in recording and live situations.
Just like the D800, all the practical features are there without sacrificing flexibility or adding too many controls.
Connectivity is taken care of with dual balanced XLR outputs and an unbalanced 6.35mm (¼") jack. The Post/Pre EQ switch ensures maximum versatility and ground lifts for each balanced output keep your signal clean and pristine – free of any pesky ground hum.
Of course the DI section is a premium quality studio grade design which captures all of the nuances and tonality of the pre-amp and routes it to wherever you want it.