mesa/BOOGIE TONE-BURST™ guitar FX pedal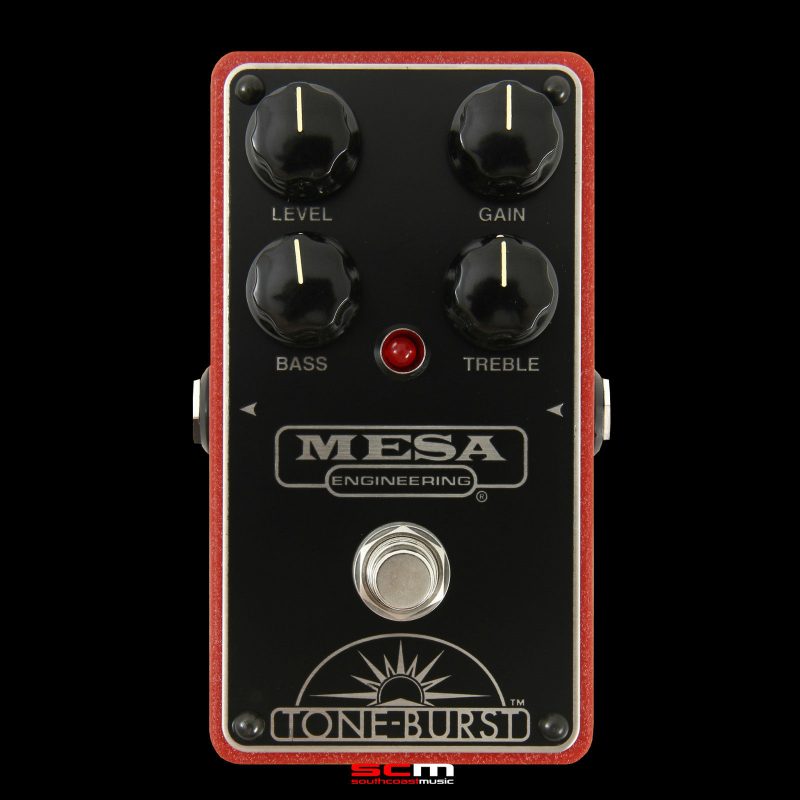 o Mesa/Boogie Tone-Burst Overdrive Pedal
o Gain/Boost Pedal with True Bypass Switching
o Gain Control
o Bass/Treble EQ Controls with +/-12db of Boost/Cut
o Up to 20dB of Signal Boost
o Hand Made in the USA!
Why It Boogies:
"As we've said, what the Tone-Burst sounds like really depends on how your amp is set. We find it addictive running into a just-on-the-edge-of-overdrive valve amp where it pushes the amp a little harder, meaning notes and chords smooth off into drive around the edges. For many players, an overdrive pedal might alter the tone too radically, whereas this just gives you more of what you want: your guitar and amp." Mick Taylor – Guitarist
The TONE-BURST™ Boost/Overdrive offers a virtually transparent gain range usually associated with "clean" boost pedals. However, the TONE-BURST has enough gain to boost your guitar to the threshold of clip and slightly beyond, making it far more useful for a variety of applications. It's incredibly powerful for adding boost, drive and/or EQ to any guitar and amp combination.
Whether using it as a utility to boost the output of single coils to match a humbucker or as a subtle overdrive when a standard overdrive may be too much, the TONE-BURST is an incredibly useful and expressive pedal that makes the best things sound even better!
mesa-BOOGIE Tone-Burst™ Product Features:
o Designed and Handcrafted in Petaluma, California, USA
o True Bypass On/Off Switching – Bypasses all circuitry when off to ensure no tonal loss
o Gain Control allows you to dial in the perfect amount of boost or mild overdrive
o Master Level Control provides a variable range of signal boost up to +20dB
o Tone Control balances the amount of high frequencies
o On/Off Status LED
o 9V Battery Powered or Externally Powered (optional) via External Power Jack Input
o Input & Output Jacks (Nominal Input -20dB)
mesa-BOOGIE Tone-Burst™ Specifications:
o Dimensions: W73mm x D122mm x H58mm
o Weight: 364g with battery, 319g without battery
o True Bypass Switching
o Battery Type: 9VDC (one)
o Power Consumption (Current Draw): 9VDC/15mA
o External Power Supply (Not Included): WARNING!!! To avoid immediate damage and voiding the warranty, the External Power Supply MUST be 9VDC with a NEGATIVE CENTRE plug polarity and a jack plug size of 2.1mm x 5.5mm
o Input Impedance: 1M Ohm (500k Ohm minimum)
o Output Impedance: 10k Ohm