MESA / BOOGIE THROTTLE-BOX EQ™
o Box EQ Distortion Pedal
o Distortion Pedal with 5-BAND EQ and True Bypass Switching
o Dual Rectifier in a compact pedal
o amazing tone!
o amazing tone!!
o amazing tone!!!

WHY IT BOOGIES!

"Fans of the Dual Rectifier's harmonically explosive distortion will revel in the Throttle Box EQ's almost identical gain delivery and tone-morphing controls." Erik Kirkland – Guitar World
The new MESA BOOGIE THROTTLE BOX EQ™ version combines the enhanced shaping power of Mesa's legendary Five Band Graphic Equaliser along with footswitchable HI/LO performance Modes and easy Top Panel access to the previously internal BOOST feature.
Randall Smith and his Team at MESA Engineering are not known to rest on their laurels and with the worldwide success of the THROTTLE BOX™ overdrive, they immediately saw potential for an even more powerful version that included their classic Five-Band Graphic Equaliser…we said yeah!
With the addition of the enhanced shaping power of the on-board Five Band EQ, MESA Engineering have created the THROTTLE BOX EQ. This is a Guitar Pedal that can go anywhere you want to take it stylistically and you can rest assured, it will enhance your tone…we believe that it's inspirational.
The middle range of the GAIN control can deliver tight, stinging overdrive and much, much more. The choice is yours – simply choose LO or HI GAIN Modes and you can comfortably cover everything from Blues to Modern Metal.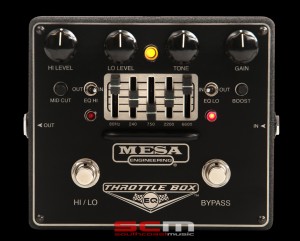 It doesn't end there though and the MESA BOOGIE THROTTLE BOX EQ™ delivers plenty of attitude along with an urgent percussive nature that while totally modern, remains true to the timeless guitar tones that have caused hearts to race time and time again.
Cranking things up into the upper one-third of the GAIN control in HI unleashes a hot-rod that's blistering with searing top-end harmonics. For Hard Rock and Metal MESA's Graphic EQ set to the popular mid-scooped "V-Curve" has a 40-year track record of creating the heaviest sounds around. Yet with limitless curve possibilities, the Graphic EQ expands the potential for sonic diversity across all styles as well as being able to unleash what can only be described as modern mayhem.
Just like the original THROTTLE BOX, the supercharged THROTTLE BOX EQ has two Modes but here they are controlled by a HI/LO footswitch that enables you to have two gain regions to choose from during live performance situations which makes this device very sexy.
There are also dedicated HI LEVEL and LO LEVEL Output controls which allow you to set the desired volume level for each Gain Mode individually. The EQ can then be assigned to either or both of these Gain Mode choices so that it becomes active with the desired Gain Mode selection…yeah baby!
Additionally, MESA have fitted a MID CUT control that allows global scooping of the mids in addition to whatever you might do with the Graphic sliders.
It doesn't end there though…the internally selectable BOOST switch hidden under the Bottom Plate on the original THROTTLE BOX appears on this EQ version as an easily accessible Top Panel BOOST switch for extra girth and a bit of gain enhancement – that simply means that you have C.O.N.T.R.O.L. over your tone.
When it comes to pedals, it's a fact that at southcoastmusic we are spoilt for choice and with the THROTTLE BOX EQ We are quietly confident that this pedal will exceed your expectations and provide an inspiring tool for your musical expression…it is simply in a word…superb!

MESA BOOGIE THROTTLE BOX EQ FEATURES:
o Designed and Handcrafted in Petaluma, California, USA
o True Bypass On/Off Footswitch bypasses all circuitry when off to ensure no tonal loss
o HI/LO Footswitch provides instant access between HI & LO (Gain) Modes for greater musical versatility
o Gain Control allows you to dial in the perfect amount of classic to modern high-gain
o Tone Control balances the amount of high frequencies
o Mid-Cut Control provides powerful mid-scoop for modern high-gain styles
o Boost Switch provides an enhanced EQ-voicing with more and lower bottom end, sweet tailored mids and crisp, shimmering highs
o 5-Band Graphic EQ with LED Indicators
o Auto-Assignability to either Mode (HI or LO) via Independent On/Off Switches
o Mesa's legendary tone-shaping power with +/- 12db of boost or cut at 80Hz, 240Hz, 750Hz, 2.2Khz & 6.6Khz
o Independent HI & LO Mode Master Level Controls
o Variable range of signal boost up to +20db for each Mode
o On/Off Status LED with Dual Color LED's to indicate the active Mode (LO = Yellow / HI = Red)
o 9V Battery Powered or Externally Powered (optional) via External Power Supply Input Jack
o Input & Output Jacks (Nominal Input -20 db)
MESA BOOGIE THROTTLE BOX EQ SPECIFICATIONS
o Dimensions (W/D/H): 5.78″ x 4.76″ x 2.30″ (146.8mm x 121mm x 58.4mm)
o Weight: 1.7lbs (817g) with (one) battery, 1.6lbs (726g) without battery
o True Bypass Switching
o Battery Type: 9VDC (One or Two – Two for extended battery-powered use)
o Power Consumption (Current Draw): 9VDC/45mA
o Input Impedance: 1M Ohm (500k Ohm minimum)
o Output Impedance: 10k Ohm
External Power Supply (Not Included):
WARNING!!!  To avoid immediate damage and voiding the warranty, the External Power Supply MUST be 9VDC  with a NEGATIVE CENTRE plug polarity and a jack plug size of 2.1mm x 5.5mm.