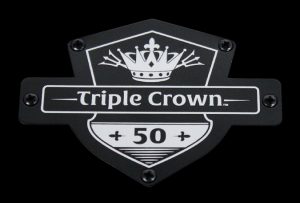 MESA/BOOGIE TRIPLE CROWN TC50 COMBO – all tube hand made electric guitar amplifier
o Awe Inspiring British EL34 Tone
o 50 watt Class A/B Power Amp
o Three Channels with two Gain Levels per Channel
o 1 x 12″ Celestion Vintage 30 Speaker
o Reverb and Effects Loop
o Extension Speaker and CabClone Output
o Foot Switch and Amp Cover Included
o Dimensions: 578 x 489 x 264 mm
o Weight: 25.4 kg
o Hand Made in Petaluma, California, USA
This is the MESA/BOOGIE Triple Crown TC-50 3-channel, 50-watt, EL-34 powered combo from MESA Engineering and its in stock right now at southcoastmusic.
Designed, engineered and Hand Built to capture the essence of Rock with the added ability to inspire new genres in a way only MESA® can, the Triple Crown TC-50 Combo is a portable powerhouse.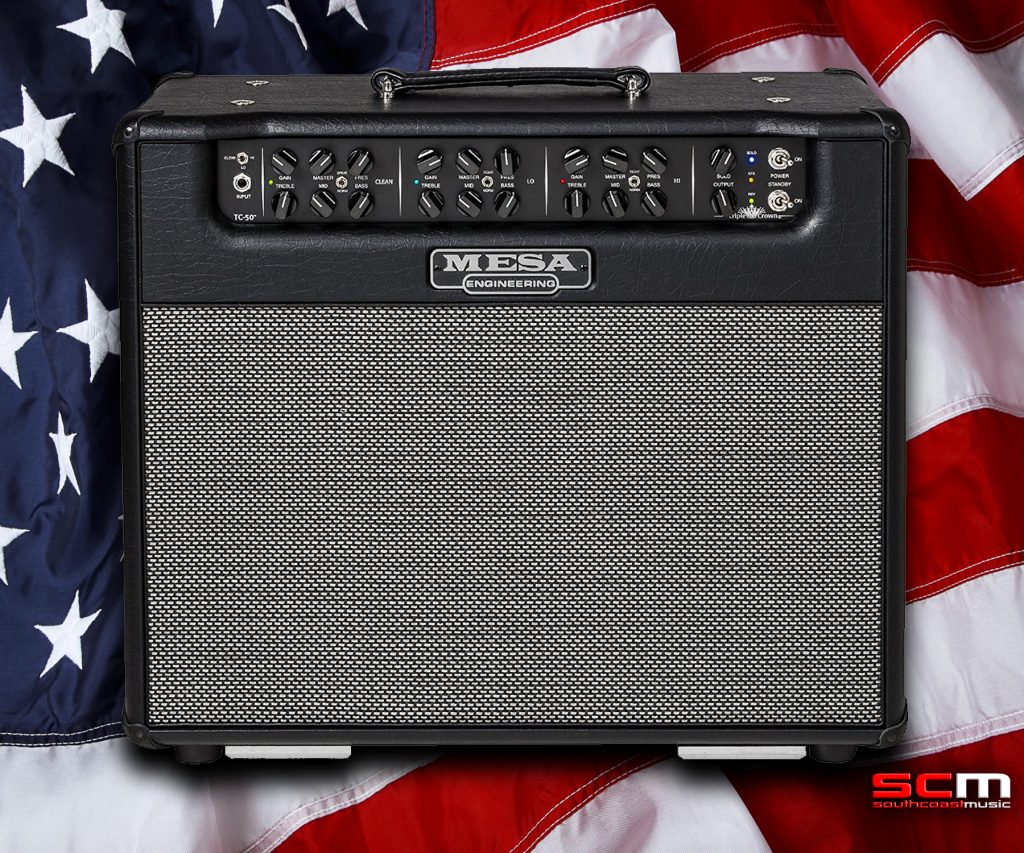 The Triple Crown owes its DNA to the "other side of MESA" that spawned Rock's iconic Dual and Triple Rectifier series amps however, Randall Smith and his Mesa Engineering Team have raised the bar with a new platform that features a bold set of new circuits unlike anything they have ever built before.
The Portable Triple Crown™ TC-50™ 1×12 Combo stands only 48.9cm tall and is 57.8cm wide.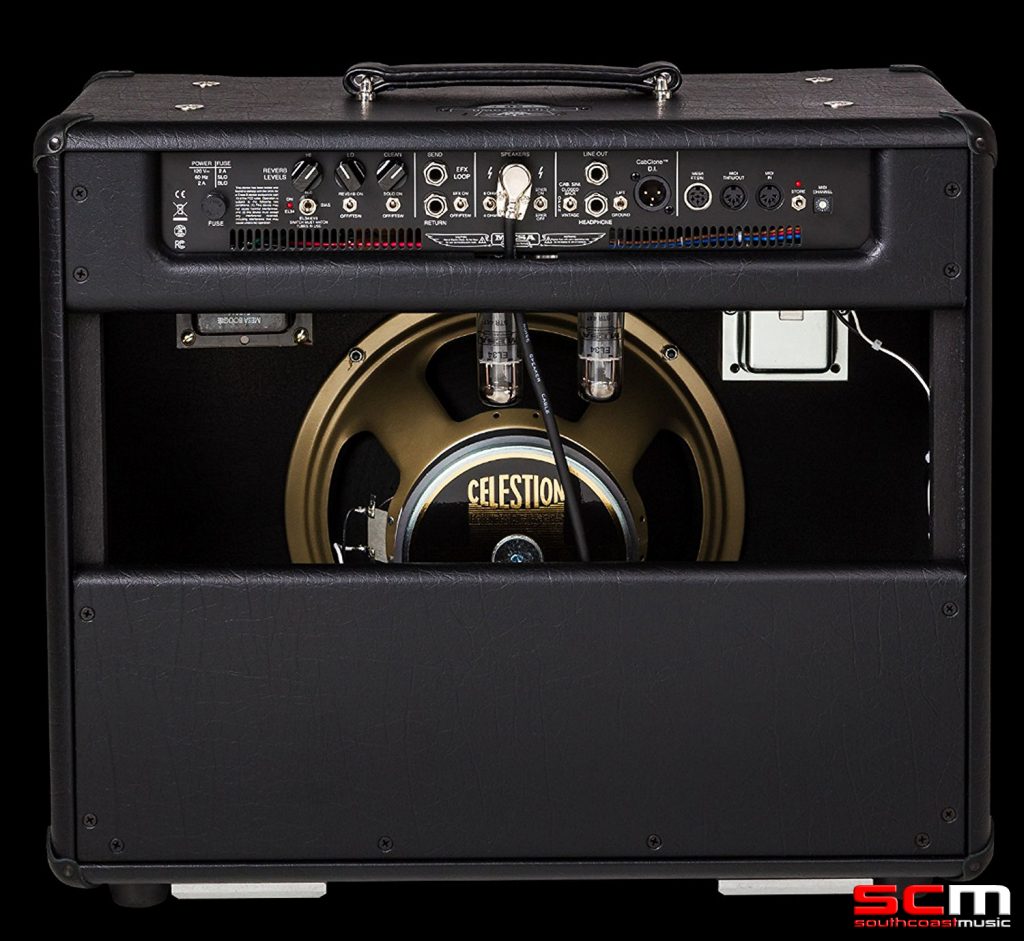 From sweet and sparkling clean tones – rarely heard in this type of amp, to an amazingly tight and aggressive wall of Rock Crunch right through to the most vocal, harmonically rich and gain-laden high-gain channels ever, the Triple Crown is aimed at Rock's high-gain throne!


Mesa have also included their awesome CabClone – incredibly useful whether listening through headphones or sending a direct signal to a mixer. The built-in amp load lets you run the amp with the speakers switched off, driving the power valves hard enough for you to achieve virtually any tone you can imagine. The three preset cabinet simulations are perfect for studio and stage duties. For example, for live work you can run the amp as normal while feeding an "open-back" signal to the P.A.

This is what GuitarPlayer Magazine had to say about the MESA/BOOGIE Triple Crown TC-50 amplifier:
"Factor in its MIDI capabilities, and the TC-50 is an insanely flexible amp that will enable you to get your rock on whether your tone tastes lean toward Andy Summers, Angus Young, or Alexi Laiho. Between its sparkling cleans and furious overdrive, there are plenty of great sounds in this amp that can fill the bill for blues, jazz, country, and a whole lot else. Typical of all Mesa amplifiers, the TC-50 provides a tremendous amount of bang for the buckage, and is a must-play if you're looking for a single-amp solution for everything you do."
This may not be your first guitar amp but it may well be your last.
MESA/BOOGIE TRIPLE CROWN TC50 COMBO SPECIFICATIONS
o Massive British EL-34 Tone
o Multiple Independent Foot switchable Channels
o Juicy Boogie Clean all the way through to "Modified" British Hi-Gain
o CabClone
o Midi control
o Hand Made in Petaluma, California with the world's finest materials
o All-Tube Amplifier: 2xEL-34 Power Tubes / 6x12AX7 & 1x12AT7 Preamp Tubes
o 50-Watt Class A/B Power Amp delivers exceptional power, punch & clarity
o Bias Select Switch for use with EL-34, 6V6 or 6L6 Power Tubes
o 1 x 12″ Celestion Vintage 30 speaker
o 3 Fully Independent Channels with 2 Modes
o Channel 1 (Clean) Features: Normal or Drive Modes – Independent Gain, Treble, Mid, Bass, Presence, Reverb (rear panel) & Master Controls
o Channel 2 (LO Gain) Features: Normal or Tight Modes – Independent Gain, Treble, Mid, Bass, presence, Reverb (rear panel) & Master Controls
o Channel 3 (HI Gain) Features: Normal or Tight Modes – Independent Gain, Treble, Mid, Bass, Presence, Reverb (rear panel) & Master Controls
o Output Level Control (over all channels)
o Footswitchable Solo Level Control (over all channels)
o Footswitchable, All-Tube, Long-Tank, Spring Reverb with Independent Channel Controls (rear panel)
o Footswitchable, Fully Buffered, Tube FX Loop
o Built-In CabCloneTM Cabinet Simulator and more featuring: Closed-Back, Open-Back and Vintage Voices
o Internal Amp Load & Headphone Output
o Speaker On/Off & Ground Lift Switches
o Uncompensated, +4db Direct Line Output (for external cab sims/IR, etc.)
o MIDI Switchable/Programmable via Control Change and Program Change messages, with 256 Preset Location (MIDI IN, MIDI Thru/Out, MIDI Channel & Store Switches) – Controls Channels 1, 2, 3, Reverb, FX Loop & Solo)
o All Aluminium Chassis
o 3×3, 6 Button Footswitch (Bottom Row: Channel 1, Channel 2, Channel 3 – Top Row: Reverb, FX Loop, Solo)
o Vinyl Amp Cover
o Five Year Warranty
Five Year MESA/BOOGIE Australia Warranty Applies
Buy with confidence! southcoastmusic is an authorised MESA/BOOGIE Dealer.