Marshall Amplification
JIM MARSHALL 85th BIRTHDAY CELEBRATION MODEL
LIMITED EDITION – 1923
50 watt valve powered amplifier head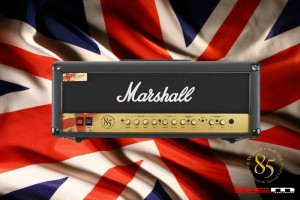 This is a special find from the southcoastmusic V.A.U.L.T.
The Marshall 1923, 85th anniversary guitar combo, is a very special guitar amplifier.
An exact replica of the one off unit designed, hand finished and presented to the Late Jim Marshall O.B.E. at his 85th birthday celebration in July 2008, the 1923 is based on the legendary JCM 2000 Dual Super Lead platform and delivers that distinctive Marshall tone in spades. Don't be fooled though . . . this is not simply a rebadged DSL50 head!
This is what one owner wrote about his Marshall 1923 Amplifier:  "Owned this amp now for two months, I decided to write this review for all those people saying that Marshall are ripping us off by just tarting up a bog standard DSL50 and charging us mega bucks for it. I've also owned a DSL50 for the last eleven years, the two are quite alike "except" for the fact that the 1923 is far more smoother, crunchier, fatter, creamier, dynamic and responsive. I certainly don't feel ripped off. It looks amazing and sounds amazing… I'm one happy musician..."  Johnny-AbDOe from uk

The front panels are finished with a custom colour print design incorporating both the 85th Celebration logo and Union Jack flag. Every unit has been constructed using high grade Baltic birch plywood for superior sonic performance and durability.
The 1923 is a special edition and built in a strictly limited run. In fact there were only 500 units of this amplifier made for the world. Only a handful were imported into Australia.
The 1923 includes a protective matching dust cover and copy of the infamous "Father of Loud" book which contains a detailed history of Jim's life, Marshall Amplification, and information and insights to some of the various models made by Marshall rounded up with an in-depth factory tour.
As well as its bespoke packaging and contents, this 1923 amplifier also comes supplied with a Product Completion Certificate which marks the process of its creation at the UK based Marshall workshop.
The certificate is signed by the staff members who's skill and dedication went into making this individual product.
Of course this very special amplifier would be not have been complete without the blessing of Jim Marshall himself and the manufacturing log has been hand signed by the Guv'nor himself making this a unique and completely irreplaceable example of Rock History.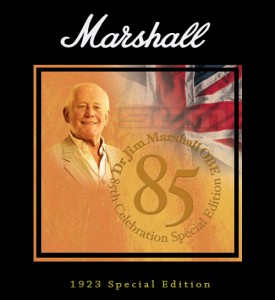 Marshall 1923 Head Specifications:
o Output (RMS): 50 Watt
o Twin Voiced Channels: 2
o Spring Reverb
o 3-Stage EQ
o Deep & Tone Shift
o Pre-Amp Valves: 2 x ECC83
o Power Amp Valves: 2 x EL34
o Speakers: 1 x Heritage, 1 x Vintage
o Footswitch (supplied): PEDL-00001
o Dimensions (mm): 690 x 510 x 265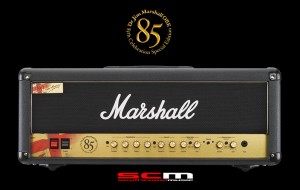 southcoastmusic is an authorised Marshall Dealer – one year Australian Marshall warranty applies.