CRAFTER BLUEGRASS ACOUSTIC/ELECTRIC MANDOLIN M88/RS RED SUNBURST FINISH
CRAFTER M88E/RS
Bluegrass Series Tiger Maple Acoustic/Electric Mandolin
Red Sunburst Finish
Hand Crafted in Korea
Hand crafted perfection from the Craftsmen at Crafter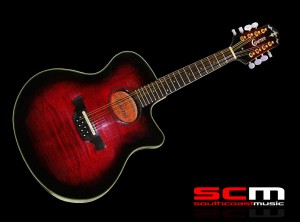 Crafter is one of the UK's biggest selling guitar brands where it has delighted and inspired musicians at all levels for more than thirty years! The secret of Crafter's success is immediately apparent with superb Korean build quality, the use of premium materials, tone and playability normally reserved for instruments costing more than twice as much. In fact, Crafter's instruments exude quality at every level.
The Crafter M77E/RS Tiger Maple Electric Mandolin is a superb 'on-stage' performance mandolin. Designed and built by one of Korea's finest manufacturers, the M77E/RS exudes quality from every angle. Its not surprising then that the Crafter MS77E/RS is one of our most popular electro acoustic mandolins. The body shape is simply seductive and feels immediately familiar and comfortable. The tone, both amplified and unplugged is outstanding and the built-in tuner will keep you on track.
Change the way you play with Crafter. Buy with confidence knowing that your brand new Crafter Mandolin will be inspected and set-up by our in-house Technician to play and feel like a dream! If you have a particular requirement with regard to the set-up, let us know!
Just don't wait to long to take the plunge as the falling Aussie Dollar is putting real pressure on pricing
MODEL: M77E/RS
BODY STYLE Single cutaway Mandolin
TOP: Flamed Tiger Maple
BACK: Maple
SIDES: Maple
NECK: Mahogany
FINGERBOARD:Rosewood
BRIDGE: Rosewood
FINGERBOARD INLAY: Dot Position Marks
MACHINE HEADS: Gold Oval Tuners
ELECTRONICS CM-4 (built-in LCD Tuner) & Piezo Pick-up
STRINGS: .011 – .040
FINISH: Red Sunburst Gloss
SCALE LENGTH: 355.60mm / 14″
Australia-Wide Delivery is INCLUDED