LINE 6 SPIDER V 60 MKII COMBO GUITAR AMPLIFIER WITH BUILT-IN WIRELESS RECEIVER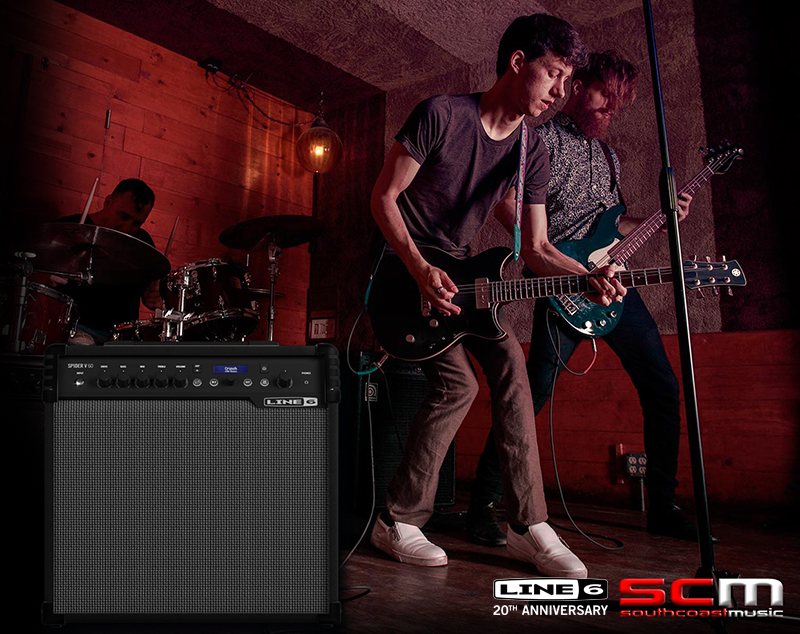 Easily switch between rehearsals, home-studio sessions and small stages with the Spider V 60 MkII. With Spider V 60 MkII you get all the sounds you need along with great practice tools and built-in wireless connectivity with the optional Line 6 Relay® G10T transmitter.
• 2nd Generation Spider Amp Technology
• 60 watts of Power
• Bi-amped full-range speaker system with 10" loudspeaker + tweeter
• NEW Classic Speaker mode provides an organic sound and feel
• Full-Range Speaker mode for acoustic guitar and jam track playback
• More than 200 Amps, Effects and Cabs – more than any other amp in its class!
• 128 presets featuring a variety of classic and modern tones
• Tuner, metronome and jam-along drum loops
• Built-in 60-second looper for layering guitar tracks to play over
• Wireless ready and compatible with the Line 6 G10T Relay Digital Transmitters
• Compatible with Line 6 FBV 3 Foot Controller
• USB interface and free recording software to record and save your ideas
• Edit and record on Mac, PC, iOS and Android devices
• Trade presets with the Spider V community on on CustomTone.com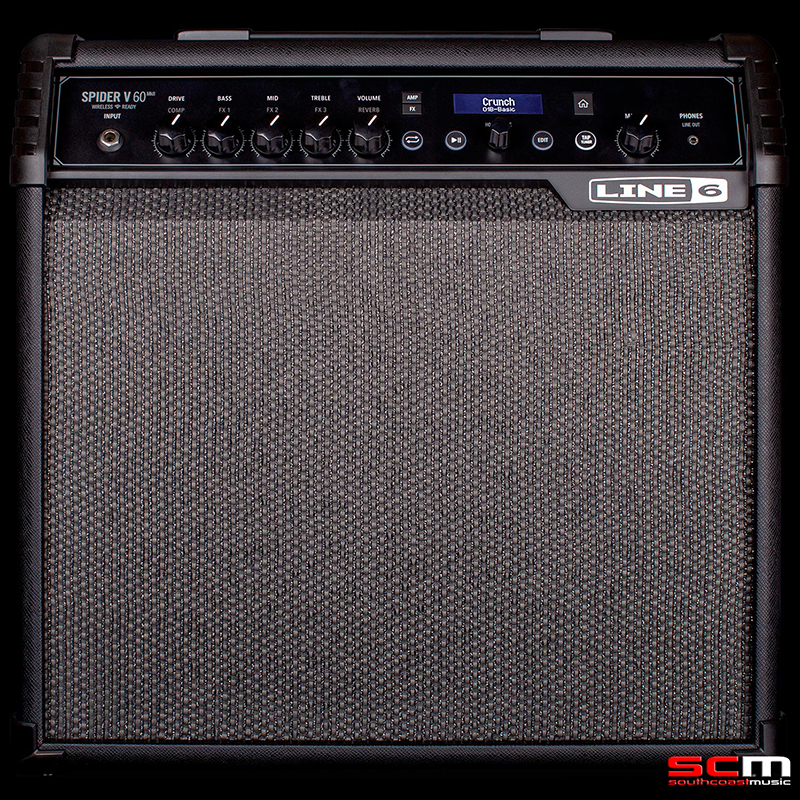 EXCEPTIONAL BUILD QUALITY
Line 6 have upgraded the Spider range and it shows. The new Spider V 60 MkII is a killer amp with a range of sounds as versatile as they are impressive.
Combining rock-solid construction with a clean and modern fit and finish, Spider V MKII was born for the stage. High-quality electrical components are built to last, and every component has been meticulously designed to deliver incredible performance.
Spider V MKII is compatible with the next-generation Line 6 FBV 3 foot controller, giving you total hands-free control over your amps and effects. Together, they form a powerful live gigging setup.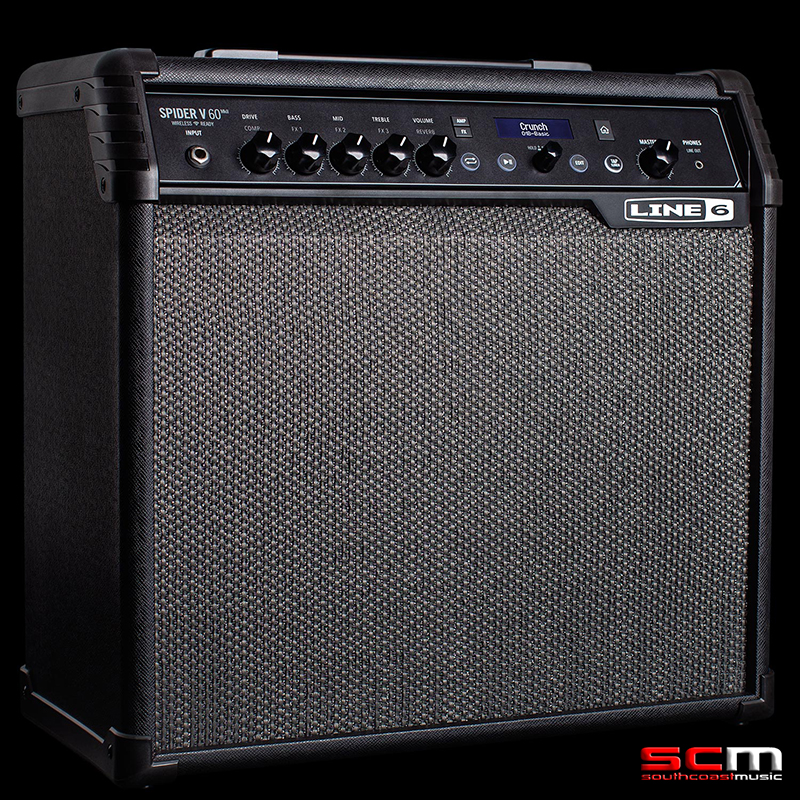 Spider V 60 is the perfect amp for practicing and playing with a small band. Spider V features 60 watts of power, 200+ amps and effects, a built-in Digital wireless receiver and a specialy engineered full-range speaker system with a 10" loudspeaker and HF driver.
Featuring amazing guitar amp and effects modeling, an easy-to-use design and a full-range speaker configuration, Spider V is packed with the innovative features modern guitarists crave. More than 200 amps, cabs and effects give you an incredible sonic arsenal to define your sound.
Innovative colour-coded controls make it fast and easy to craft your tone to perfection. And the full-range speaker system delivers your modeled tones with incredible depth and clarity.

UPGRADED GUITAR AMPS, CABS AND EFFECTS
With Spider V MKII, you'll never be short on inspiration. Choose from over 200 amps, cabs and effects — more models than any other amp in its class. Play iconic and sought after guitar amp sounds, carefully modeled and harnessed in one powerful amp. Recreate the essence of nearly any rig from one of your favorite guitarists by combining amps with up to 8 effects and cabinet models, giving you unique tones that only you could dream of—until now.
INSTANT ACCESS TO PROFESSIONALLY DIALED-IN SOUNDS
Spider V MKII features several types of inspiring presets. Iconic Rig presets are based on studio setups from legendary songs and albums. Artist Presets were handcrafted by some of the world's top guitarists. And Genre Presets make it easy to find sounds that fit your unique creative style. Get great tone in an instant, or use the presets as starting point for your own unique sound.
FULL RANGE SPEAKER SYSTEM
Spider V MKII is equipped with a full-range speaker system that delivers outstanding sound quality and gives you amazing versatility. Modeled amps and effects tones shine with stunning clarity. Play both acoustic and electric guitars — both sound great. Stream your favorite music through Spider V MKII and discover a great way to jam and practice.
PRODUCED MODE
The Produced sound set offers the guitar player a lot of scope. For instance, running the Spider direct to a Computer based recording setup (DAW) yields an arsenal of tones that suit a myriad of guitar types and musical styles. The Produced mode is also perfect for amplifying an acoustic guitar. In this mode both the loudspeaker and the tweeter are utilised resulting in a full range Hi-Fidelity sound much like a full range PA system. Line 6 have‌ included a range of presets for acoustic guitar and they sound incredible.
CLASSIC MODE
The Classic mode has you playing through the Spider V as you would any other amp/cabinet resuting in an amp tone that is raw and organic. In this mode the tweeter is disengaged, consequently the 10-inch speaker sounds more traditional – and this feature is really turning heads with guitar players everywhere.
Close your eyes and listen – you will probably find it hard to believe that the Spider V 60 MkII is a solid state amplifier. The quality and palate of sounds span an incredible range of situations from home and studio recording through to live performance. With the ability to coax just about any perceivable sound possible, the Spider V 60 MKII is ready to inspire your imagination.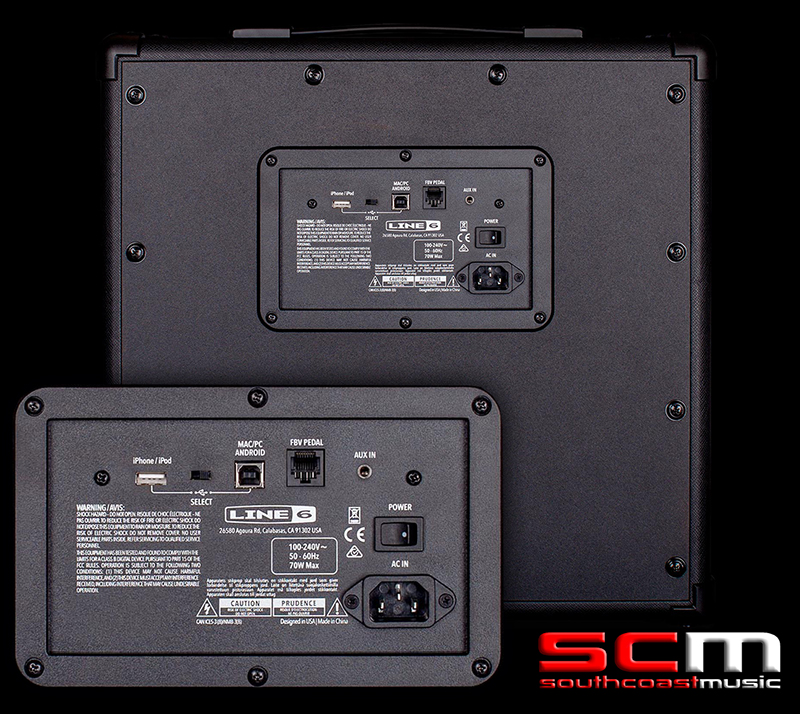 LINE 6 60 MKII SPECIFICATIONS
• Type: Solid State with Modeling
• Number of Channels: 1
• Output Power: 60W @ 4Ω
• Speaker Configuration: 1 x 10″ Woofer, 1 x Tweeter
• Reverb: Digital Reverb
• Effects: Over 100 Effects Models
• Amp Modeling: 78 x amps, 24 x cabs, 4 x Mics
• EQ: 3-band EQ
• Instrument Input: 1 x 6.35mm (1/4″)
• AUX Input: 1 x 3.5mm (1/8″)
• USB: 1 x Type A, 1 x Type B
• Headphone Output: 1 x 3.5mm (1/8″) TRS
• Footswitch In/Out: 1 x RJ-45 (suits FBV 3)
• Footswitch Included: No – Optional Extra
• Built-Tuner: Yes
• Metronome: Yes
• 60-second looper: Yes
• Relay Wireless receiver: Yes
• Computer Connectivity: USB
• Included Software: Spider V Remote App
• Construction Material: Poplar Plywood with Black Vinyl
• Power Source: 240VAC Standard IEC AC cable
• Dimensions: H44.2cm x W43.0cm x D23.0cm
• Weight: 9.3kg