LINE 6 RELAY G10T TRANSMITTER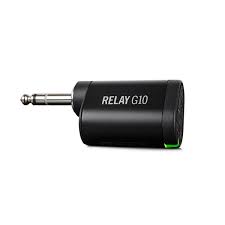 The LINE 6 Relay G10-T wireless transmitter is the perfect accessory to go with your wireless-ready Spider V amp, making it easier than ever to take your performance wireless. Once you have experienced the freedom and sound quality of Digital wireless your only comment will likely be, "why didn't I do this sooner?!"
Connecting your LINE 6 Relay G10-T to your LINE6 Spider V wireless ready amp couldn't be any easier – they will automatically pair with your amp. Simply plug the transmitter into your guitar and start playing.
You get up to 8 hours of playing per charge and up to 200 hours of standby time!
The LINE 6 Relay G10-T is also completely compatible with the LINE 6 Relay G10 receiver representing a complete guitar wireless system.
The LINE 6 Relay G10 T is compatible with typical 6.3mm (1/4″) output jacks used on most passive and active instruments. Guitars that have non-standard jack wiring may require a 6.3mm (1/4″) mono adapter for use with Relay G10-T.