LANEY A1+ ACOUSTIC INSTRUMENT AMPLIFIER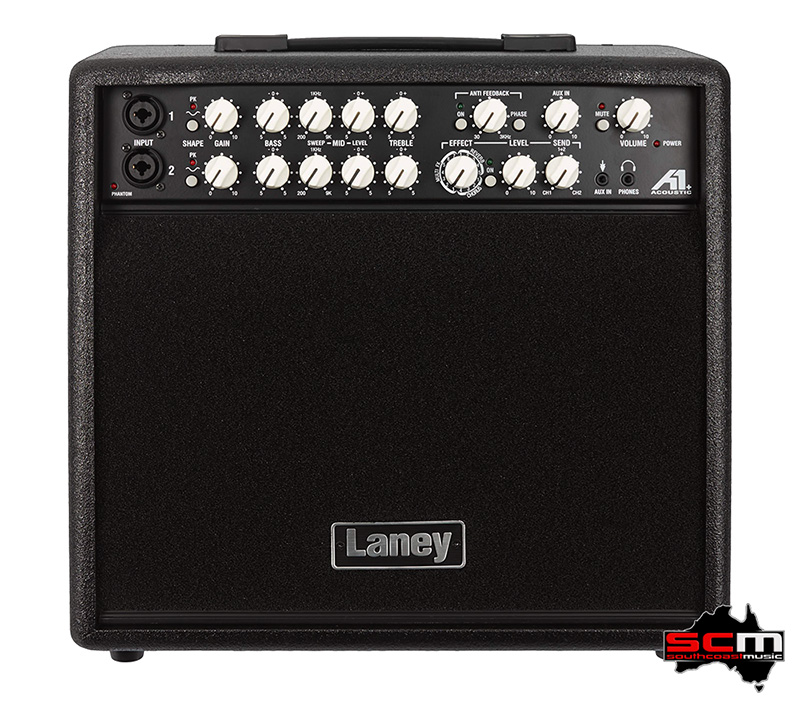 The Laney A1 + is a superb 80 watt acoustic amplifier – designed to give the acoustic guitar player the most authentic electric reproduction of an acoustic instrument possible. If you have read the reviews – or been fortunate enough to play through one – there is no doubt that the A1+ punches well above its weight.
The A1+ is the ideal solution for the singer songwriter who demands outstanding performance for both guitar and vocals. The Laney A1+ is really a compact, highly spec'd PA system, capable of producing the wide variety of sparkling high, luscious mids and tone full lows associated with high quality acoustic instruments.

TWO INDEPENDENT CHANNELS
The Laney A1+ preamp offers two independent channels with everything required to get a great sound. Active Bass control provides boost and cut of the low-frequency response of the pre-amplifier. Peak level LEDs illuminate to help achieve distortion free sound.
Laney's mid-frequency Paramid control is a fantastic tone shaping feature. Paramid allows you to select the mid-frequencies (200Hz to 9KHz) to be cut or boosted in conjunction with the paramid level control. Finally, the active Treble control provides accurate control over the high frequency response of the pre-amplifier.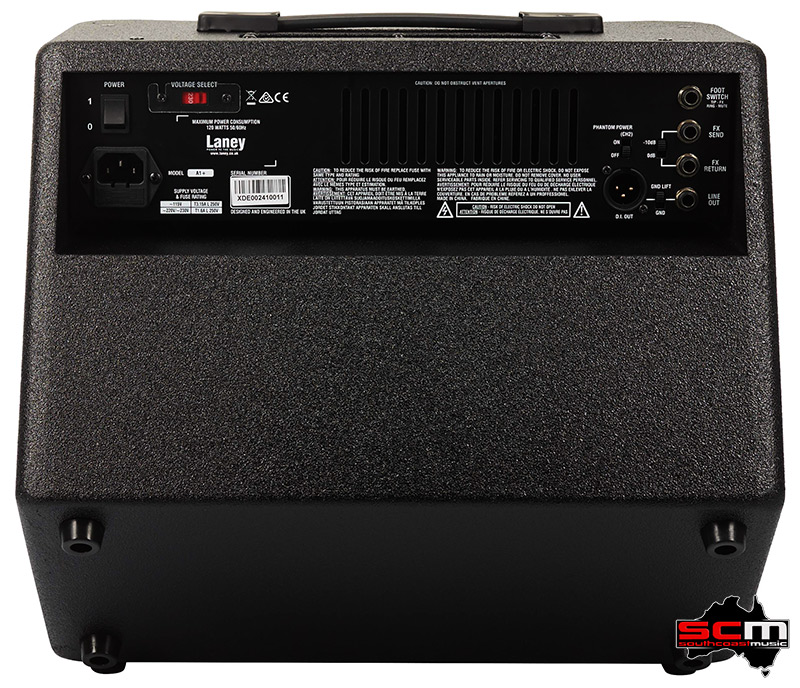 DIGITAL DSP EFFECTS
Laney's Audio/Acoustic Engineers have custom designed and configured the onboard digital effects engine to perfectly complement the A1+. At your fingertips are a choice of stunning Multi-FX, Reverb and Chorus effects.
Reverb positions offer a variety of decay times from classic Plate Reverbs through to Room and Hall Reverbs. The Chorus positions offer various time based Lengths and Delays while the Multi FX offer blends of Reverb/Chorus/Delay on each position.
Used in conjunction with various Level Control settings allow you to dial in your own unique sound.
Using the Send Control, your new sound may be assigned fully to either Channel, or any split in between, external effects can be applied in the same way.
To add to the versatility of the Send Control, a mix of internal & external effects can be blended and applied to each Channel to give a much broader spectrum of sounds to choose from.
CUSTOM DESIGNED SPEAKERS
The A1+ driver compliment consists of a custom 8″ Bass Driver and 1″ Dome Tweeter, specially developed to ensure that the natural tones of your guitar and voice are faithfully reproduced.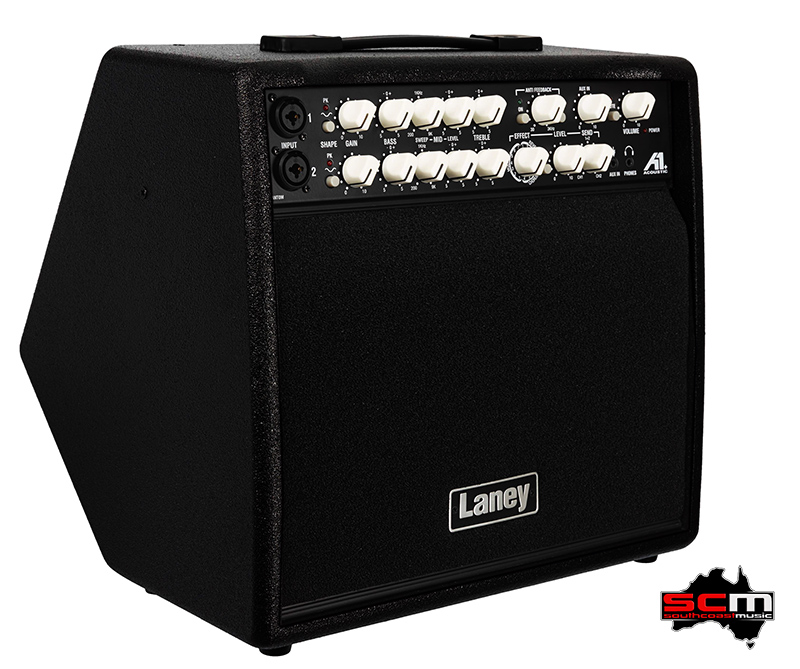 HANDY-CAB
The A1+ cabinet features a versatile kick-back style amp design, making it ideally suited to operate as your main sound source on stage in a conventional position or up close and personal kicked back as your stage monitor. Additionally, the A1+ can also be mounted onto a speaker stand by using the integrated top hat in the base of the unit.
The A1+ is finished in a rugged, textured Polyurethane coating. An Acoustic-foam fronted metal grille protects your speakers.
All in all, the Laney A1+ is a very stylish and rugged amplifier designed to showcase you and your music. Laney back it up with a five year warranty.
LANEY A1+ SPECIFICATIONS
• Power Output: 80 watts RMS
• LF Low Frequency Driver: Custom Designed 8″ Bass Driver
• HF High frequency Driver: 1″ Domed Tweeter
• Instrument Inputs: 2 x Combi Inputs (6.35mm Jack & XLR)
• Number of Independant Channels: 2
• Channel Controls: EQ Shape Switch, (PreAmp) Gain, Bass, Mid (Frequency/Sweep), Mid (level), Treble
• Bass Control: (±10dB at 70Hz, Shelving)
• Treble Control: (±15dB at 10KHz, Shelving)
• Mid Control: Piramid Parametric Sweep (±10dB at 200Hz > 9KHz Peaking)
• Anti Feedback Control: Yes (30Hz – 3KHz)
• Phase Switch: Yes
• Effects: Studio Quality Digital Signal Processor with 16 programs, Level Control & Send
• AUX In: Yes – 3.5mm Stereo Jack with Level control
• Headphone Output: Yes – 3.5mm TRS Stereo Jack
• Outputs: Balanced XLR D.I. & Line Out (Ground Lift operates on both)
• FX Loop (Switchable 0dB / -10dB)
• Footswitch Socket: Yes – FX Mute & Master Mute (Optional Laney FS2 required)
• Phantom Power: Yes +15V (CH2)
• Master Mute Control: Yes
• Master Volume Control: Yes
• Cabinet Design: Triple purpose kickback style cabinet
• Cabinet Coating: Polyurethane Coating
• Speaker Grill: Metal Grill with Acoustic-Foam cover
• Speaker Stand Mountable: Yes – built-in Top Hat speaker stand mount
• H34.8 x W38.7 x D31.2 cm
• Weight: 12.5Kg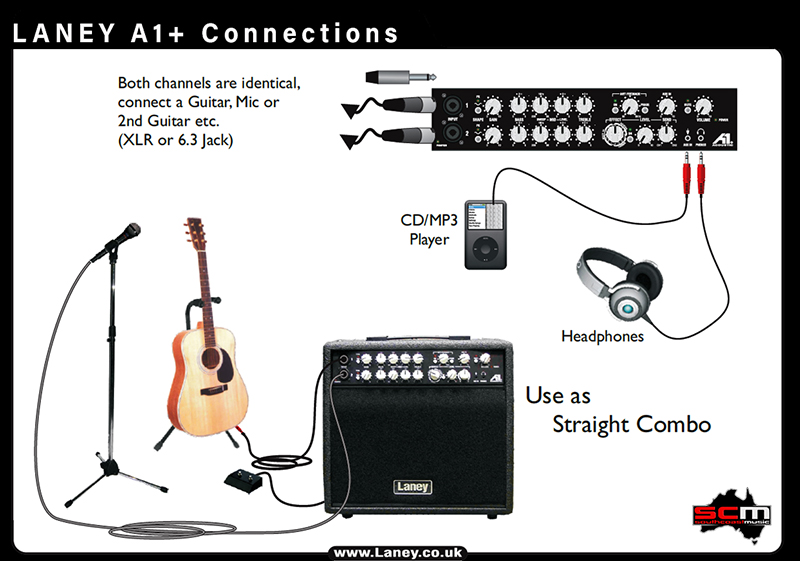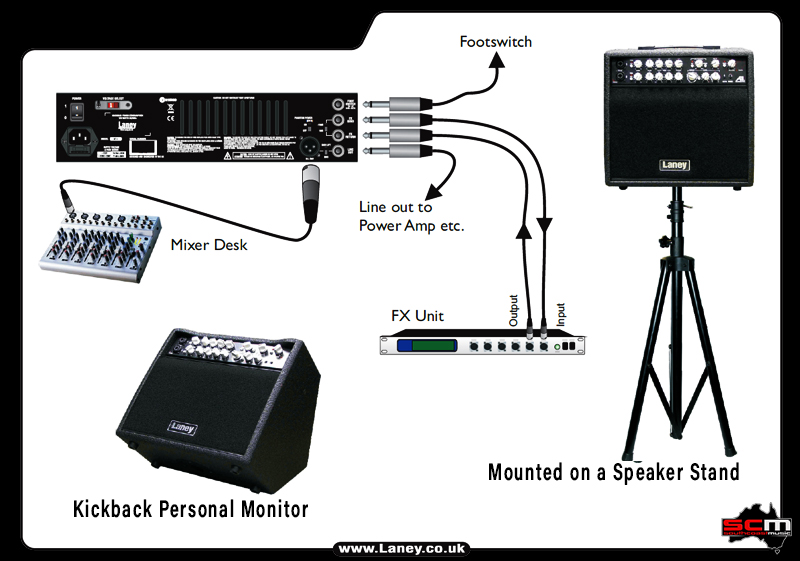 Formed in 1967 by Lyndon Laney, Laney Amplification is a British based guitar and musical instrument amplifier manufacturer who were closely involved with Tony Iommi of BLACK SABBATH in the birth of the 'Heavy Metal' music genre. Since 1967, Laney Amplification has gone on from strength to strength and today stands as a multinational company that continues to design and build class leading products for the Music Industry.
Laney currently work with globally renowned musicians and bands such as The Prodigy, The Foo Fighters, Killswitch Engage, Skindred, Black Sabbath and many more. Their design archive collection spans the music decades.