LAG TRAMONTANE T100DCE

o T100DCE
o DREADNOUGHT SIZE ACOUSTIC-ELECTRIC GUITAR
o STUDIOLÂG PLUS PREAMP-PICKUP SYSTEM
French by Design . . . World Class by any other Measure!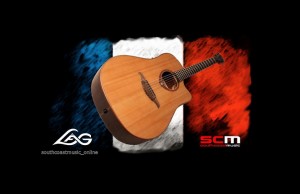 With a Premium Solid Cedar top, the LÂG Tramontane T100DCE Stage series Acoustic/Electric Guitar brings together a world of experience and Tone Woods to create a superb-sounding instrument. StudioLâg Plus electronics and Nanoflex pickups translate this exquisite tone beautifully both on stage and in the Studio. This finely crafted instrument is ideal for the guitar enthusiast or the on-the-road professional but is also priced within reach of the serious beginner.
As the 'E' denotes, this is an electro-acoustic model and it features the Studio Lag Plus Active Preamp system, designed and produced in close association with German pickup specialists, Shadow. The Studio Lag Active Preamp system is simplicity itself with a volume control, five position rotary switch and low battery indicator LED.
The five position rotary switch is the key to five superb built-in EQ presets. Each preset has been individually created using a 31-band professional graphic equaliser and then integrated into the onboard preamp.
Switching between the presets using the notched rotary is simple and you should be able to dial up a tone to suit any situation.
Lag have named the presets: (1) Natural Folk, (2) Mellow Mids, (3) Studio Mid‑Cut, (4) Fingerstyle and (5) Mellow Jazz. The system also includes a low‑battery indicator light.
Access to the two CR2032 batteries is via a sliding cover at the top of the control panel. Shadow and Lag quote anything from 160 to over 700 hours use for the system which means a lot of gigs…
LAG TRAMONTANE T100DCE Features
o Top: Solid Western Red Cedar
o Back & Sides: African Sapele
o Finish: High Gloss
o Rosette: Mahogany with Maple & Black, with Occitania cross
o Bridge: Rosewood
o Saddle: 72mm Compensated Black Graphite
o Neck: Tropical Khaya
o Neck Finish: French Satin
o Truss Rod: Two-Way system
o Fingerboard: Rosewood
o Frets: 20 medium Nickel Silver Frets
o Scale: 650mm
o Headstock: Solid Rosewood with Lâg Maple Logo inlay
o Headstock Finish: Linseed Oil
o Machine Heads: Satin Black Die Cast – 1:18 Ratio
o Nut: 43mm Black Graphite
o Body Thickness: Bottom 120mm – Neck 97mm
o Strings: D'Addario EXP
o Electronics: StudioLâg Plus system
o Warranty: FIVE YEARS
o Case: An Optional Hard Case is available – feel free to contact us for pricing and availability
LAG Guitars – the History
A little more than thirty years ago, Michel Lâg-Chavarria began hand-crafting beautiful electric guitars in Toulouse in southern France. Having played guitar in several successful French Pop and Rock bands, Michel was well aware of the features and build quality that guitarists were looking for.
His unique designs gained great popularity throughout Europe and exposure by the likes of the Scorpions and Motorhead provided added immeasurable prestige to the brand.
Over the years Michel Lâg-Chavarria's unique designs and innovations became known for further enhancing the tone, structure and playability of his instruments. Popularity soared and the waitlists for his instruments became longer, growing significantly in the early part of this decade.
In recognition of Michel Lâg-Chavarria's expertise and success as a "Boutique" builder, he was approached by French music giant Algam International (the largest distributor of Musical Instruments in France) who proposed building some of his designs in Asia. At first Michel rejected the offer but over time he realised that by producing some of his unique designs and innovations in Asia under strict quality control, Lag Guitars could be made available to all French guitarists, rather than just the elite or those with lots of money.
An alliance between Michel and Algam International was struck resulting in a range of high quality Electrics built in Asia for the French market only. Introduced in 2004 with resounding success, it didn't take long before the flood of enquiries from England, Germany and other parts of Europe forced the decision to expand distribution to include Britain Germany and Australia in 2005 -again to resounding success.
Lag Guitars are now available in every major country around the World. southcoastmusic has been there right from the start and we are proud to offer these exceptional instruments to you. Everything about these guitars exudes quality, from the look, style, features and tone…there is nothing else like them at this price. Backed up by an Australia-wide Five Year Warranty, Lag guitars offer incredible value for money.