Jim Dunlop DMP11 Mandolin Strings Phosphor Bronze Medium 11-40 Loop Ends
.011, .015, .026, .040″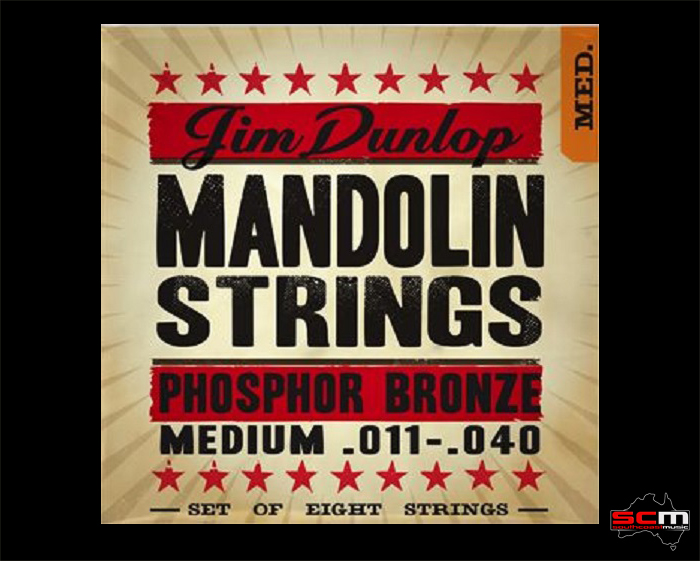 This set of Medium gauge Dunlop phosphor bronze mandolin strings are made for the more experienced player. They deliver a powerful, clear and resonant for a dynamic acoustic experience.
Jim Dunlop is respected by musicians the world over for his incomparable range of high quality strings and accessories.
Made in the USA, this set of Dunlop DMP11 Mandolin strings deliver a rich and vibrant tone for a powerful and expressive acoustic experience.
Dunlop's combination of premium grade wire and laser precision construction has resulted in strings that are warm-sounding, but still provide the detail and clarity in the upper mid-range for rhythm playing and clear lead lines.
Every set of Dunlop Strings come packaged utilising three levels of moisture protection and sealed in a VCI Fresh Technology (Vapor Corrosion Inhibitor) bag to guarantee that your strings arrive as fresh as the day they were made. Dunlop strings are a favourite among scmusic's staff. We are sure that they'll become yours too!
JIM DUNLOP – DMP11 MANDOLIN STRING SET
• Instrument: Mandolin
• Material: Phosphor Bronze Wound Strings / Nickel Plated Steel plain strings
• Gauge: Medium
• String Sizes: .011, .015, .026, .040″
• Ends: Loop Ends