Ibanez SR300E Electric Bass Guitar
For more than 30 years, Ibanez have blazed a trail of excellence and innovation with their SR series Bass Guitars, giving bass players a modern alternative that is surprisingly affordable.
Embraced by bassists the world over, the iconic SR series continues to excite with its smooth, fast neck, lightweight body and perfectly matched electronics.
The SR300E is a superb 4-string bass guitar. Designed with the experienced player in mind, for those fortunate enough to begin their bass playing journey with the SR300E, it is a great way to start.
Ibanez class abounds in this model and it begins with the immaculately finished Nyatoh body finished in elusive Metallic Sage Green. Professional features include a sturdy 5-piece Maple / Walnut SR4 neck, a Jatoba Fingerboard and an Accu-cast B120 bridge for superior string vibration transfer and precise intonation.
The Cosmo Black hardware adds a further touch of class with just a hint of stealth.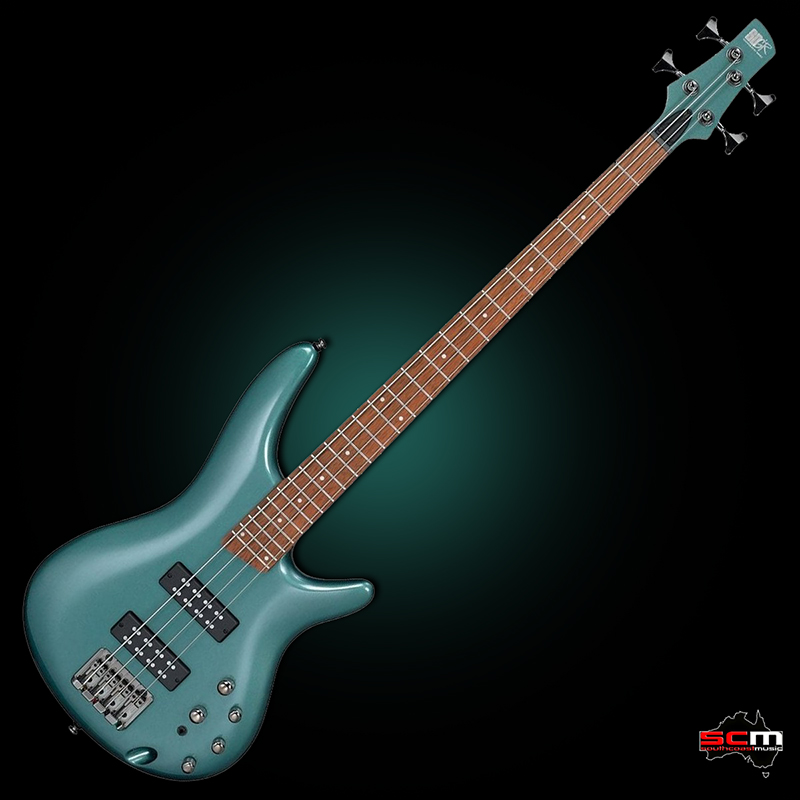 Accu-cast B120 Bridge
The B120's extra-wide string slots can accommodate even the heaviest of gauges. Walls and channels of the new bridge plate effectively "trap" the saddles, ensuring perfect directional uniformity.
PowerSpan Dual Coil pickups
At the heart of the SR300E's electronics are two PowerSpan Dual Coil pickups. Their stainless pole pieces offer higher output, clarity and fullness when compared to anything else in the SR300's price range. Developed by Ibanez, the exposed pole pieces of the PowerSpan Dual Coil pickups produce a stronger signal and increase the response of the higher frequencies without sacrificing low end. The result is a tone rich in harmonic detail and dynamic expression.
Ibanez Custom Electronics 3-band EQ with 3-way Power Tap switch
The 3-band EQ works in conjunction with a coil tap switch for maximum control over a wide variety of professional bass tones.
Accessed by the 3-way "Power Tap" switch, these proprietary pickups offer a choice of three tonal personalities:
• Series Mode (humbucking) delivers a full, warm tone
• Tap Mode (single coil) creates a punchy, dynamic sound with superior articulation
• Power Tap Mode – the best of both worlds with the clarity of the single coil and fat bottom end of the humbucker
With the added ability to dial in precise tone preferences via the Ibanez Custom 3-band EQ – the SR300E is a musical chameleon.
Ibanez SR300E Electric Bass Guitar Specifications:
• Country of Origin: Indonesia
• Body Material: Nyatoh
• Colour: MSG Metallic Sage Green
• Neck Material: 5-Piece Maple/Walnut
• Fretboard Material: Jatoba
• Fretboard position Markers: White Dot Inlays
• Number of Frets: 24
• Fret Size: Medium Jumbo
• Bridge: Ibanez Accu-cast B120 Bridge
• Bridge String Spacing: 19mm
• Neck Pickup: PowerSpan Dual Coil (Passive)
• Bridge Pickup: PowerSpan Dual Coil (Passive)
• Equalizer: Ibanez Custom Electronics 3-band EQ with 3-way Power Tap switch
• Hardware Finish: Cosmo black
• Weight: Approximately 4.8kgs
• Case: Optional case and gig bag available but not included