IBANEZ BTB-747 Seven String Bass Guitar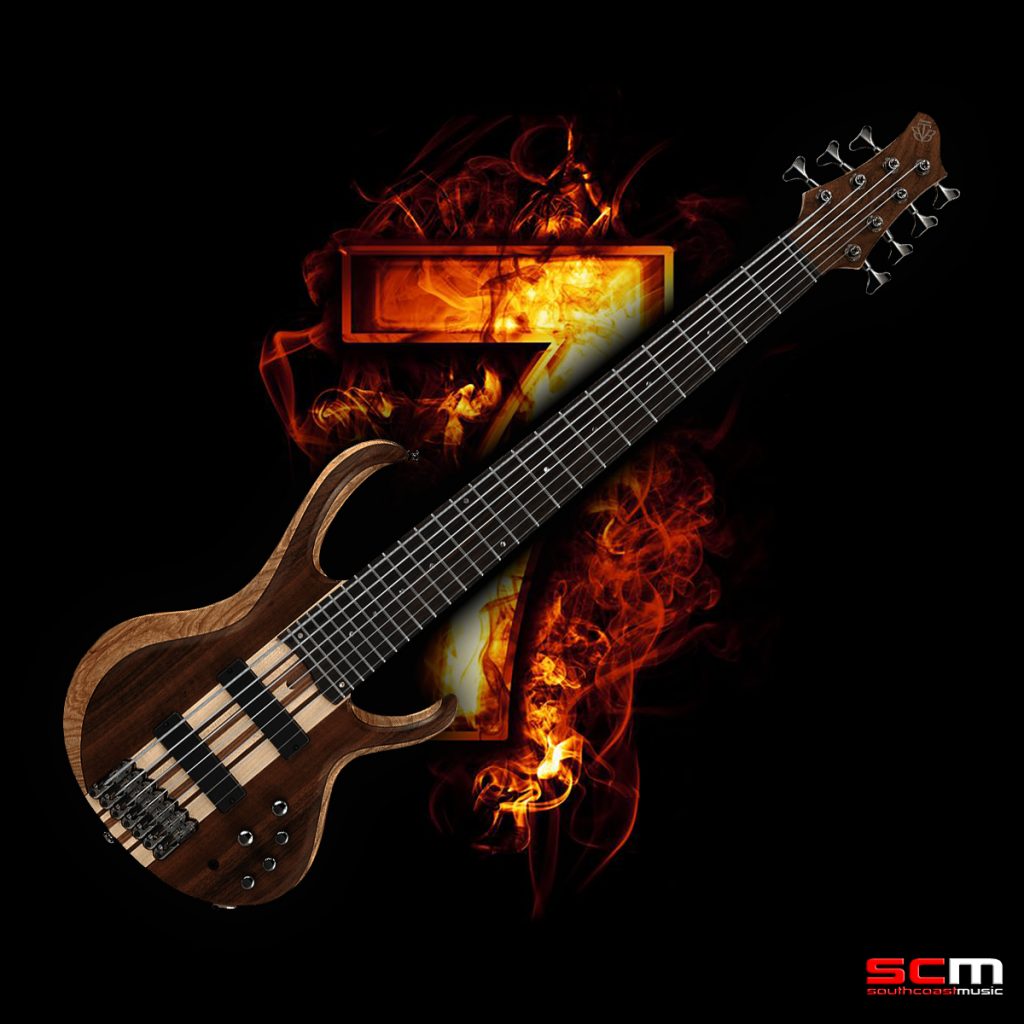 o Bartolini® pickups
o Mono-rail V bridge
o Ibanez Custom Electronics 3-band EQ with 3-way Mid
o Frequency switch
o 24 + zero fret (All stainless frets)
o 18th fret neck joint (Upper Horn)
o Neck end adjustment
o D'Addario® NYXL strings
Without a doubt, your instrument should equal the quality of your effort.
At some point the word "boutique" comes to mind, you know the scoop . . . select-grade materials, stellar tone-woods, multi-laminate neck-thru construction and top quality components . . . all in a meticulously crafted instrument.
But what about the price? That's where we come in. Combine the ability of Ibanez to build small-shop quality instruments with SCM pricing and the result is really quite inspiring!
The Ibanez BTB747 7-string bass is an inspirational beast. From the premium multi layer tonewoods and ergonomically contoured body to top-shelf Bartolini pickups and hardware, the BTB747 is both a seasoned bass player's dream and an adventurous musician's new playground. A world of tonal and musical opportunities await your touch.
The 9-piece laminated neck is a work of art. It's prime function is to provide the strength, stability and torsional rigidity required by the seven strings but hell, it looks good too.
The through body neck is flanked by a unique tonewood combination of mahogany and ash wings topped with figured walnut, a certain recipe for complex harmonics and epic sustain. The Ibanez Luthiers have gone all out with this beauty and the boutique touches have made the Ibanez BTB747 an instrument you'll never want to let go of.
Bartolini BH2 Pickups
The top-shelf treatment doesn't end with the tonewood combination either. A pair of Bartolini BH2 pickups provide a superb balance between the BTB747's clarity and depth. The tonal complexity and warmth in the mids and low-end remain tight, punchy and articulate.
The Bartolini BH2 pickups feature long-blade pole pieces which give these dual-coil pickups hum free single coil style character and consistency and should that potential hit song require a tonal tweak, just reach for the 3-band EQ. The active equalizer offers wide frequency range adjustments for each band and the 3-way mid-range switch provides further definition for your instrument's presence.
Whether you're uncovering covers or about to unwrap the next big thing, the BTB747 is ready to deliver.
Neck-through Construction
Neck-through construction has defined the instruments of generations of innovators and top-tier manufacturers. Incredible stability and superior sustain are the hallmarks of this tried and true (and expensive) method of construction.
Strap it on and feel the BTB747 vibrate clear through its laminated 9-piece maple, walnut and rosewood neck. The enhanced sustain doesn't just add body to your tone – it also provides a greater tonal balance that you'll hear in every note you play.
Seven String Performance
The new millennium has seen an explosion of talented musicians. The expanded stream on consciousness has resulted in an army of imitators – and as always it is up to the brave few to push past their technical limits and break new ground.
The Ibanez BTB747 7 string bass guitar is the perfect instrument to carry the inspiration and aspirations of those bassists – pushing the boundaries of genres such as rock, metal, jazz and gospel. With the addition of another string, this Boutique quality BTB747 electric bass gives players the ability to explore new chordal voicing, innovative riffage and solo licks.

SPECIFICATIONS
o Neck: type BTB7 9pc Maple/Rosewood/Walnut neck-through
o Body: Walnut top/Mahogany wing body
o Fretboard: Jatoba fretboard with Abalone dot inlays
o Frets: Medium Stainless Steel frets(+ zero fret)
o Number of frets: 24 + zero fret
o Bridge: Mono-rail V bridge
o Neck pickup: Bartolini® BH2 neck pickup
o Bridge pickup: Bartolini® BH2 bridge pickup
o Equaliser: Ibanez Custom Electronics 3-band eq w/3-way Mid frequency switch
o Hardware Finish: Cosmo black
Buy with confidence! southcoastmusic is an authorised Ibanez Prestige Dealer.