IBANEZ BB9 BASS BOOSTER PEDAL

Clean Boost with Enhanced Low End
o True Bypass Switching
o Push your Amp into Overdrive without losing Bottom End Presence
o Add body and depth to Single Coil Pickups
o Add weight and darkness to Humbuckers
o A unique and useful sonic tool for the Electric Guitarist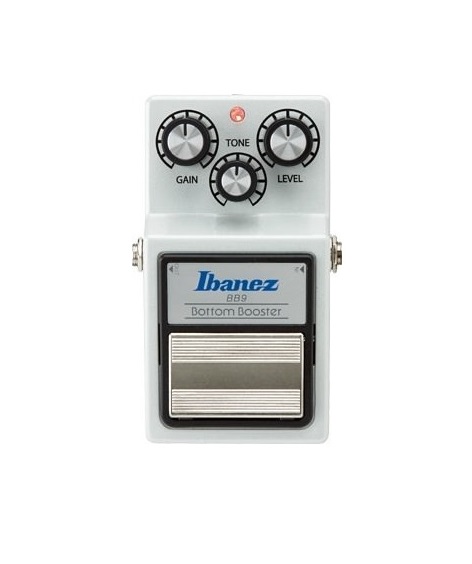 Sometimes it's best to keep it simple, do just that with the Ibanez BB9 Big Bottom Bass Boost Pedal. Which is why, in a world of dizzying often over-complex technology, the durable, dependable, and simple stompbox continues to be the most widely used and effective means to expand, color, distort, mutate, sustain, and twist tone.
The Ibanez BB9 is a booster that provides a fat bottom end with a powerful sound, perfect for the player who wants to push their amp into overdrive without losing any of their low-end. This pedal is designed to help clean tones reverberate even more and bring more intensity to a player's sound. Combine it with a distortion pedal to create of a wide variety of tone colors. BB9 is also equipped with True Bypass switching.

Ibanez BB9 Big Bottom Bass Boost Pedal Specifications
o Controls:
– Drive
– Level
– Tone
o Switching: True Bypass
o LED: High Intensity
o Input impedance: 500K ohms
o Output impedance: 10K ohms
o Equivalent Input Noise: –100 dBm (IHF-A)
o Power Supply: 9 Volt Battery or optinal 9VAC adaptor
o Size: D4.9″ × W3.0″ × H2.0″
o Weight: 1.3 lbs
Overdrive your Amp without sacrificing your tone.
IBANEZ BB9 BASS BOOST PEDAL 
OUR PRICE $119
our price includes Australia-Wide Delivery