HOHNER MARINE BAND 1896 CLASSIC HARMONICA
Hand made harps for professionals and amateurs alike!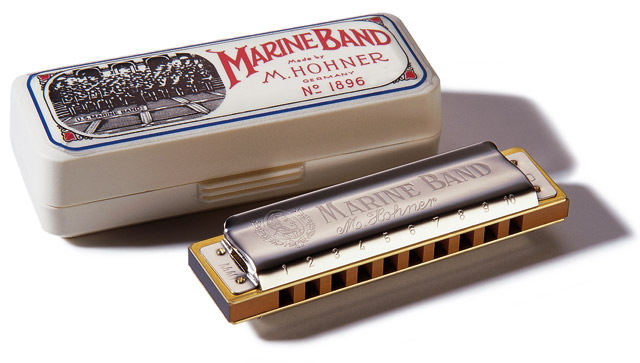 If there is a single style of music where the harmonica can be said to have had a formative influence then it has to be the blues. The instrument in question is the Marine Band 1896 Classic, the original blues harmonica and historically the world's most popular harmonica. Its uniquely authentic sound has defined the role of the harmonica in the blues tradition and made it the benchmark harp by which all others are judged. The pearwood comb, arched covers with side vents and traditional HOHNER tuning combine to create the legendary sound which can be heard on countless classic blues recordings from the 1920s to the present day.
In the heyday of the harmonica during the 1920s, millions of Marine Bands were exported to the USA every year. European migrants played a considerable role in the dissemination of the instrument and areas with a large population of German settlers such as Texas or Carolina also produced large numbers of black harp players. The Marine Band was cheap and readily available in any general store, so it became the most widely distributed musical instrument in the USA at this time.
Features
• Pearwood comb
• Arched stainless steel covers with side vents, nailed
• 20 Classic reeds, 0.9 mm brass reed plates, mounted with nails
• Single lacquered pearwood comb
• Traditional HOHNER tuning
• Handmade
Hohner is mainly characterized by innovation and constant improvement of the existing, established product lines.
In order to be able to offer the true "Vintage Sound", Hohner invested in
extremely precise tools to minimize air loss and ensure a quicker response
and bigger volume. The result is our exclusive "Classic" or ""Handmade" line.
These diatonic top models are exclusively handmade.
When Jacob HOHNER registered his new harmonica design at the US Patent Office on January 30th, 1896, he can scarcely have foreseen the impact it was to have on popular music. Conceived as a simple instrument for folk songs, the Marine Band went on to play a vital role in the development not only of the blues, but also of modern folk, rock and pop music – a process which still continues today!
The Marine Band was what truly made the harmonica the people's instrument, played in every conceivable location from the back porch to the concert stages of the world, featured in countless hits and film soundtracks, immortalized in literature. This amazing little instrument has shaped the way most people perceive the harmonica today!
HOHNER MARINE BAND 1896 CLASSIC HARMONICA