southcoastmusic exceptional instruments at exceptional prices… everyday!
HOFNER VIOLIN BASS GUITAR
IGNITION SERIES VIOLIN BEATLE BASS GUITAR
SUNBURST GLOSS FINISH

Based on their now iconic Violin Bass models the Ignition Violin Bass guitars from Hofner finally presents the opportunity for us mere mortals to get our hands on one of the world's iconic bass guitars.
Boasting the period correct, fully hollow classic Hofner body, that famous Hofner control panel, wooden bridge and Hofner style tailpiece, the Hofner Ignition Violin bass is also perfectly priced for players who have lusted after this sublime instrument for longer than they can remember.
Featuring a hollow body with a spruce top with maple back and sides, maple neck with a rosewood fretboard, this Hofner Violin Bass Guitar looks fantastic. The Hofner Ignition Bass has a 30″ scale length which along with a 42mm nut width makes for a fabulous bass guitar for people with smaller hands or a guitar player wanting to play bass occasionally.
There are few guitar brands in the world that are as tightly linked to the British invasion of the 1960's than Hofner. In the 1950s and early 1960s, American instruments were virtually impossible to buy in England and Europe.
Brands such as Hofner, Burns and Framus flourished in a time of unbridled enthusiasm and inspiration. Even Paul McCartney bought his first Hofner "Violin Bass" from a department store in Hamburg, then used it to write the history of Rock and Roll . . . As a result, Hofner instruments became a staple of musicians right across Europe.
Even before this however, Hofner guitars had already made their indelible mark on guitar history.  Look down the list of documented Hofner users, and it turns into a "who's who" of the 1960's/1970's brit-rock scene…
John Lennon's first "real" gigging guitar was a Hofner Club 40. Eric Clapton learnt to play guitar on a Hofner acoustic..
Mark Knopfler, George Harrison, Hank Marvin, Ritchie Blackmore, David Gilmour, Albert Lee, Peter Green, Allan Holdsworth… all used Hofner Electric guitars in their early careers. Even the grandmaster himself – Jimi Hendrix had a Hofner Club 50 that made a few appearances.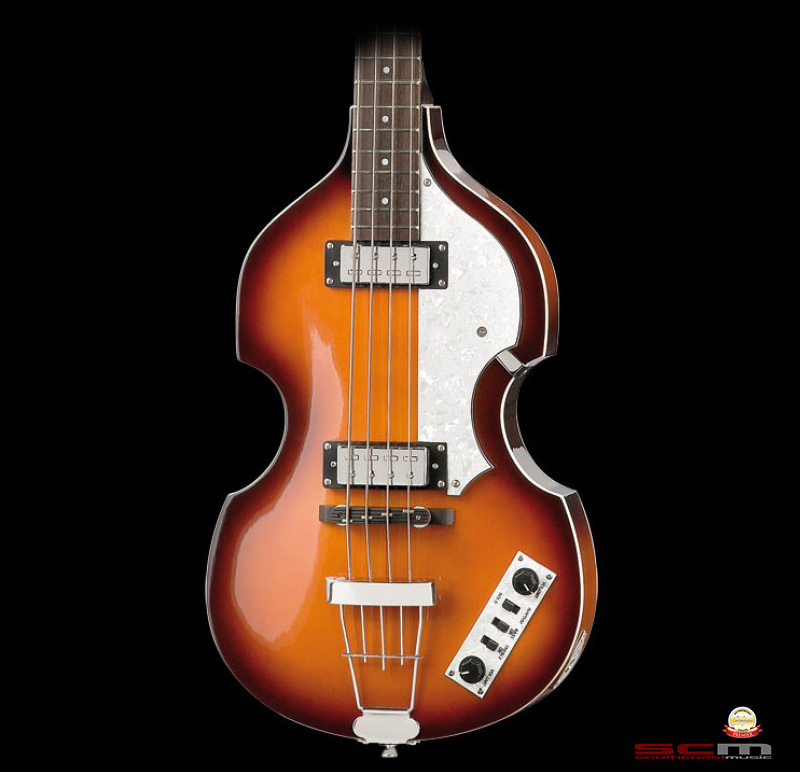 HOFNER IGNITION SERIES VIOLIN BASS GUITAR IN HARD CASE
Hofner fitted hard case included
·  Top: Spruce
·  Back and Sides: Flame Maple
·  Finish: Sunburst
·  Binding: White
·  Neck: One piece Maple
·  Fretboard: Rosewood
·  Inlays: Dots
·  Number Of Frets: 22
·  Scale Length: 30″/76cm
·  Nut Width: 42mm
·  Bridge Material: Rosewood
·  Machine Heads: Single Nickel with Pearl Buttons
·  Tailpiece: Hofner Trapeze
·  Pickup Neck: Hofner Ignition Staple Nickel
·  Pickup Bridge: Hofner Ignition Staple Nickel
·  Control Panel: White Pearloid
·  Control Knobs: Black
·  One Year Warranty