HOFNER 500/1 60th Anniversary Violin Bass Outfit 1956-2016
Matching Germanium Bass Fuzz Pedal
Klaus Voormann Artwork
Aluminium Flight Case
Tape Wound Strings
Limited Edition Accessory Pack
Number 20 of 60
Brand New and Unplayed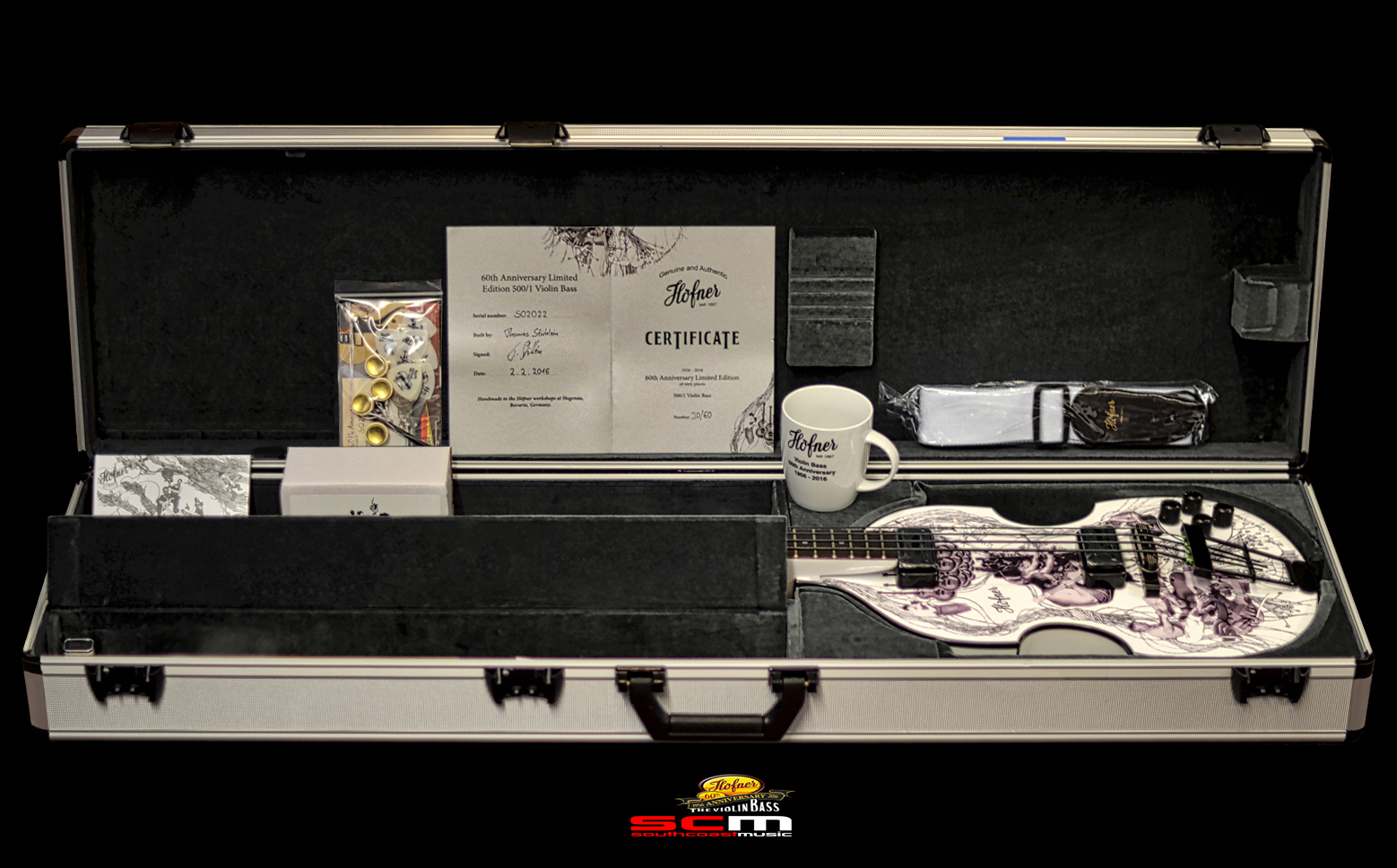 This beautiful Hofner Bass Guitar is number 20 of a strictly limited edition of just 60 pieces worldwide and comes complete with the limited edition Hofner Germanium Bass Fuzz Pedal!
Hand made to commemorate the introduction of the first Violin Bass in February 1956 is perhaps the most stunning and beautiful example of the Violin Bass ever produced by Höfner.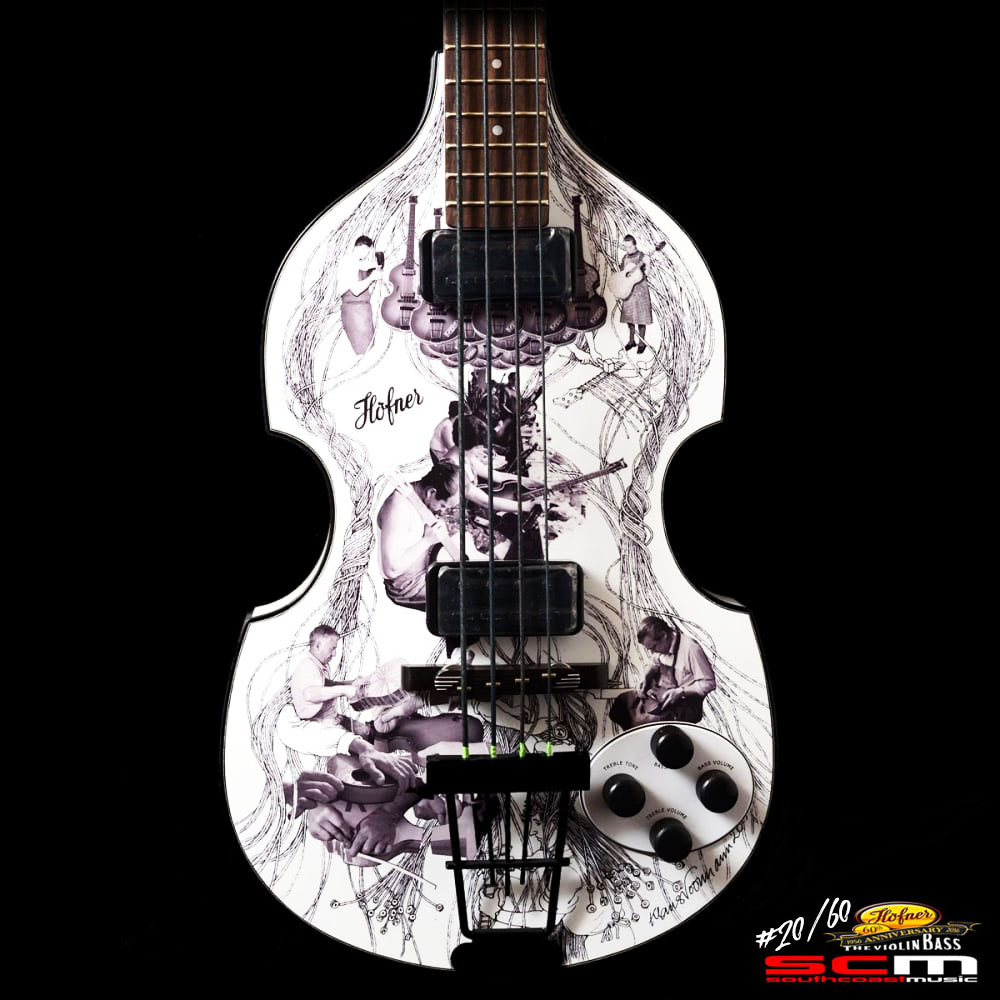 The Limited Edition Hofner 500/1 60th Anniversary Bass Guitar comes supplied exclusively with several special items which include:
ooo Certificate of Authenticity signed by Klaus Voormann.
ooo Limited Edition (60 only) art print of the Klaus Voormann design (only available with this bass).
ooo Limited Edition Prints of Klaus Voormann (only available with this bass).
ooo Limited Edition 60th Anniversary coffee cup (only available with this bass).
ooo Limited Edition 60th Anniversary pen and box (only available with this bass).
ooo Limited Edition White Höfner strap (only available with this bass).
ooo Limited Edition Höfner Handmade Bass Fuzz FX Pedal.
ooo Höfner Music CD.
ooo Limited Edition Set of "Teacup" knobs.
ooo Hofner 2016 plectrums.
ooo Hofner Aluminium Bullet Case
This very special Bass Guitar features an all-white finish combined with black hardware and body art specially commissioned by Hofner from Klaus Voormann.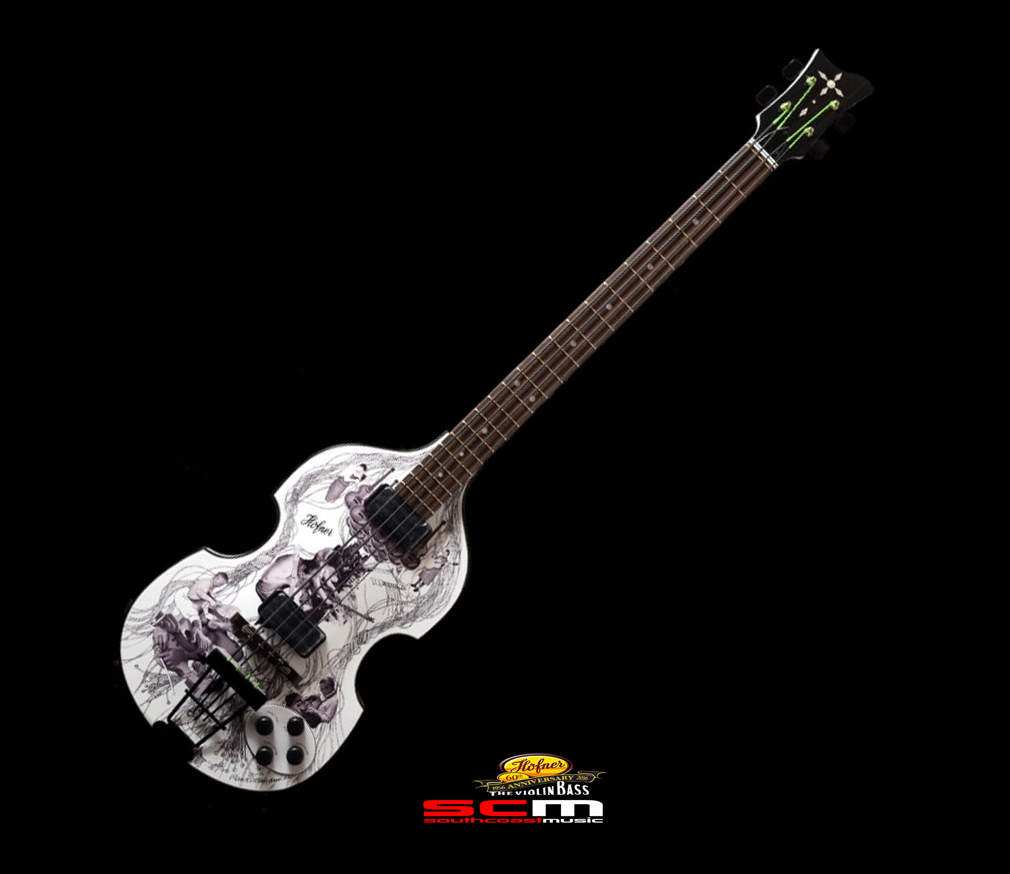 Klaus Voormann is a German artist, musician, and record producer who enjoyed a close association and special relationship with the Beatles. It was Klaus who designed the cover of the Revolver album, for which he won a Grammy Award. The unique design on the top of this bass is in the same style as the Revolver Album.
As a musician, Voormann is best known for being the bassist for Manfred Mann from 1966 to 1969 and for performing as a session musician on a host of recordings, including many by former members of the Beatles. His association with the Beatles dated back to their time in Hamburg in the early 1960s. Klaus lived in the band's London flat with George Harrison and Ringo Starr after John Lennon and Paul McCartney moved out to live with their respective partners, Following the band's split, rumours circulated of the formation of a group named the Ladders, consisting of Lennon, Harrison, Starr and Voormann. While this failed to materialise, all four along with Billy Preston performed on the Ringo Starr track "I'm the Greatest".
Klaus Voormann went on to play on albums by Lennon, Harrison and Starr and was for a time a member of the Plastic Ono Band. In the 1990s, Klaus Voorman designed the artwork for the Beatles Anthology albums.
In 2009, he released his debut solo album, "A Sideman's Journey", which featured many notable musicians, including the two surviving members of the Beatles, performing as "Voormann and Friends".
This is one of those "once in a lifetime" opportunities. The headstock of this Limited Edition Hofner 500/1 bass features the original 1956 profile and logo, not used before on any re-issue instruments.
The hardware is in black and the strings are Höfner Black tape-wound with green end binding. If you want to know what a Hofner electric Bass Guitar sounded like in 1956, these strings are the keys to your Time Machine. The original style oval control panel has been used and specially produced in white and black for this instrument. Control knobs are supplied in both contemporary black and vintage Teacup style.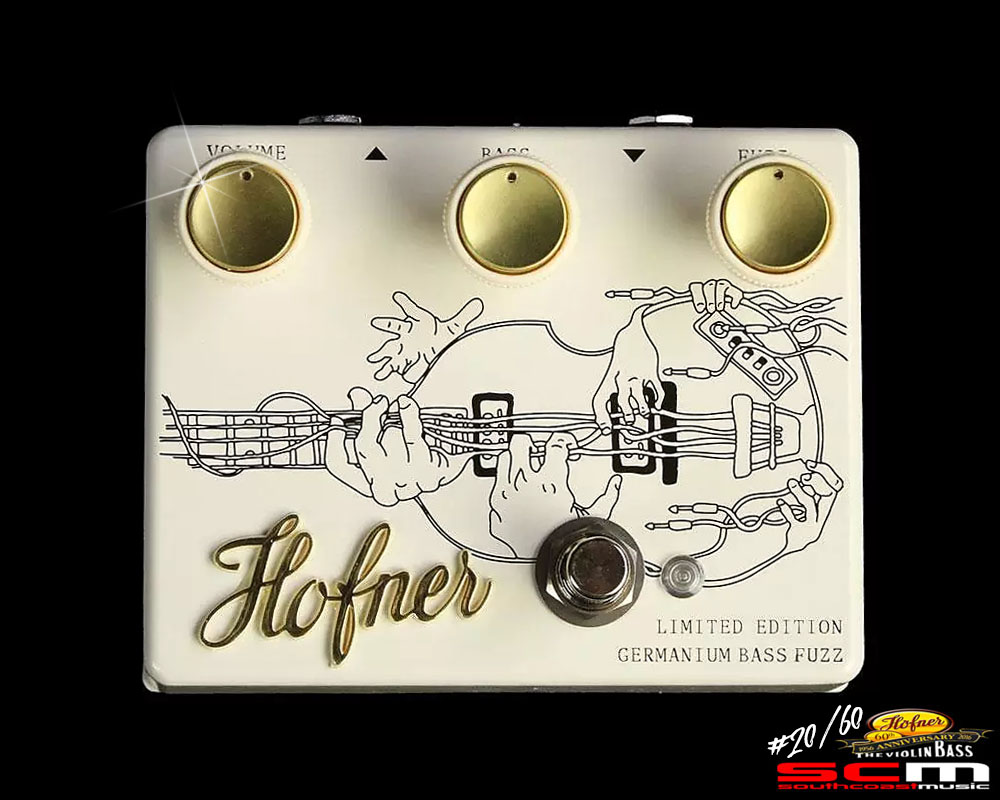 All of the 60 basses have been made available to a limited number of Hofner Dealers world-wide.
The Hofner 500/1 violin bass was originally designed by Walter Hofner and launched at the Frankfurt Music Messe in 1956. Founded in 1864, Hofner has built an enviable reputation making precision string instruments for musicians. The Beatles' Sir Paul McCartney played a Hofner Violin Bass and the Hofner's superb attention to detail and stylish design has continued to inspire both Rock and Jazz musicians to this day. Despite the numerous changes over 125 years the company is still strongly a family firm with strong values and unswerving respect for customers along with a commitment to building high quality, hand made musical instruments. We love them and are sure that you will too!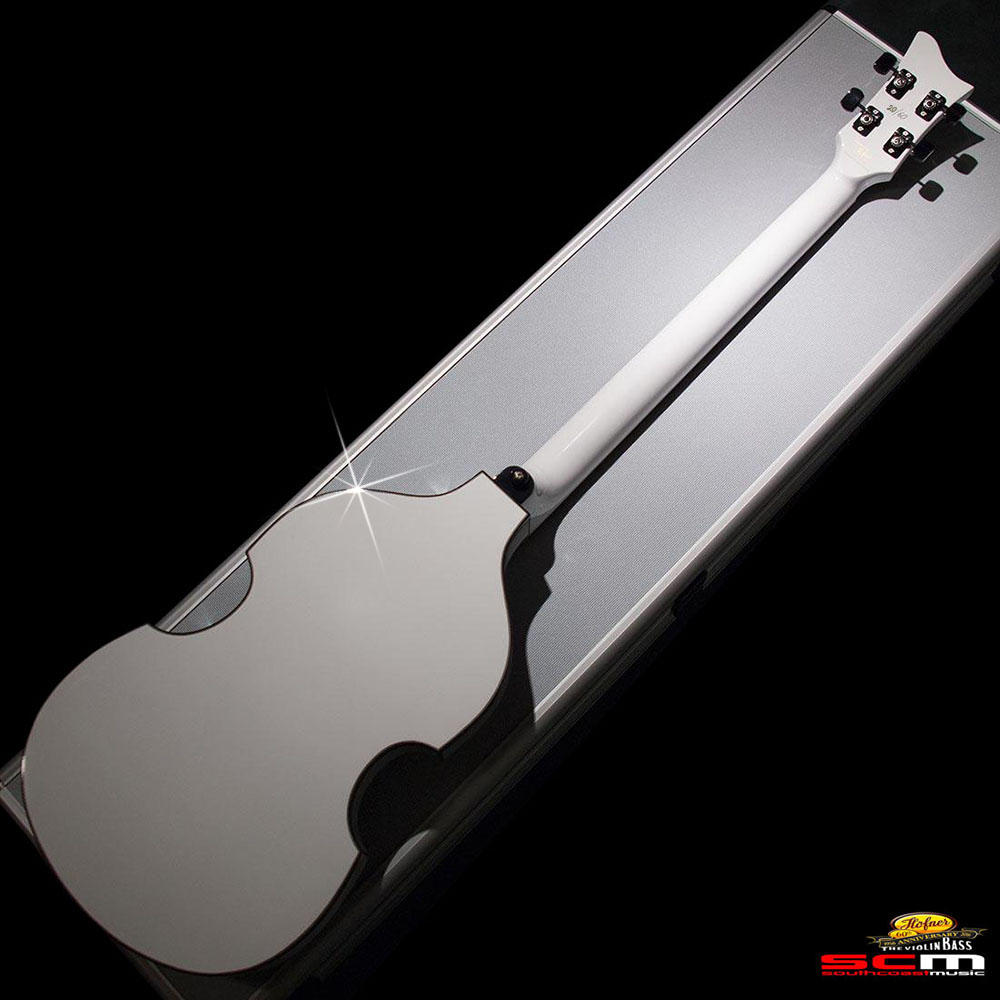 HOFNER 500/1 60th Anniversary Violin Bass 1956-2016 Specifications
ooo Top Wood: Carved Spruce
ooo Back and Sides: Flame maple
ooo Binding: Black/White/Black
ooo Body Design: Full Hollow Vintage Style
ooo Neck Joint: Glued-in Set Neck
ooo Fingerboard: Rosewood
ooo Scale Length: 30"
ooo Number of Frets: 22
ooo Bridge: Ebony
ooo Pickups: Hofner Staple Nickel
ooo Includes Hofner Hard Case
ooo Includes the PRO SCM setup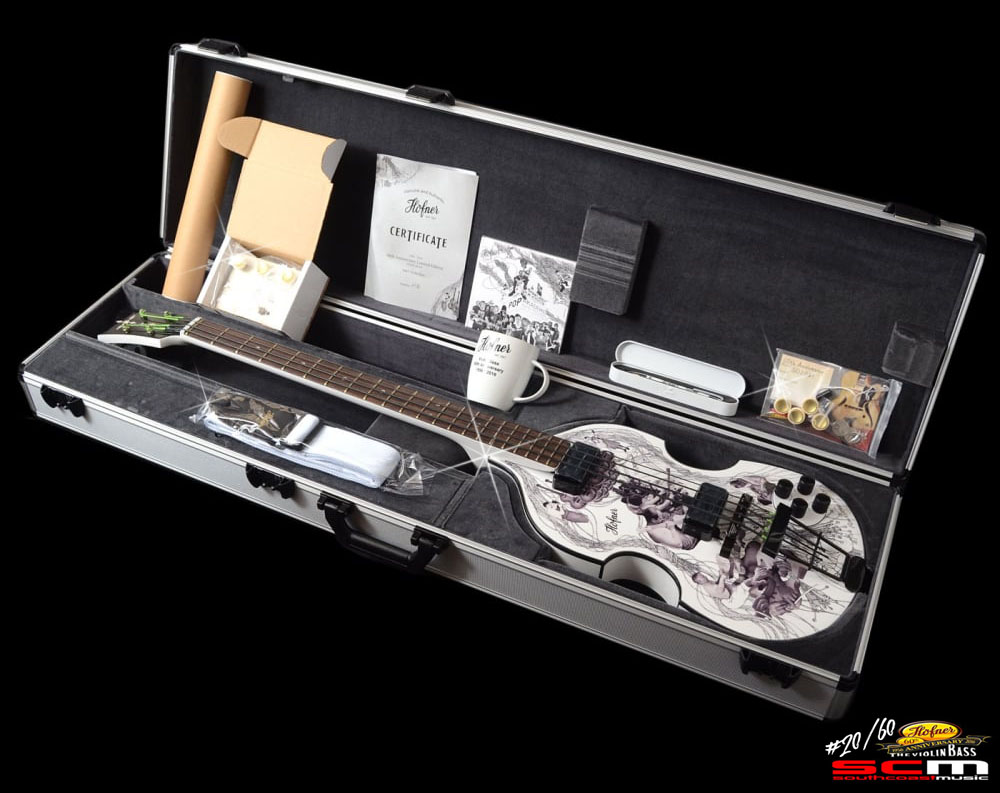 Being a German made product and priced with the Euro, this magnificent instrument is not subject to the vagaries of the US dollar and pricing is consistent the World over. This should be especially appealing to serious collectors. Our price includes delivery to Australian major Metro centres. We will not ship this instrument without Transit Insurance. Transit Insurance is available at a very reasonable cost and is dependent on your location.