Herco HE81 Trumpet and Cornet Care / Maintenance Kit, Accessories and Instructions
• Complete care kit
• Everything you need to keep your trumpet or cornet in top performance shape
• Ideal for beginners and students
• Made in the USA
Looking after and maintaining your Trumpet or Cornet is important for many reasons. Your instrument will feel and play better. Keeping it in tip-top playing condition will to retain its value plus you'll give the flick to those nasty bugs and germs that can flourish in poorly maintained instruments.
The Herco line is trusted by educators and musicians the world over for their "Complete Care System" providing players with their best choice for top quality instrument care accessories.
For new players, every Herco maintenance kit includes everything needed for proper care of their instruments. These kits contain tools, guidelines and complete instructions for keeping instruments in peak performance condition.
The Herco HE81 Trumpet/Cornet Maintenance Cleaning Kit includes:
• HE448 Pure Formula Valve Oil
• HE75 Flex Brush Cleaner
• HE91 Tuning Slide Grease
• HE186 Spitballs
• HE84 Mouthpiece Brush
• HE80 Valve protector
• HE96 Polishing Cloth
• HERCO® I.D. Tag
• HERCO® Complete Care Instructions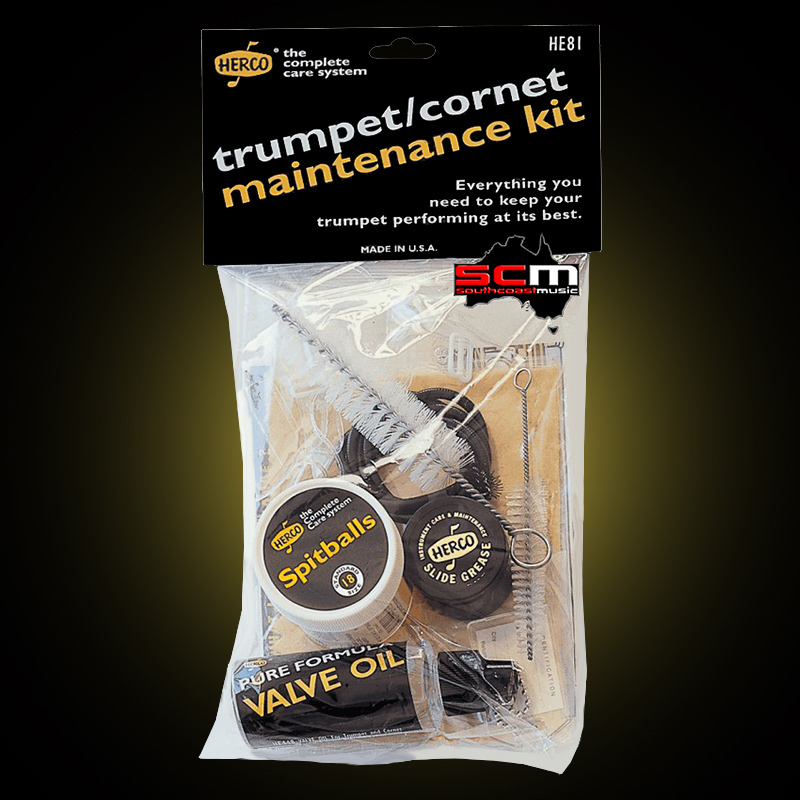 We are sure that you will love this kit. What we like is that this kit covers the essentials along with some extra tools to keep your child's instrument in tip-top condition. The instructions are clearly written and illustrated to encourage the habit of taking care of their instrument. We highly recommend this to anyone in a band program as well as anyone who simply wants to look after their instrument.