HAGSTROM SUPER SWEDE LTD
HAGSTROM SUPER SWEDE LIMITED EDITION MADE IN SWEDEN
ONLY 30 PIECES MADE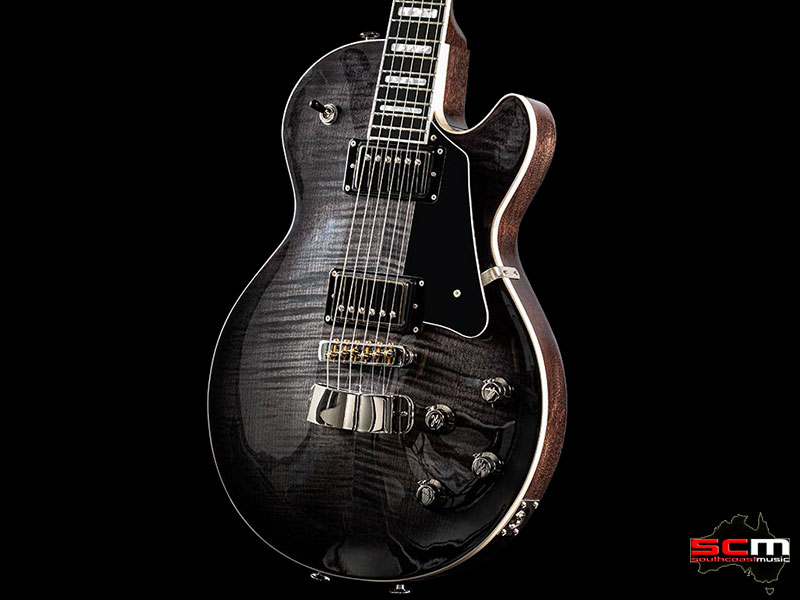 COSMIC BLACK BURST FINISH
Hagstrom continually strives to build the finest guitars available by building instruments of the highest possible standard. After several years of persistent requests by Hagstrom fans over the world, Hagstrom proudly returns to its roots with a limited run of guitars built in Sweden for the first time since the early 1980's.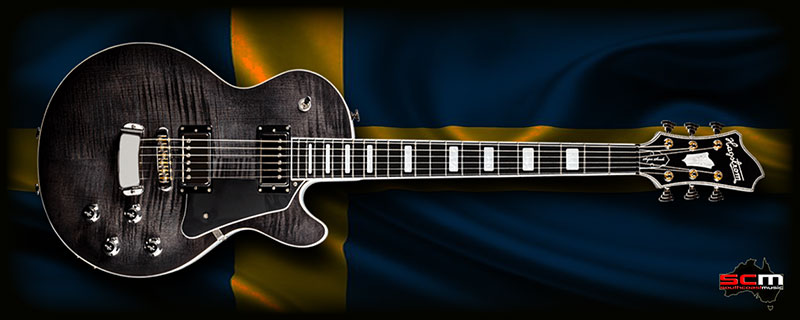 SVENSK EXCELLENS
To commemorate this historic moment, southcoastmusic are pleased to present the introduction of a very special limited edition of one of Hagstrom's historic flagship models, the iconic Hagstrom Super Swede.
First introduced to the Hagstrom range in 1978, this new limited edition guitar is one of only 30 examples made.
This limited edition instrument has been meticulously crafted from premium African Mahogany. The African Mahogany neck and body feature a mortise and tenon neck joint while the ¾" carved top has been hewn from the highest grade flame maple.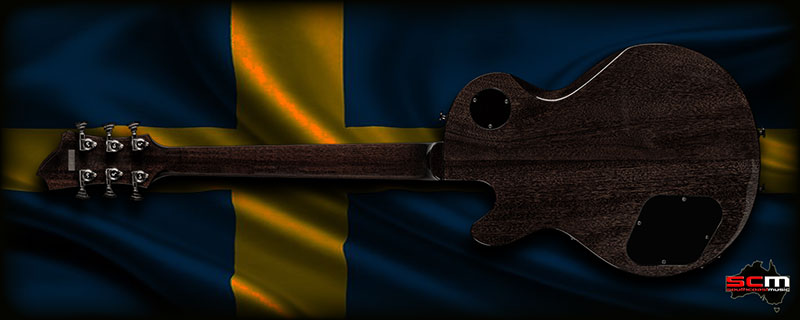 This classic combination of the 25.5″ scale length Super Swede is offered in one of the most popular Hagstrom finishes, "Cosmic Black Burst".
To further commemorate the first step of returning this point of production back to Sweden, each guitar has been individually numbered and documented.
LUNDGREN PICKUPS

For this special guitar, Hagstrom joined forces with Swedish pickup guru Johan Lundgren. Lundgren pickups cover an immense expressive range – from smooth, warm tones to the kind of attack and intense dynamic output that would satisfy the demands of even the most extreme musical styles. This guitar features a perfectly matched pair of Lundgren's Swedish made hand-built pickups.
SUCKER BUCKER and HEAVEN 57 PICKUPS
The long sustain and powerful tone of the Super Swede is perfectly matched with Lundgren's Alnico 5 splitable "Sucker Bucker" in the bridge position. Players love the tone of the Sucker Bucker – describing it as "sucking" the sound right out of the strings! The tone is "tight" and "lively" further contributing to the Super Swede's long natural sustain.

The "Sucker Bucker" is perfectly matched with Lundgren's "Heaven 57" in the neck position. In creating the Heaven 57®, Lundgren's benchmark was the classic P.A.F. sound. Referencing a number of good P.A.F.s from the late 1950s the "Heaven 57" delivers vintage tonality with superb harmonic clarity and definition.
Hagstrom sought to give players a broad brush of guitar tones and versatility with this perfect calibrated set of Lundgren pickups and on all counts, they have succeeded.
CUSTOM DESIGNED SCHALLER HARDWARE

Hagstrom have also teamed up with hardware masters – Schaller Germany to equip this extraordinary guitar with equally extraordinary hardware. This collaboration has resulted in a custom made Schaller STM bridge together with a custom made set of Schaller's rear-locking M6 tuners, resplendent in a special mix of Schaller's Ruthenium with Gold trim finish.

The specially inscribed Schaller knobs also feature the Hagstrom "H" logo. Each hardware piece has been carefully designed for premium performance and as a detailed ornament. Playability, tone and response is unequaled with this fantastic combination of hardware, designed to bring out the best from this instrument.
PLEK FRET TREATMENT
Before its initial delivery from Sweden, this limited edition guitar has undergone a meticulous setup executed with utmost precision. Many hours of refinement have resulted in perfect playing performance.
The frets and fretboard have also been specially scanned and treated using the latest "Plek" technology, where any where any necessary fret adjustments are made within 1/1000 of a millimetre, resulting in perfect playability across the entire fretboard. The Hagstrom Super Swede LTD features a specially customised "Hagstrom Plek" fret radius with a slight compound radius for comfortable and even playing from the first to last fret.
Hagstrom have also taken steps to ensure that players in the future can rely on their local "Plek" service shops to guarantee that their instrument receives the exact same setup as intended when the guitar originally left production. This is done by simply indicating the serial number on the rear inscribed plate at the back of the headstock, where the detailed information for that specific instruments can be accessed through Plek's international database.
A VERY LIMITED EDITION

This is a very special guitar – one of only 30 made in Sweden for a handful of discerning guitarists and collectors across the world. For the Australian market, this guitar is only available from southcoastmusic.
HAGSTROM SUPER SWEDE LTD ELECTRIC GUITAR SPECIFICATIONS
• Body Material: 2 Piece African Gabon Mahogany
• Top Material: ¾" Carved High Grade Flame Maple
• Finish: Hagstrom Polyester Finish
• Neck Material: African Kaya Mahogany Neck
• Neck Profile: "D" Profile
• Truss Rod: H-Expander™ Truss Rod
• Tuners: Schaller 18:1 M6 Locking Tuners with Hagstrom Buttons
• Tuners Finish: Ruthenium/Gold
• Fingerboard Material: Resinator™ Fingerboard
• Fingerboard Radius: R15″
• Scale Length: 25.5″ (648 mm)
• Fingerboard Position Markers: Pearloid Block Inlays
• Frets: 22 Medium Jumbo Frets
• Nut material: GraphTech Black Tusq
• Nut Width: 43mm
• Neck Pickup: Lundgren AlNiCo-2 Heaven 57 Humbucker
• Bridge Pickup: Lundgren AlNiCo-5 Sucker Bucker Humbucker
• Pickup Selector: 3-Way Toggle Switch
• Volume Controls: 2 x Volume Control
• Tone Controls: 2 x Tone Control with Independent Push-Pull Coil Split
• Control Knobs: 4 x Schaller Dome-Knobs with laser engraved Hagstrom "H"
• Bridge: Schaller STM Long Travel Tune-O-Matic Bridge
• Bridge Finish: Ruthenium/Gold
• Tailpiece: Hagstrom Sustain Block™
• Tailpiece-Finish: Ruthenium
• Strings: D'Addario .010″ to .046″
• Case: Hagstrom Hard Case included