FONTAINE FBW373 Bb Soprano Saxophone.
Fontaine…Australia's best value Brass & Woodwind Instruments – offering a range of instruments that play well, sound good, are reliable and most importantly…affordable!
The tone of the Fontaine FBW373 Soprano Sax is clear and focused while the lacquered yellow brass body looks classy and elegant. The keys – including the high F# key, are nickel plated and the sax is supplied with two necks – straight and curved. The precision cut mouthpiece is easy to blow and comes with 1.5 strength reed.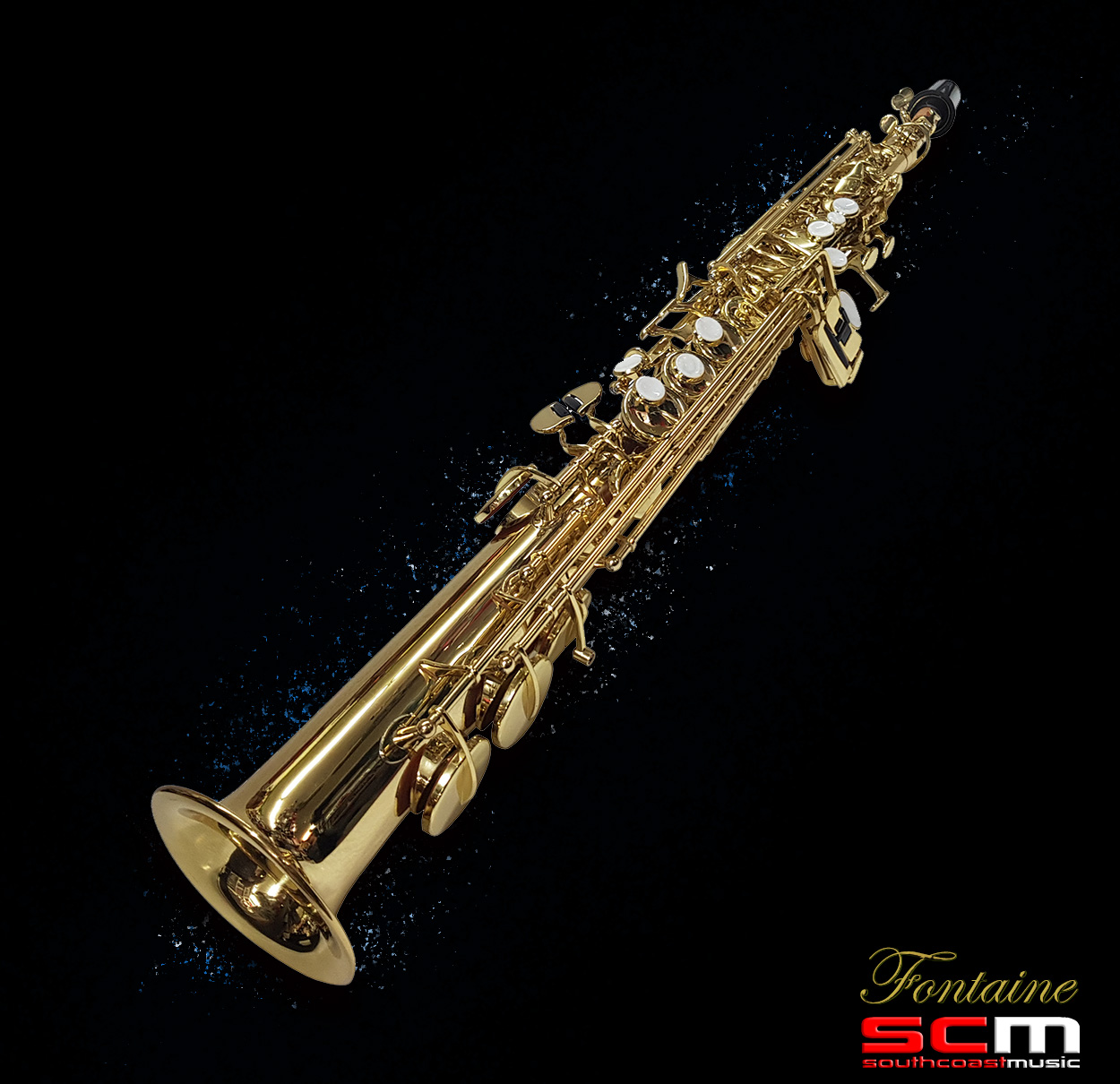 The mechanism has been precision machined and assembled offering accurate and air tight action. Remember that instruments that leak are impossible to play. This is about inspiration, not perspiration!
Give your Child the Best Start that you can!
Fontaine instruments are arguably the biggest selling brand of Brass and Woodwind in Australia. Solid construction, clear and focused tone plus a 2 year warranty all add up to real value for money.
FONTAINE – FBW373 Soprano Saxophone Features:
• Lacquered Yellow Brass Body
• Straight Bell
• Key of Bb
• Two Necks – Straight and Curved
• Nickel Plated Keys
• High F# key
• Quality Tan Pads
• Pearl key inlays
• Mouthpiece Included
• 1½ Strength Reed Included
• Saxophone strap included
• Fitted black ABS case with plush lined interior
• Two Year Warranty
At southcoastmusic we have been supplying musicians of all levels with quality instruments since 1985 and carry a broad range of Brass and Woodwind instruments across the major brands.
Fontaine instruments are popular with schools and band programmes across Australia and with good reason.
This Fontaine Soprano Saxophone has been designed by Professional Ateliers in consultation with of one of Australia's largest Musical Instrument Distributors. From their launch in 2003, Fontaine has gone on to become the most successful single brand of B&W instruments for sale in Australia, outselling their nearest competitor by a country mile! Built in a State-of-the-Art Factory in China with full International Quality Certification.
There may be cheaper instruments for sale in the market and especially online – however, none of them can match Fontaine's quality, consistency, industry leading warranty, exceptional after sales service and outstanding value for money.