Fender Passport Event portable audio system with Bluetooth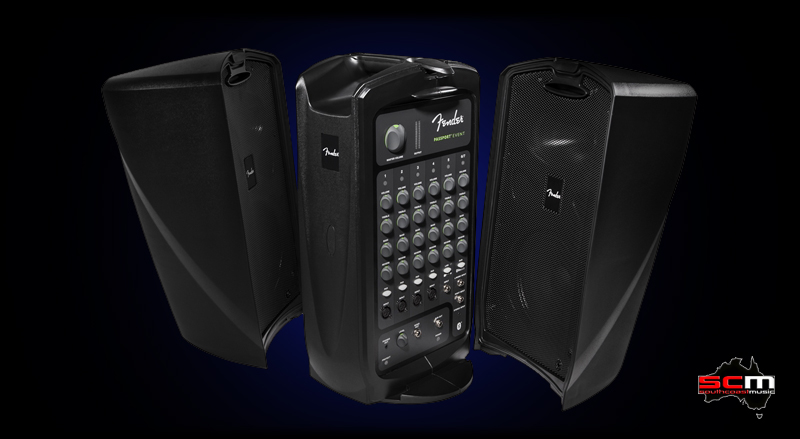 Conveniently self-contained with go-anywhere suitcase-style portability and easy to setup, the Fender Passport Event portable audio system also features Bluetooth® connectivity for streaming wireless audio from mobile devices.
With versatile controls and flexible connectivity, the Fender Passport Event portable audio system is the ideal solution for amplifying your voice, instrument and background music – anytime and anywhere. Featuring high performance full-range speakers, versatile features, friendly front-panel controls and 375 watts of output power, the Fender Passport Event portable audio system delivers powerful, clear and reliable Fender audio for situations that include:
• small clubs and auditoriums
• practice studios
• gigs at parties
• jam sessions
• coffee houses
• education
• sporting events
• houses of worship
• meetings
• seminars
• presentations and more.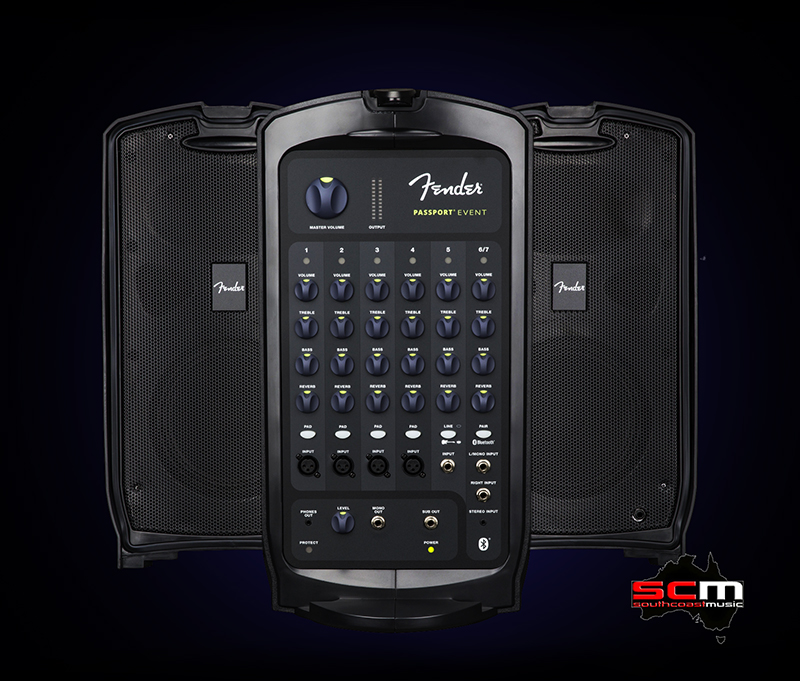 Just unlatch the speakers from the mixer module, plug in the included cables and connect your mics, instruments and music and you're ready to go. Each channel of the powered mixer includes a seperate volume, bass, treble and reverb control along with an overload/clip indicator.
Channels 1 through 4 all feature a 20dB Pad button to lower hot incoming signals and prevent distortion. Channel 5 features a high-impedance setting so you can plug a guitar directly into the system. You can also connect a stereo keyboard or play music through channels 6-7. Music may also be streamed wirelessly by way of your compatible Bluetooth device. The Mono and subwoofer outputs let you expand your system with additional powered speakers and subs.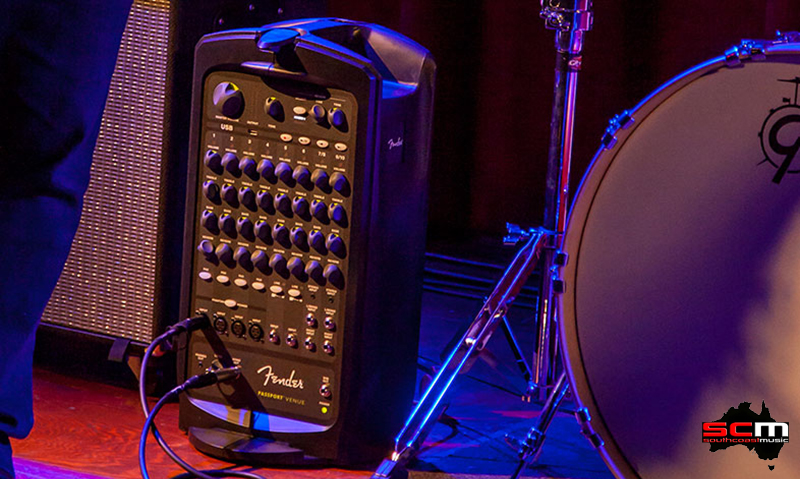 Fender Passport Event portable audio system specifications:
• Controls: Volume, Treble, Bass, Reverb level and 20dB Pad Per Channel, Hi-Z Instrument/Line Switch, Bluetooth Pair Switch, Master Volume
• Channels: 7 (4 x XLR Mic, 1 x Instrument/Line, Stereo ¼" L+R / ⅛" / Bluetooth)
• Microphone Inputs: 4 x XLR Mic inputs
• Instrument Inputs: 1 x 6.35mm (¼") Instrument input
• Stereo Inputs: 2 (L+R) x 6.35mm (¼") and 1 x 3.5mm (⅛") Stereo inputs
• Bluetooth Input: 1 x Wireless Stereo Bluetooth input
• Mono Outputs: 1 x 6.35mm (¼") output for connection to a powered monitor
• Headphone/Line Output: 1 x 3.5mm (⅛") Stereo output
• Subwoofer Output: 1 x 6.35mm (¼") Sub Out with automatic high-pass filter
• Speaker Outputs: 2 x 6.35mm (¼") Left and Right outputs
• Effects: Reverb
• Cabinet Material: High Impact Molded Plastic
• Front Panel: High Contrast for enhanced Visibility in Low-Light Conditions
• Handle: Integrated Top-Mount Handle
• LF Drivers: 2 x 8″ Fender® Special Design High Performance Speakers
• HF Drivers: 2 x 1.2″ Horn-Loaded Tweeters
• Operating Voltage: 240VAC
• Furnished Accessories: 2 x Speaker Cables, IEC Power Cable
• Warranty: Two Years