Deluxe Series Telecaster® SSH Alder Body Modern Bridge Mount, 3-Color Sunburst
• Genuine Fender body crafted at Fender's Ensenada, Mexico manufacturing facility
• Solid Alder finished in classic 3 colour sunburst high-gloss polyester lacquer
• SSH routing offers versatile pickup configurations
• Routed for a 2.22″ wide four-screw bridge mount and output jack
• Comfortable modern contoured neck heel with 4-bolt offset mounting screw holes
• Compatible with most Telecaster replacement necks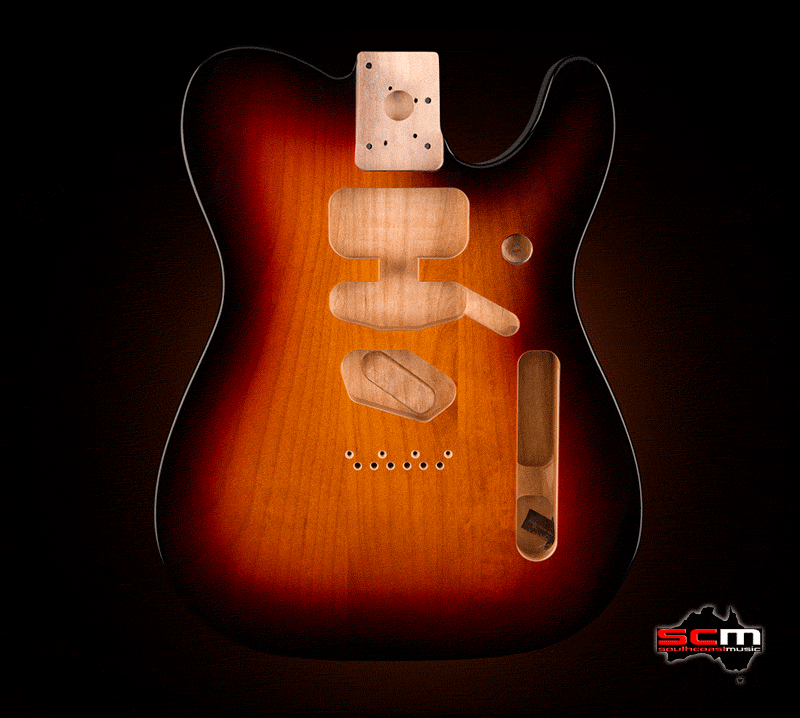 Get one step closer to your dream custom build Telecaster!
Crafted at Fender's manufacturing facility in Ensenada, Mexico, this genuine Fender Deluxe Series Telecaster® guitar body is simply waiting for your imagination to create the ulimate Tele!
Versatility is the key here and this beautiful Alder tonewood body has been routed for a number of pickup configurations that include:
• Esquire style single pickup
• Classic style two single coil pickups
• Nashville style three single coil pickups
• 72 Custom style single coil bridge and humbucking neck pickup
All you need is the appropriate pickguard!
The routing is an SSH (single/single/humbucker) pickup configuration. The body has also been pre-drilled to suit a four screw vintage-style bridge with six Pre-Drilled Holes for String Ferrules (for String-Through-Body Bridge).
Fender's modern contoured neck heel makes for easy and comfortable access to the upper frets with a four-bolt offset mounting hole pattern. This Fender Deluxe Series body is compatible with almost all Fender Telecaster replacement necks. Installation is easy too – simply drill the offset hole on your standard four-bolt neck.
Crafted at Fender's Ensenada, Mexico, manufacturing facility, this Deluxe Series Alder Telecaster body sports a gorgeous three colour sunburst high-gloss polyester finish.
The Fender Deluxe Telecaster body is an ideal and affordable choice for building your dream Tele or restoring an old favourite.
This replacement body is for a Fender or Squier® by Fender guitar. southcoastmusic is an authorised Fender/Squier dealer.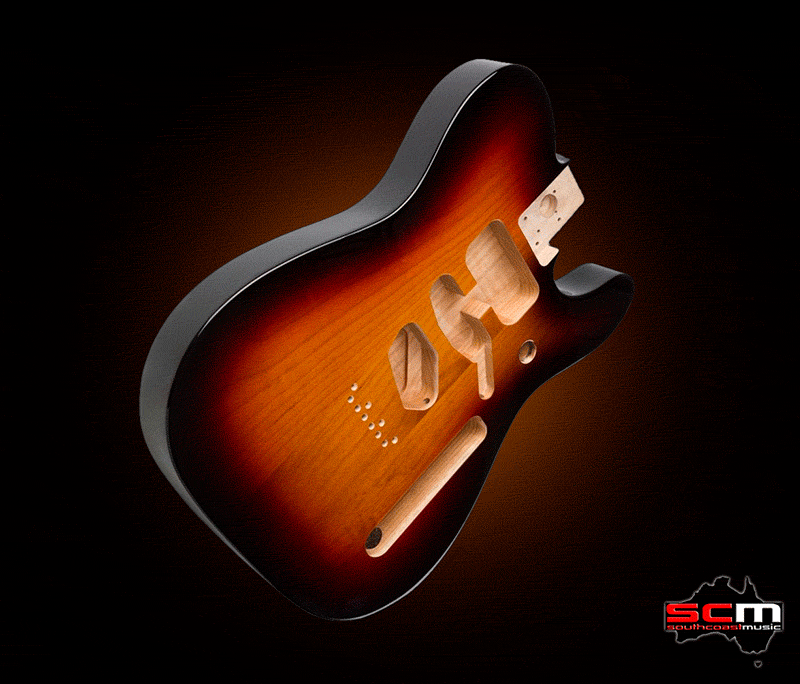 Fender Deluxe Series Telecaster® guitar body specifications:
• Body Material: Alder
• Body Colour: Three colour sunburst
• Finish: High Gloss Polyester
• Routing: SSH – No holes drilled for pickguard mounting
• Bridge Mount Design: 4 Screw Vintage-Style Six Pre-Drilled Holes for String Ferrules (for Strings-Through-Body Bridge)
• Jack retainer clip pre-installed
• Neck Pocket: 4-Bolt Mount-Contoured Heel Neck Pocket
• Width: 2 3/16″
• UPC: 885978397594
• SKU: 0997500700