ROLAND G-5 VG STRATOCASTER  ~ EX-DEMO MODEL
o 3-COLOUR SUNBURST
o ROSEWOOD FRETBOARD
Please note that this is an ex-demo model. While there may be some cosmetic blemishes, the following criteria will have been met:
– Fret Dress
– Fret Polish
– Hand Rolled Fret ends
– Fret board Oiled
– Tuners Serviced
– Restrung with Fender .009″ to .042″ Strings
– Intonation and Saddle Height adjusted
– Pickup Heights adjusted
– Truss Rod Adjusted
– Nut Height adjusted
– Pots checked and serviced
– Switches checked and serviced
– Overall Clean and Polish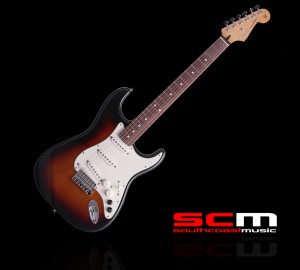 Roland rewrote guitar history with the debut of their amazing COSM technology which first appeared on the pioneering VG-8 guitar-modeling system.
Roland's COSM Technology lives on in a myriad of Roland sound devices – this one, now sadly discontinued is the celebrated and much loved G5 VG Stratocaster.
When first released, the G5 morphed the coveted Fender Stratocaster with advanced features only able to be realised by Roland's COSM technology.
As well as the classic Stratocaster sounds and functionality, the G5 opened the door to a new world of electric and acoustic guitar tones recreated by COSM including instantly accessible alternate tunings and 12-string sounds for all COSM guitar tones! The Roland G5 also provided a built-in library of coveted modeled pickup tones and thanks to COSM technology, also enabled unique "ideal-performance" pickups, such as a humbucker with ultra-wide tone and a single coil with a full, bold tone. This was new territory in every sense.
Classic Stratocaster…New Horizons
Since the pioneering GR500 guitar synth in 1977, Roland has been committed to developing the ultimate electronic guitar. A perpetual and continuous quest for the next-generation guitar led to the now famous collaboration between Roland and Fender and the birth of the VG guitar. This, the last incarnation of the now legendary G5 melds the quiet confidence and trust of Fender's Stratocaster with the exciting potential of Roland's COSM technology.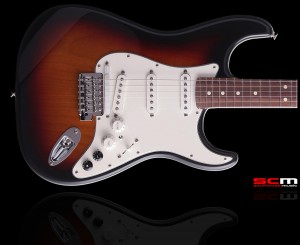 Features
– Classic Fender Stratocaster infused with COSM technology
– Modeled pickups onboard, including unique pickups such as ultra-wide humbucker ("Bright Humbucker") and full, bold single coil ("Wide Range")
– Instantly accessible alternate tunings and 12-string sounds through COSM guitar tones
– Simple and easy operation based on the Stratocaster design concept
– 22-fret neck with medium jumbo frets
– American inline tuning keys
– Body Colour: 3TS (Three Tone Sunburst)
– Neck: Maple
– Fingerboard: Rosewood
– Body: Alder
– Fingerboard Radius: 9.5″ (24.1cm)
– Backshape: Modern "C" shape
– Scale Length: 25.5″ (64.8cm)
– Number of Frets: 22
– Fret Size: Medium Jumbo
– Pickups: 3 x Fender Single Coil, 1 x Roland Divided Type
– Bridge: Vintage Style Synchronized Tremolo
CONTROL MODE knob: 5 types
– N: Normal (non-modeling mode)
– S: Modeled Stratocaster
– T: Modeled Telecaster
– H: Modeled Humbucking Pickups
– A: Modeled Acoustic guitar
TUNING Knob: 6 types
– N: Normal tuning
– D: Drop D
– G: Open G
– d: D Modal
– B: Baritone
– 12: 12-string guitar
GUITAR CONTROLS
– TONE Control knob
– VOLUME knob
– 5-Way switch
INDICATORS: Power indicator
Nominal Output Level: -20 dBu
Output ImpedanceL: 2 k ohms
Recommended Load Impedance: 20 k ohms or greater
Connector: Guitar Jack (1/4″ phone type)
Power Supply:
– Alkaline battery (AA, LR6) x 4, or
– Rechargeable Ni-MH battery (AA, HR6) x 4
Current Draw: 230 mA (DC 6 V)
Expected battery life under continuous use (dependant on the actual conditions of use)
– Alkaline battery: 6 hours
– Rechargeable Ni-MH battery: 9 hours