EV ELECTRO-VOICE ZXA1-90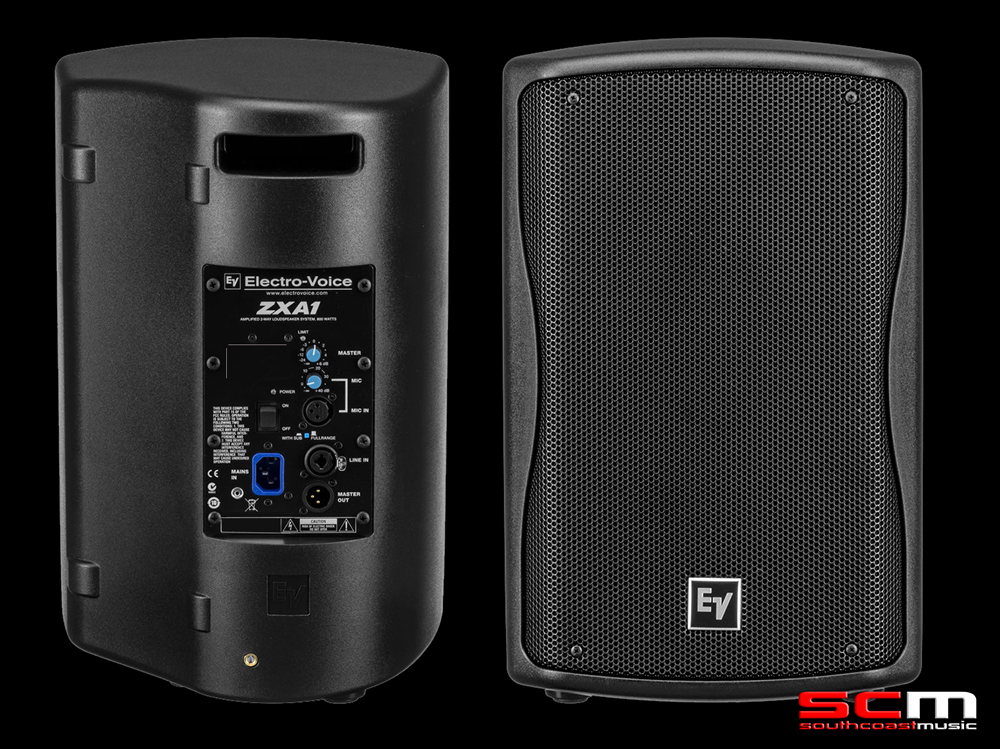 8″ 2‑Way High Powered Full‑Range Loudspeaker
Integrated 800 watt power amplifier
Bi-amplified design with transducer protection
EV8L 8" high-output LF transducer
DH2005 1" exit true compression driver
90° x 50° coverage pattern
Rotatable horn design
126 dB maximum SPL
Selectable high-pass filter for use with subwoofers
Line and microphone inputs
Integral monitor angle on enclosure
Built-in pole mount
Lightweight (< 9 kg) with integral handle for easy carrying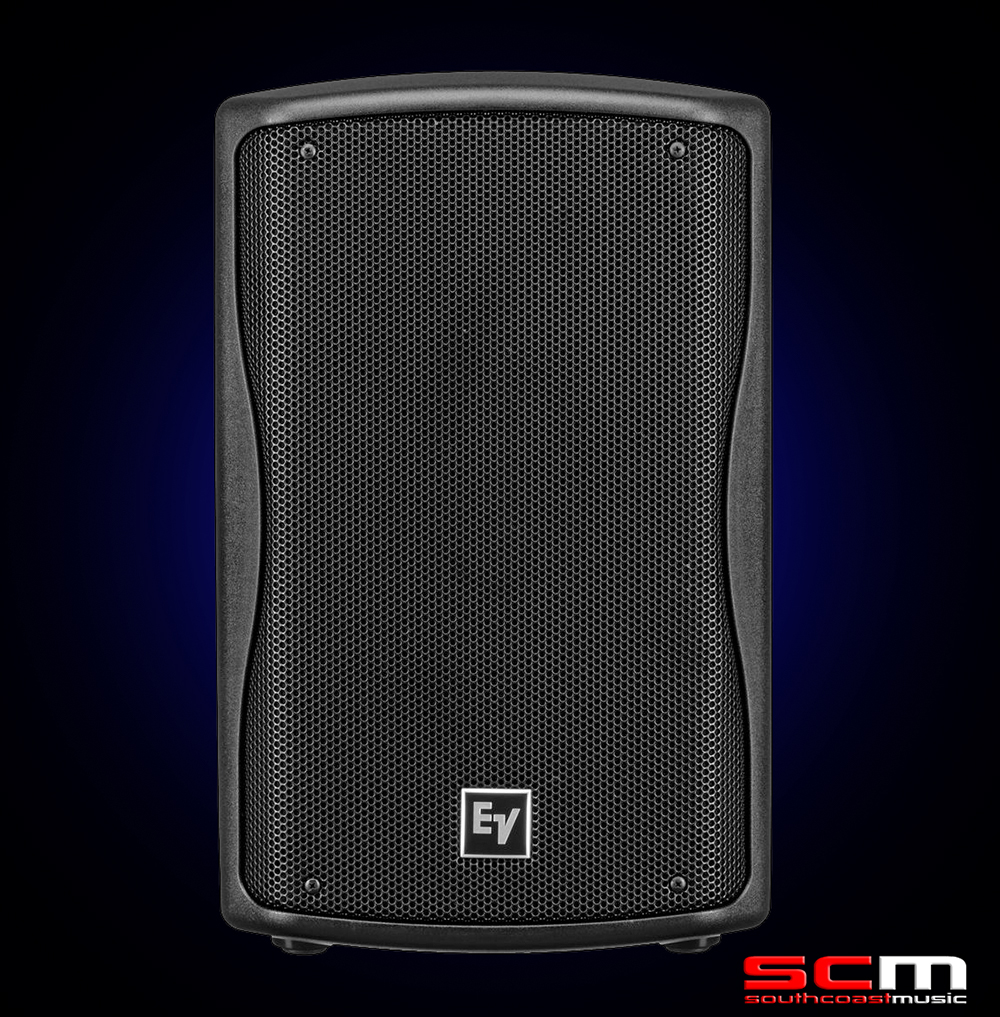 Electro-Voice engineers have raised the bar for portable sound once again, adding to the award-winning ZX loudspeaker family with the ZXA1 – the self-powered version of the best-selling ZX1 compact two-way loudspeaker. The ZXA1 from Electro Voice is a compact and lightweight powered loudspeaker ideal for use in clubs, schools, houses of worship and more. The cabinet houses an 8″ high-output woofer and a 1″ true compression tweeter that combine to provide a wide frequency response.
The ZXA1 is powered by an 800 watt amplifier module derived from EV's world-tour-class Tour Grade series – amplifiers with audio quality and reliability proven at the very highest levels.The internal 800W power amplifier delivers a high-energy performance with low distortion for crisp, clear audio. The speaker provides a 90 x 50° coverage pattern, and has a rotatable horn designed to offer unrivaled versatility for multiple applications.
The rear panel features mic and line level inputs, allowing you to connect a wide variety of microphones, instruments, media players, mixers and more.  A selectable high-pass filter allows you to use the loudspeaker with a subwoofer for enhanced bass response.
The EV ZXA1 weighs 8.6kg and has an integrated handle for easy mobility. A pole mount socket lets you mount the unit on a standard speaker pole.
An incredibly versatile solution for mobile and small-venue sound reinforcement, ZXA1 features the latest professional-grade Electro-Voice drivers and a powerful 800W amplifier. Presented in a stylish, super-durable ABS enclosure, the EV ZXA1-90B is a lightweight loudspeaker that punches well above its weight. Whether used as a standalone loudspeaker or with a sub, turn up a ZXA1 and your eyes won't believe your ears: small-format never sounded better.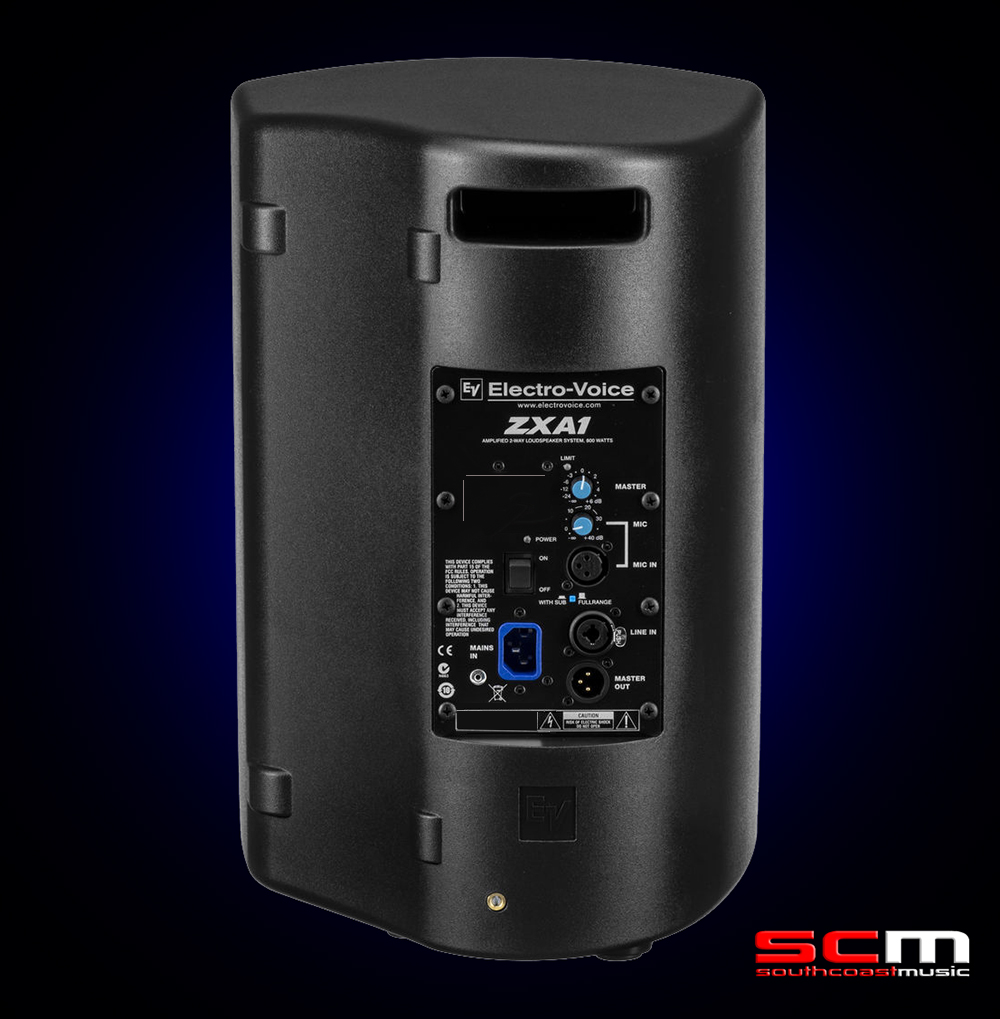 Electro-Voice ZXA1 Specifications
Frequency Response (-3dB): 60Hz-20kHz
Frequency Range (-10dB): 48Hz-20kHz
Maximum Measured SPL: 126dB
Horn Dispersion: 90° x 50°
Power Rating: 800W
LF Transducer: 1 x EV-8L 8″ (204mm) Woofer
HF Transducer: 1 x DH-2005 1″ (25mm) Exit Compression Driver
Crossover Frequency: 1.8kHz
Connectors: 1 x XLR Mic Input with Gain Control, 1 x XLR/TRS Combo Jack, 1 x XLR Link Output
Enclosure Material: ABS
Grille: 18GA Steel with Black Powdercoat
Mains Requirements: 230V: 190V-264V, 0.4A⁴, 50-60Hz
Dimensions (H x W x D): 457mm x 282mm x 264mm (17.99″ x 11.10″ x 10.39″)
Net Weight: 8.6kg (19.0lbs)
Shipping Weight: 10.3kg (22.7lbs)
Warranty: Five Years